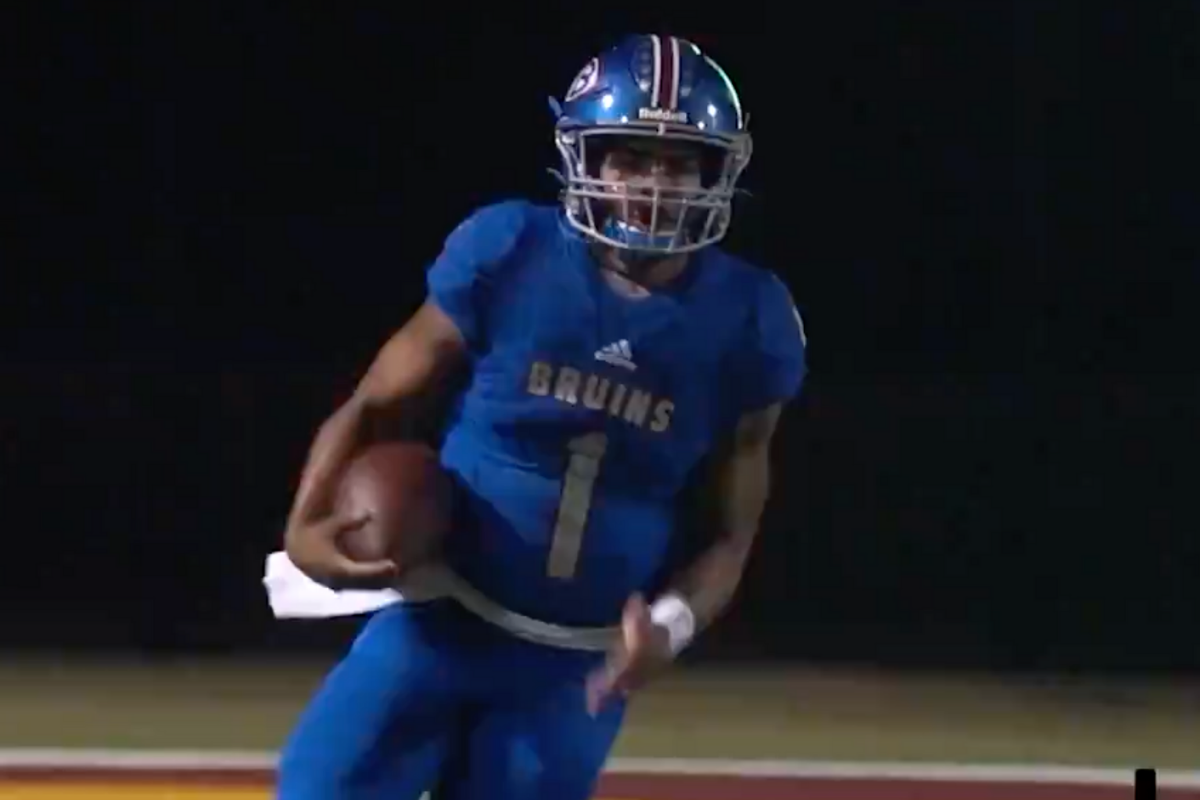 Screenshot from Twitter
Bryce Anderson is a fascinating prospect. Most high-level wide receiver or running back recruits play on both sides of the ball, but Anderson is his team's starting quarterback as well.
That versatility brought him a lot of interest from college football programs, and he is making the most of it.
Anderson plays for Beaumont West Brook High School in Texas, and he has led the Bruins to multiple playoff appearances throughout his tenure there.
After fielding a ton of offers, he made his decision to commit to the LSU Tigers.
Bryce Anderson Commits to LSU
RELATED: LSU's Next Stud Linebacker Has Some Serious Talent
Alabama, Arkansas, Auburn, Baylor, Florida, Florida State, Georgia, Georgia Tech, Miami, Michigan, Michigan State, Ohio State, Oklahoma, Penn State, Tennessee, Texas, and Texas A&M have all made offers to Anderson as well.
The Tigers, of course, beat Clemson in the 2019 National Championship Game. Anderson committed before head coach Ed Orgeron's team went on their title run, showing that the safety believed in the potential of the Tigers.
LSU's 2020 season may not have been an inspiring sequel, but the pieces are continually being put into place to ensure that they can return to the CFP.
Ohio State is a team that could make a last-ditch play for him as a good number of the team's defensive backs have gone on to the NFL in recent years.
Recruiting in the age of COVID-19 has been a struggle for programs and players alike, so like many recruits, Anderson has not been able to make as many visits to campuses as he normally would.
Bryce Anderson Highlights
Anderson has the rare opportunity to both throw passes on offense and pick them off on defense. His future is on defense, and while he is a skilled cornerback, he is better suited in the middle of the secondary as a safety.
His ability to be plugged in anywhere has made him an indispensable talent for West Brook. Since joining his varsity team, he has played five different positions.
Gabe Brooks of 247Sports praised Anderson's size and strength. The DB projects as a starter once he makes the trip to Baton Rouge, and he has real NFL potential as well.
Bryce Anderson is an incredible safety and should make an impact as soon as he reaches the NCAA. LSU made him their first recruit of the 2022 class and should reap the rewards soon.