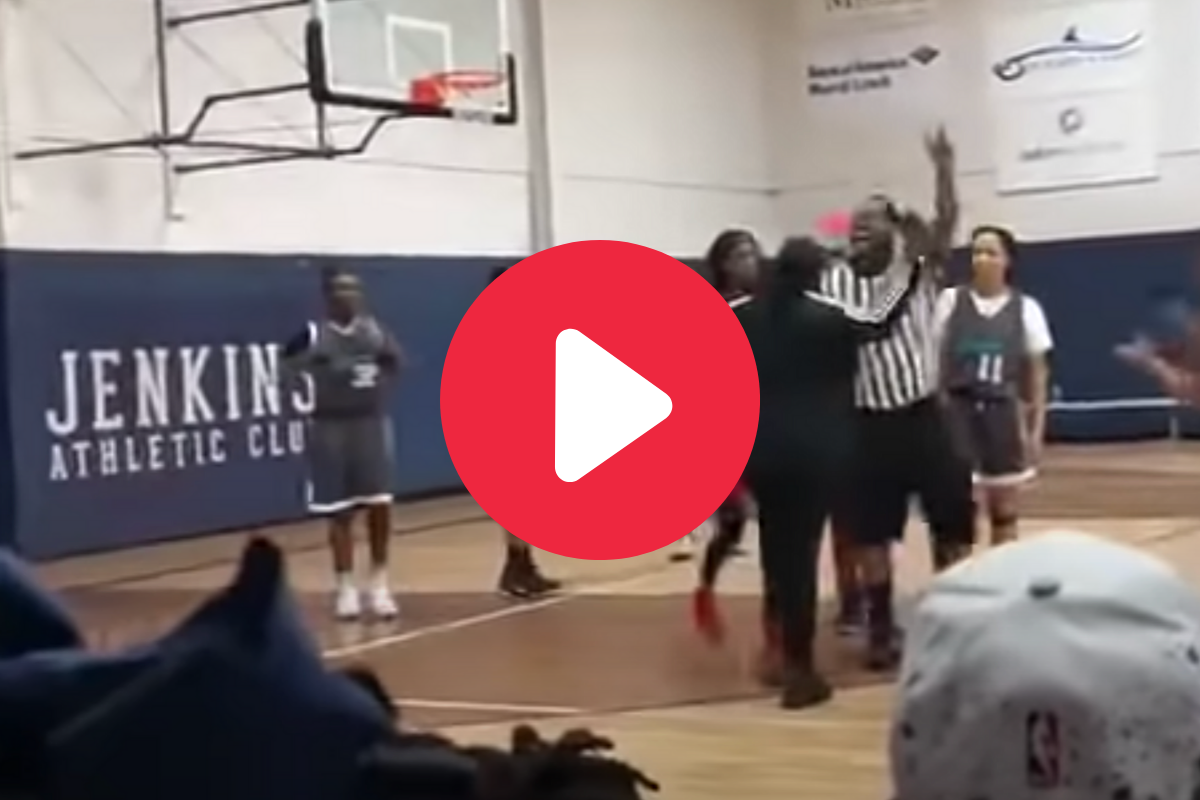 Screenshot from YouTube
Youth basketball games can get crazier than a Walmart on Black Friday, and there's no limit to what fans might see on the court.
We've seen everything from insane cheerleader brawls to dirty punches that lead to a player getting banned from campus to even entire basketball hoops nearly falling on players, you just never know what you might see.
It's not odd to see angry, screaming parents complain at games. That displeasure is often times directed at referees, and understandably so. It's totally out of line when that animosity starts with yelling from the bleachers to throwing punches at the game's officials.
One mother took matters into her own hands after taking issue with a foul call in Savannah, Georgia.
Angry Mom Attacks Referee
RELATED: Basketball Player?s Punch Was So Dirty He Wasn?t Allowed Back on Campus
One player's mother lost her cool at an AAU basketball tournament in Savannah, Georgia in 2018.
The video posted to YouTube shows a woman immediately jump from the seats after a foul is called by a referee. She gets in his face and it sounds like he tells her to leave the arena at the Jenkins Athletic Club. The woman kept charging and the referee even falls backward before a man jumps on him on punches him.
According to WTOC 11, the woman is believed to be Ranada Little, a mother of a player on the GLA Shockers from Eatonton, Georgia.
The referee, Marcus Fowles, said she was complaining about a call and even tried to throw a punch at him, which isn't obvious to see from the video. Here's how he described the nasty incident to WTOC 11:
"I've refereed the City of Savannah leagues in places where the fans weren't as kind, but they never got this far. Never got this far," Fowles said.

"When she came out of stands, I sit there and I blow the whistle, technical foul. You have to leave the gym. She tells me I don't have to go anywhere. While we're arguing and all that, she takes a swing at me. When she takes a swing at me, that's when I back up. When I start to back up, if you see in the video, you'll see Jake Simmons the coach come from behind and hit me in the back of the video. And that's when I hit the floor."
Darius Little told a different version than the referee's. He told WTOC 11 that the ref pushed his wife and drew up his hand "like he was ready to box her," which is also difficult to see from the video. He also told WJCL that she confronted Fowles after seeing another player hit someone on the Shockers.
The fallout wasn't pretty for two men involved. Darius Little and Jake Simmons were both arrested and charged with disorderly conduct and simple battery, per WTOC 11.
As for the mom, apparently she got off with just a video that may haunt her for the rest of her life. Hopefully the girls playing forget this ever happened.