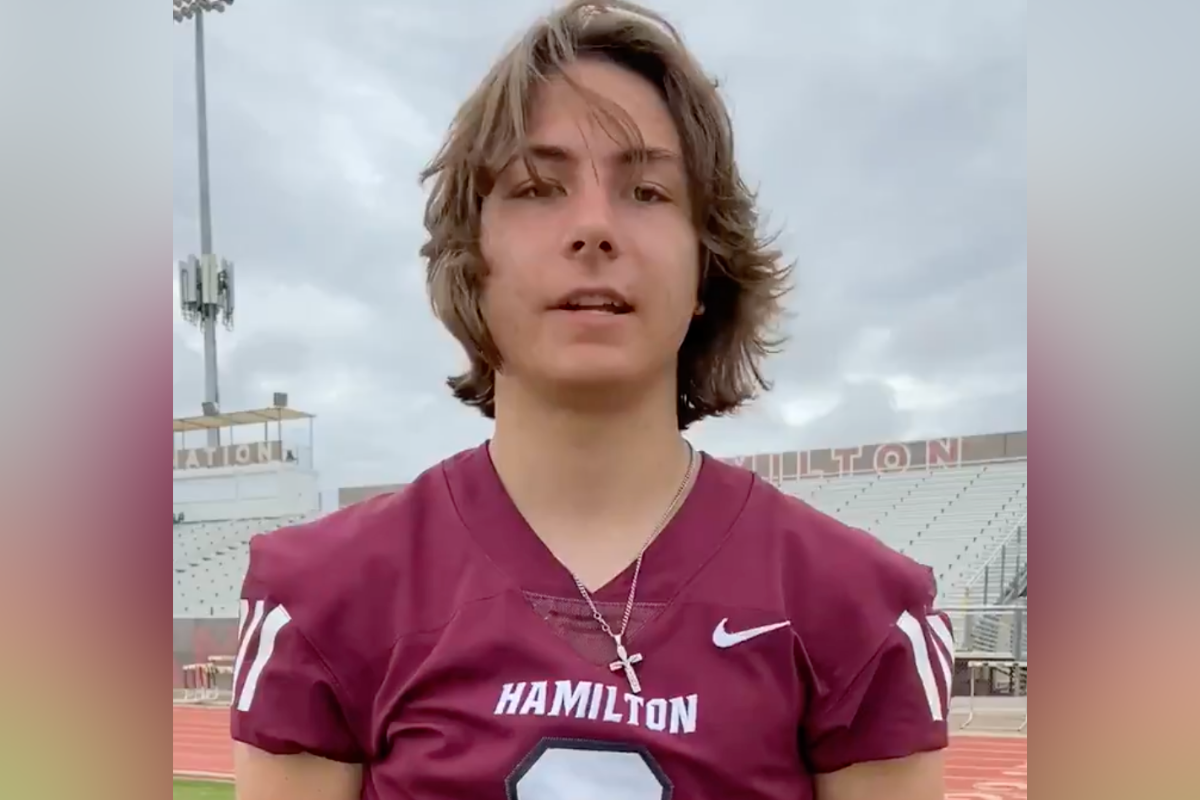 Screenshot from Twitter: Tom Lemming
Nicco Marchiol has the look of a fascinating prospect. The four-star pro-style quarterback has a rocket arm and hits wide receivers with ease. Marchiol plays for Hamilton High School in Chandler, Arizona. Though he is a member of the 2022 recruiting class, he looks ready for college football today.
Many teams reached out to Marchiol, but he will be moving across the country to play for a rebuilding program come 2022. FSU head coach Mike Norvell has gotten a pledge from who he feels is the QB of the future for the Florida State Seminoles.
Nicco Marchiol Commits to Florida State
RELATED: FSU Secures Sneaky Good WR Transfer From Big 12
Seminole fans were likely relieved to read the headlines: "Four-star quarterback Nicco Marchiol commits to Florida State." After all, it's been a tough few years under center in Tallahassee.
Marchiol made official visits to many schools and received scholarship offers from Arizona State, Arkansas, Colorado, Colorado State, Florida, Georgia, Georgia Tech, Kentucky, Liberty, Louisville, LSU, Michigan, Michigan State, Mississippi State, Nebraska, Ole Miss, Penn State, Rutgers, TCU, USC, USF, Utah and Washington State.
He even committed while on campus:
FSU brings a unique blend of history and QB competition to the table, and that is what must have intrigued Marchiol.
The 'Noles have struggled at the quarterback position for a number of years. McKenzie Milton was brought in to stop the bleeding, but there is plenty of work to be done for this school. The hope is someone like Marchiol will one day win the starting job.
QB Nicco Marchiol Highlights
Marchiol started his career at Aurora Regis Jesuit High School in Colorado before moving to Arizona during his junior year.
There was a bit of a learning curve in 2020, as Marchiol threw for 11 touchdowns and seven interceptions with Hamilton High. In his three years of high school football combined, he has found the end zone 54 times, so expect some positive regression as a senior next season.
Recruiting website 247Sports believes Marchiol is the 13th-best pro-style quarterback in the class. There is clearly much to like about his game, and the fact that he is left-handed gives him a whirlwind of potential since lefties are rare in today's game.
Nicco Marchiol has looked like a great quarterback over the last few seasons. He holds incredible amounts of potential. If he can be the one to lead Florida State past its dark stretch, NFL teams will surely be tuning in to his starts.