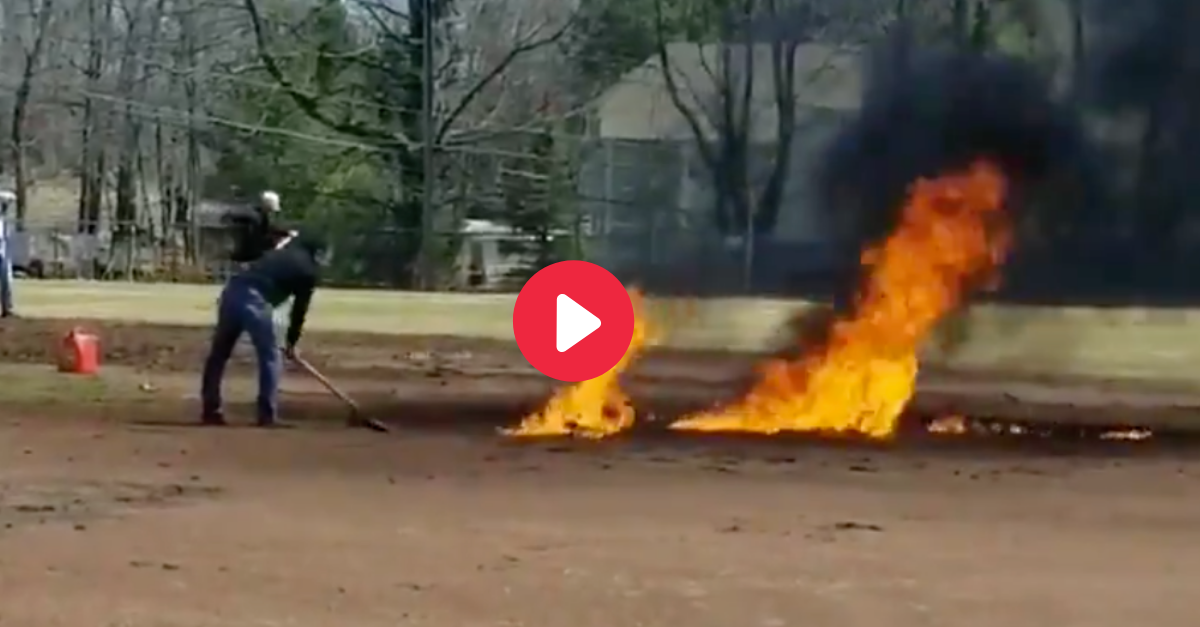 Twitter: @AmityNorton
No matter where you turn, all across the country, people are doing some pretty stupid things. Whether it's a fight after a youth softball game, a fan suing a MLB team for a t-shirt breaking her finger, or even forgetting to tip your pizza delivery driver, there are examples everywhere. And if you need another, look no further than Ridgefield, Connecticut.
We have all watched the TV show MacGyver. If not, you at least know he is damn good at solving problems. But what happens when you have a group of men trying to do the same? You get this.
The Ridgefield High School and Amity High School varsity baseball teams were ready to play on Saturday morning at Governor Park. The only thing delaying the baseball game was the two teams had to wait for the dirt in the infield to dry. No big deal, right? Well, someone took it upon themselves to ruin the day and perhaps the high school baseball field as the small Connecticut community knew it.
In order to dry the field quicker, someone made the ridiculous decision to pour 24 gallons of gasoline on the dirt and set it on fire. I repeat, someone poured 24 gallons of gasoline on the dirt and set it on fire.
RELATED: Texas Tech Fans Flip Cars, Burn Furniture in Massive Postgame Riots
Good grief, right? Calling it a poor decision would be an understatement. It is absolute insanity. And now, according to The Ridgefield Press, the town of Ridgefield might have a $50,000 environmental cleanup bill because someone thought it would be a splendid idea to pour gas on a damn baseball field and set it on fire in order to have it dry faster.
"Im not aware of who exactly it was who got the gas, but what we do know is that someone did use some gas around third base and that seemed to work. Others then went to get more gas and began spreading it from second over to the third… they lit up that little area and it dried up. Everyone thought it was working. They thought they could take care of the whole field with gas. …One person said they had done it in the past."

— Ridgefield First Selectman Rudy Marconi, via The Ridgefield Press
What's crazier than someone pouring gas on the wet field to solve the problem is that there were 75-100 witnesses, and nobody seemed to think there was an issue.
For those thinking this isn't a big deal, guess again. Not only did the Ridgefield Police Department (RPD) and fire department show up to the scene, the state's Department of Energy and Environmental Protection and the director of Public Works, Pete Hill, were called to the baseball field along with Ridgefield's Certified Spill Response Team.
In other words, someone is going to get in trouble.
With the investigation underway, and six to eight inches of gas-soaked soil already excavated from the infield, The Ridgefield Press reported that Superintendent Dr. William Collins has placed three Ridgefield varsity baseball coaches on administrative leave until the investigation is over.
This isn't the first time someone has lit a wet baseball field on fire, and it's a horrible decision each and every single time.