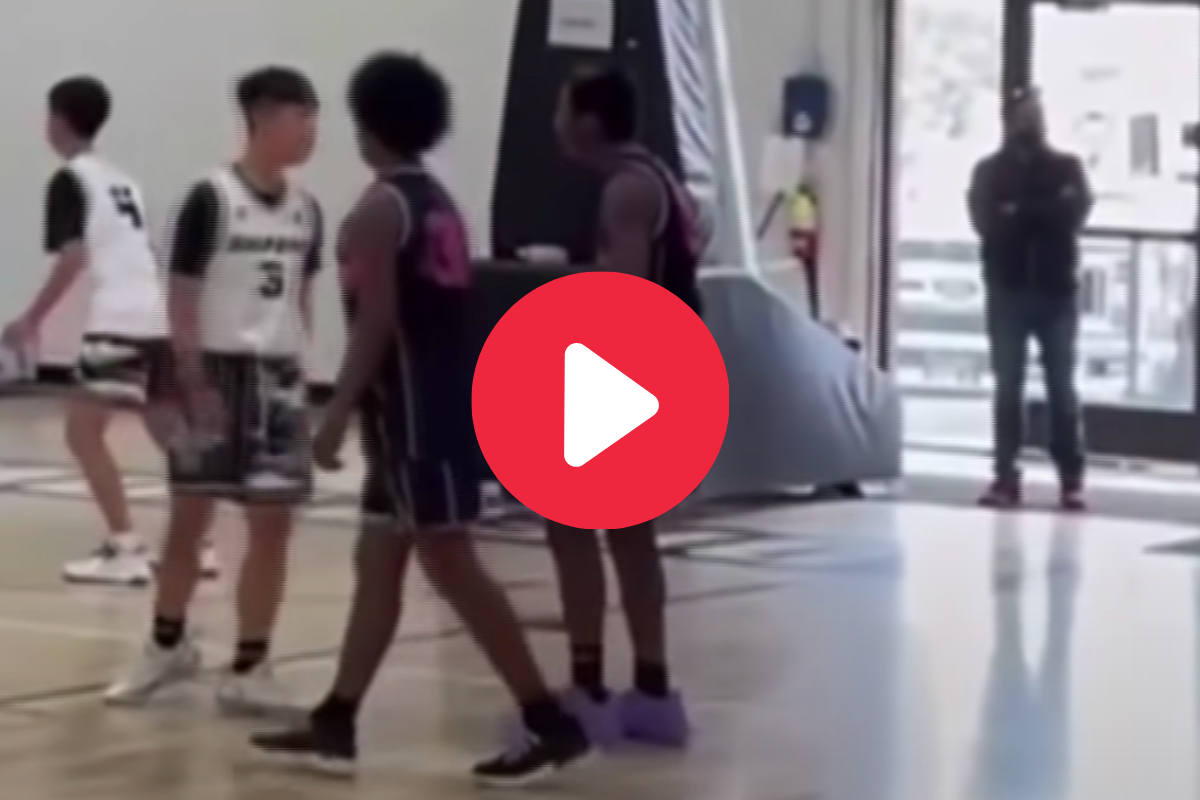 Screenshot from YouTube: KPIX CBS SF Bay Area
Youth basketball tournaments might as well get Michael Buffer to call games, because everyone from the kids to the parents and referees are always ready to rumble.
It's not uncommon to see player sucker punch their opponents. When angry moms or pissed-off dads get involved, like this one who suplexed a referee that swung on him, the game basically ends on the spot.
In an Oakland AAU basketball game over the weekend, fans witnessed a nasty punch in the middle of play that left a kid with a concussion.
Oakland Youth Basketball Punch
RELATED: Angry Dad Suplexes Referee at AAU Girl?s Basketball Game
The young player taking a fist to the face is named Evan. He was playing for the South Bay Snipers against the San Francisco Generals in Oakland, California's Soldiertown basketball facility on Saturday, May 1.
Evan went for a loose ball and was pushed by one of the Generals players. He pushed back before walking away. Then, he turned back around and received a right hook from the opposing player.
Evan's mom, Lennie, told the San Francisco Gate that Evan and his teammates were also called anti-Asian and racial slurs like "c***k" before the nasty exchange.
It's unclear what else led to the altercation, but Evan's parents weren't happy.
They said their son had a concussion stemming from the punch. Worse was that the kid who landed a punch wasn't given a technical foul and play resumed as normal. Eventually, the puncher was banned for the second day of play but was allowed to finish this game.
?The worst part is no one apologized,? Evan's dad, Eduardo, told SFGate.com.
?Two-thirds of the team are Asian," Eduardo added.
Witnesses said referees and other parents failed to do anything about the situation.
?How was a technical foul not called when he was obviously punching him in the face?? one spectator named Olivia told KPIX 5 CBS SF Bay Area. ?They said, ?Oh, we saw what happened,? and I was pressing them because I said, ?If you saw what happened, you should not let that go!'?
After the video was captured and story came out about the incident, Generals coach Donte Brown apologized to the family. He banned the player who swung at Evan and said he was unaware of what took place.
Additionally, an Amateur Athletic Union (AAU) representative told SFGate.com that the organization had no affiliation with the basketball tournament.
It's sad when incidents like this take place in youth sports. Let's hope Evan recovers and the kid who punched him is sorry.