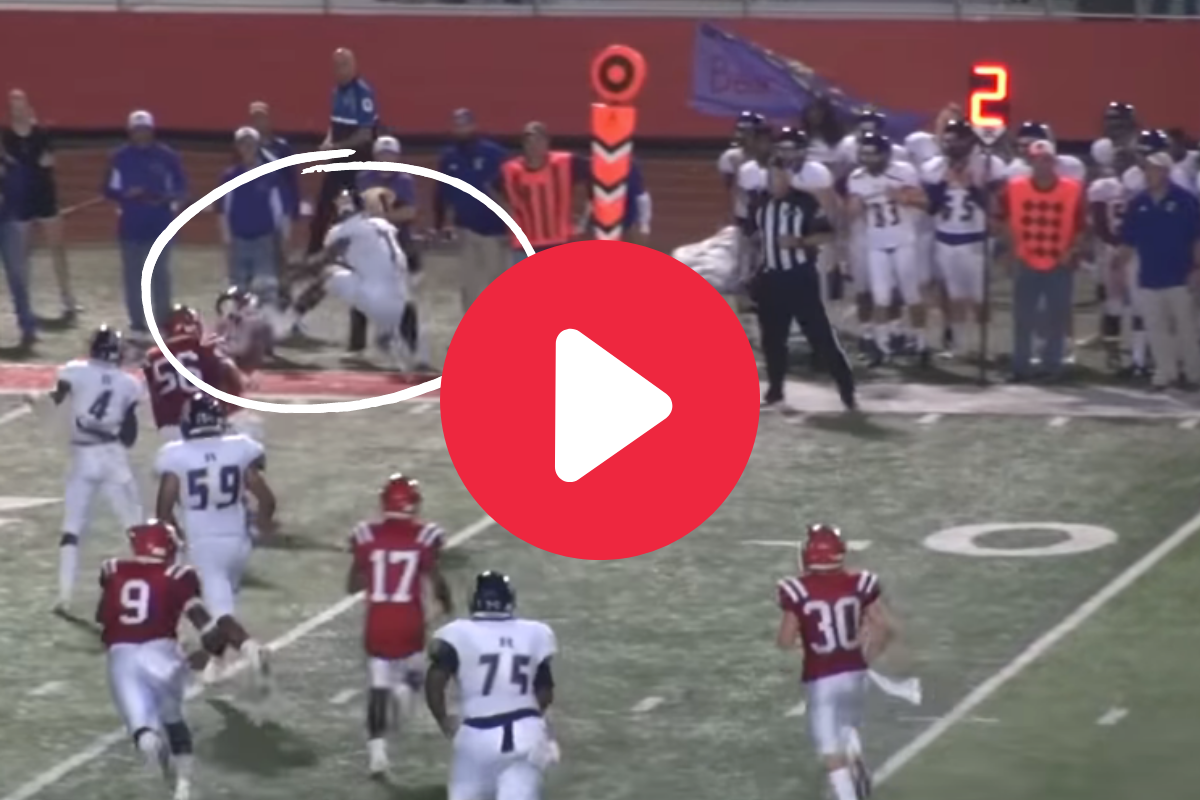 Screenshot from YouTube
Football is a collision sport, not a contact sport like some would have you believe.
Ball carriers are the focal point of potential collisions. Any advantage they can use to avoid being crushed is welcome.
Tyreek Hill leaves everyone in the dust. Alvin Kamara jukes defenders out of their socks. Derrick Henry thwarts tacklers with his "jaws of life" arms.
What about kicking? Running back Pooka Williams Jr. tried it out in high school and raised some questions about the play's legality.
Pooka Williams "Stiff Leg" Run
RELATED: High Schooler?s ?No-Look? Backwards Pass Trick Play Fooled Everyone
Williams was a stud running back out of Hahnville High School in Boutte, Louisiana, right outside of New Orleans, before he committed to play college football for the Kansas Jayhawks.
On a Friday under the lights, Williams takes a handoff out of the shotgun and runs to his right after the left side is clogged up. He sees a defender in his way near the line of scrimmage. The best way to avoid him, at least to Pooka, is to hurdle him.
Williams was a slender 5-foot-9 and 175 pounds back then. He would need a trampoline to completely hurdle someone, but maybe his cleats were feeling extra bouncy that day.
Williams jumps, only he doesn't quite leap high enough to clear the guy. Instead, he extends his legs and kicks him square in the chest. He's launched backwards like a wall of bricks while Williams trudges upfield and runs out of bounds. The play was pretty standard, you know, except for Williams kicking this dude like he's in a "John Wick" movie.
It raised the question all fans were dying to know: Is it legal or not?
Is The "Stiff Leg" Legal?
Antonio Brown's kick to the face of Cleveland Browns punter Sepncer Lanning is our best point of reference. The former Pittsburgh Steelers standout tried a similar move to Williams, only Brown's kick hit Lanning directly in the face mask. Brown was flagged for unnecessary roughness and fined $8,200 by the NFL.
This tells me the grounds for a penalty is where the kick lands. If you hit the defender in the chest and he collapses like a sack of potatoes, apparently you're good as gold.
According to the National Federation of State High School Associations, stiff-legging someone isn't allowed. Players may not "swing the foot, shin or knee into an opponent, nor extend the knee to meet a blocker." Heck, according to the rulebook, hurdling opponents isn't even allowed.
Williams, who now plays for the Cincinnati Bengals, would be wise not to test this theory at the pro level if he values his wallet.