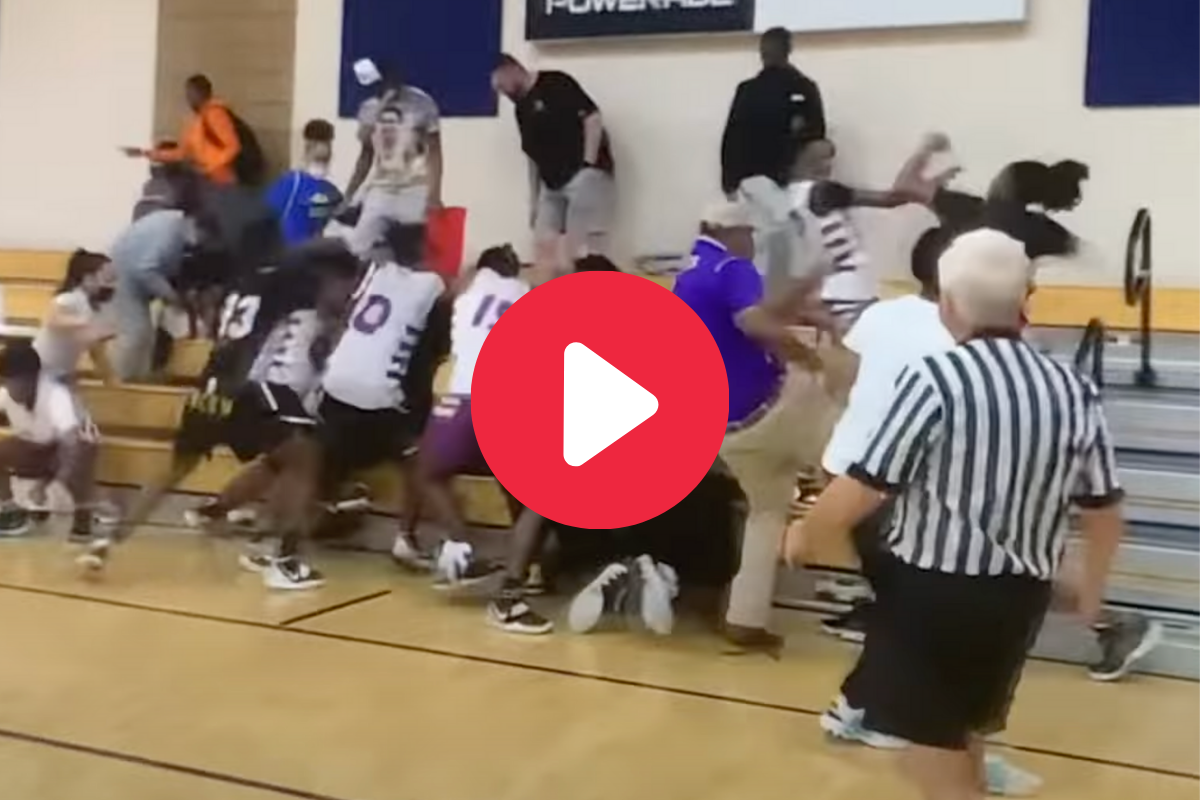 Screenshot from YouTube
There's an old coach's saying about playing to the whistle.
I've searched my coachspeak handbook (authored by Nick Saban with a foreword by Bill Belichick) and I can't find if that also applies to the bell.
Two Georgia high school boys basketball teams out of Burke County and Thomson don't know, either.
Their game was at a stopping point, but the main event was only beginning.
Riverview Park Basketball Brawl
RELATED: Dirty Foul Sparks Fan Brawl at HS Basketball Game
Tensions mounted when a Thomson player is called for a charge in a basketball tournament game at the Riverview Park Activities Center. The inbounding Burke County player barked at the Thomson player and tossed the ball at him.
The Thomson player returns the favor with a little more force, and the Burke County player gets in his face.
That's the calm part.
A coach steps on the court to separate the two. The chatter continues.
Both teams make their way to a court, with only a coach and adult spectator separating them.
Everything goes to chaos when a parent jumps down from the bleachers right in the middle of the scuffle on the basketball court.
It's hard to see, but the parent (guy in the purple shirt) punches a player.
Things quickly escalated from there.
Punches started flying, people started grabbing ankles, players decked adults?the whole shabang eventually grew to all out mayhem.
The whistles didn't do much to stop the fight until multiple refs intervened.
The game was called.
Rick Meyer, Director of North Augusta Parks and Recreation, commented on the incident:
?We want to protect our staff and our people and we will take whatever measures that we need to do to make sure that Riverview Park is a safe place,? [said Meyer]. ?What do we need to do to be proactive because from our perspective our main goal is to protect our facility, protect our staff and the membership in our community.?
It was the second consecutive weekend a fight broke out at the facility. Renters are now required to pay for a North Augusta Public Safety officer to be on-site for future events.
Eric Jerome Mobley, the 52-year-old man who instigated the brawl aka purple shirt guy, was labeled the brawl's primary aggressor. He was charged with third-degree assault and battery after striking a minor with a closed fist. Mobley was upset with a foul call on his son.
The fight probably could've been prevented had Mobley not inserted himself in the middle of it. If you're that upset with a foul call at a youth basketball game and feel the need to punch a kid, you need to get a life.