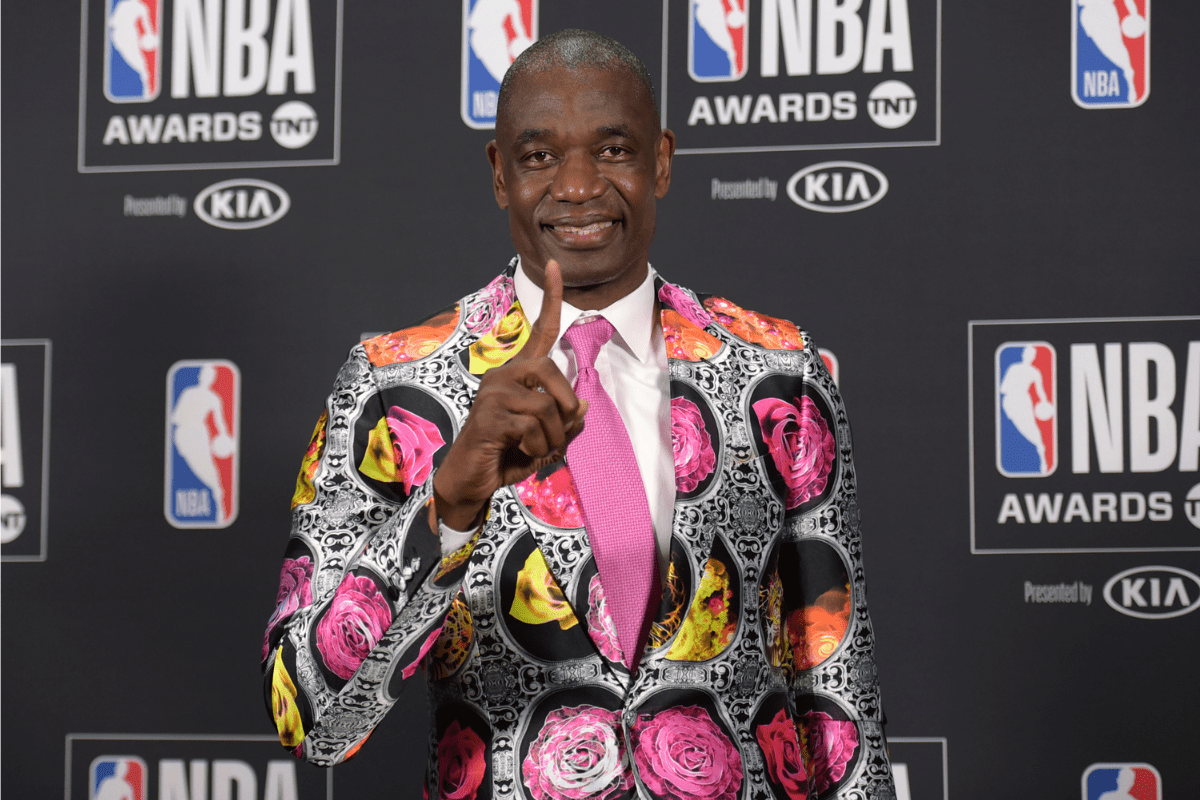 Photo by Richard Shotwell/Invision/AP
Assuming the role of gatekeeper to the rim is in the Mutombo blood.
Dikembe Mutombo led the NBA in blocks three times, averaging 2.8 per game over the course of his 18-year career. His mere presence was enough to deter rim attackers.
The four-time NBA Defensive Player of the Year's son, Ryan Mutombo, has a similar penchant.
Ryan Mutombo Highlights
RELATED: Shareef O?Neal, Shaq?s Son, Commits to LSU
Ryan Mutombo is entering his senior year at The Lovett School in Atlanta, Georgia. Defensively, he works in the gym with his father. Dikembe wants his son to block everything. He encourages Ryan to be relentless in monitoring the rim. Every shot in the paint is a chance for a block. He's performed well as the leader of the paint patrol, focusing on keeping his long arms extended and straight up.
Mutombo isn't restricted to just being a rim protector. The big man also has a knack for distributing. On the block or in the high post, the high school center has the sense to find open shooters and cutters. He's opening up his scoring options by working on his face-up game. He has a nice, short jumper to go with a swift first step to beat defenders off the dribble. One of his biggest strengths is gaining position in the post and finishing with dunks.
He still has room to grow into his body, and improve agility and strength, but the signs of an efficient two-way player are there.
Ryan Mutombo Recruiting
Ryan Mutombo is the 80th rated player in the 2021 college basketball recruiting class, according to 247Sports' composite rankings. The four-star post player holds NCAA scholarship offers from Georgetown, his father's alma mater, Georgia Tech, Richmond, Appalachian State, Texas A&M, and Indiana State.
Mutombo has gained more interest from Power 5 programs, partly due to his performance at the 2019 Holiday Hoopsgiving ? It's one of Atlanta's premier showcases. He's been offered by Clemson, Vanderbilt, Tennessee, Stanford, Florida State, Virginia Tech, Florida, and Wake Forest in recent months, and Mutombo hopes bluebloods take note of his emergence.
?I?d like to hear from UVA, UNC, Kentucky would be nice, all of the big schools that kids dream about when they?re growing up,? [Mutombo] said. ?I think it would just be like an awesome experience to get to visit one of those top schools.?
The blossoming recruit has big shoes to fill given his name. Maybe even enormous with his dad standing 7-foot-2 and being an eight-time NBA All-Star. It doesn't seem to bother him. If he continues this growth rate, his path could lead to the NBA Draft.
Ryan Mutombo Commits to Georgetown
Whether it's as a shot-blocker, in the mid-range, or as a passer, Ryan Mutombo has a good feel for the game right now. He also has a good feel on where he's going to play his college basketball.
On October 4, 2020 — at 8:24 p.m. ET to honor the late Los Angeles Lakers superstar Kobe Bryant — Mutombo announced his commitment to play for Hall of Famer Patrick Ewing and the Georgetown Hoyas.
It's a big-time announcement for both parties. Who knows, perhaps he can impact Georgetown Hoops and make NBA history like his dad did.
This post was originally published on May 4, 2020 and updated for Mutombo's commitment during the COVID-19 outbreak.