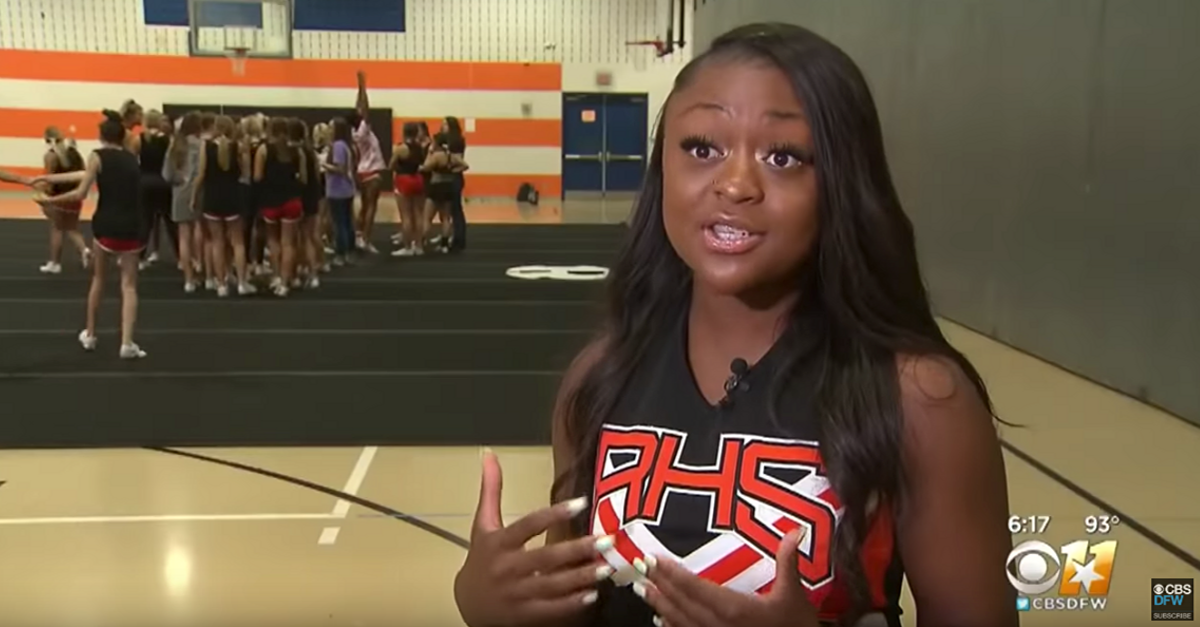 Screenshot from YouTube: CBSDFW
The homecoming parade was the coolest part of senior year in high school. In my hometown back in Pennsylvania, the volunteer fire department rolled out trucks, local dealerships donated classic cars for the homecoming court to ride, and our entire football team loaded onto a flatbed truck as we rolled through town.
Homecoming is a time for making new memories and looking back on old ones, but Rockwall High School senior Tyra Winters might take the cake with the greatest homecoming memory of the year.
Winters is the head cheerleader in Rockwall, Texas. During the school's homecoming parade, the teenager noticed a young boy, Clarke, who was choking and unable to breathe. Clarke's mom, Nicole Hornback, wasn't exactly sure how to help her 2-year-old son.
"And at that moment, that's when I tried to give him the Heimlich and I've never taken a class," she told KTVT. "To feel so useless as a mother was the most terrifying thing in my life."
After not being able to clear the blockage, Hornback began calling out for help. That's when Winters sprang into action, jumped off her parade float that was passing by, and saved the day.
Texas Cheerleader Saves Choking Boy
"I immediately jumped off the float. I ran down to the kiddo, and I was like, 'I got it,' and I just grabbed him from the mom. I grabbed him, I tilted him upside down, and I just hit a good three back thrusts and he ended up spitting up [the piece of candy]."

? Tyra Winters
Winters' mom works in the medical field, and she learned the life-saving maneuver back in eighth grade. Winters said that using those back thrusts "works better on little ones around 20, 30, 40 pounds."
See what happens when you pay attention in health class?
"You're amazing, you're going to do great things in life," Hornback told Tyra when everyone, including little Clarke, was later reunited.
Heroes appear when you least expect them. It's amazing to see a teenager taking charge and saving a young child's life. This is also a reminder that having basic first aid training, especially as a parent, should be a priority for every family. It doesn't take long to learn how to save a life, and you never know when you might need to.