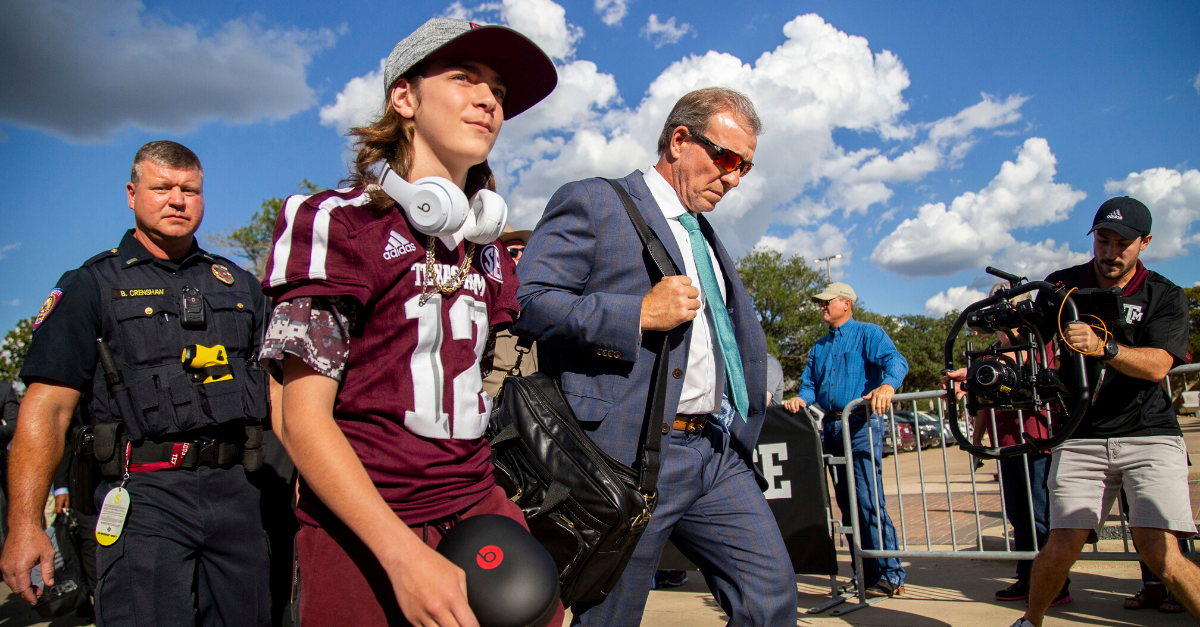 AP Photo/Sam Craft
Texas A&M head coach Jimbo Fisher knows a thing or two about recruiting. He lives it on a daily basis and it?s why he gets paid the big bucks. When it came to his oldest son, however, the 54-year-old got to sit back and enjoy the process.
Trey Fisher, a quarterback from Amos P. Godby High School in Tallahassee, had several offers to play college football next season, but he made it official on National Signing Day. He will be attending the University of Tennessee-Martin and, boy, did that make his dad proud.
?It was a very good day for him,? Fisher said, via The Dallas Morning News. ?He had some choices of some schools and it was fun to be a dad and be on the other end of that. Let him make choices and sometimes you?re on this end of it so much you?re able to sit back.?
Jimbo Fisher's oldest son elected to stay in Florida to finish his high school career when his dad left Florida State and moved to College Station and, needless to say, the decision paid off, and he will be suiting up for the FCS program in the near future.
QB Trey Fisher Signs With UT Martin
RELATED: Jimbo Fisher?s Net Worth Continues to Skyrocket at Texas A&M
Alongside UT Martin, Trey Martin, the son of Texas A&M coach Jimbo Fisher, also received interest from Samford, according to 247Sports. It?s unclear whether or not he had a walk-on spot available with the Texas A&M Aggies or Florida State Seminoles.
The 5-foot-11, 175-pound pro-style quarterback who threw for 2,121 yards with 22 touchdowns is officially off the board and joined several other signees in UT Martin?s 2020 recruiting class.
Fisher even glowed about it during his Signing Day press conference.
?I think he?ll have a great career there. I?m very proud of him and love him to death. He a man who?s very mature, above his years. He really is and I?m very proud to be his dad.?
Instead of worrying about beating Alabama or making sure Kellen Mond throws more touchdowns interceptions, Fisher sat back and watched his oldest son make his choice. It was a great dad moment, for sure, and it?s one both will likely never forget.
Now Fisher will definitely have to catch his son?s NCAA games on the ESPN network in the future when the coronavirus pandemic and COVID-19 outbreak allows football to return.
Needless to say, Trey Fisher is ready to make a name for himself at the college level.
This post was originally published on February 6, 2020.