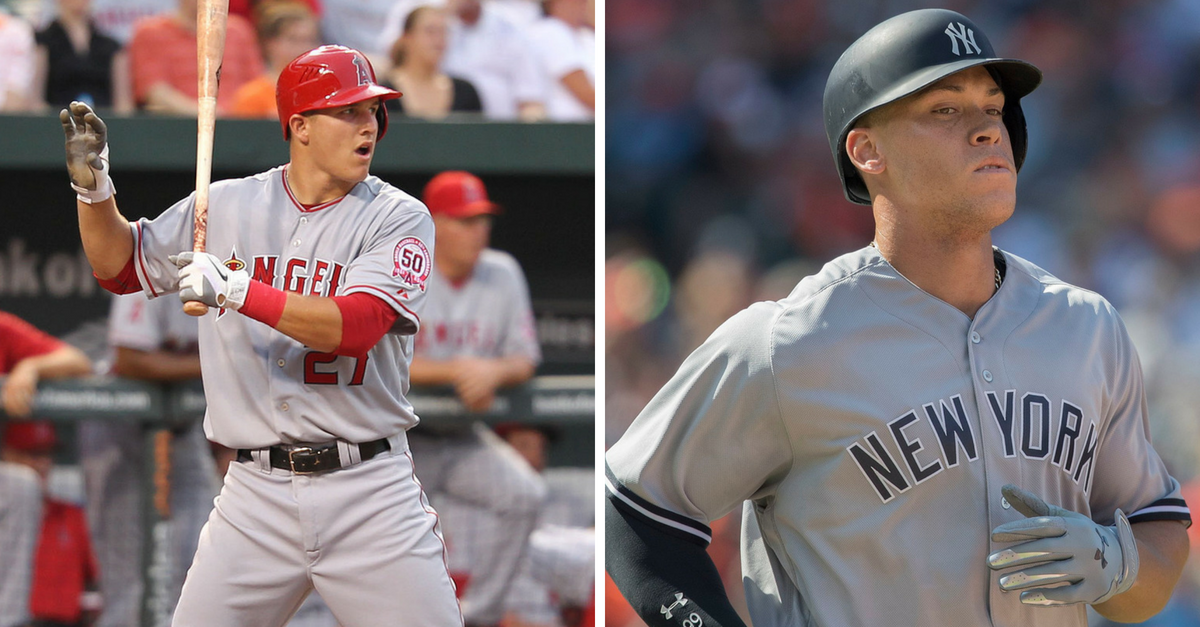 Wikimedia Commons
Wikimedia Commons
Wikimedia Commons
Another All-Star game roster is released, and another round of players are scratching their heads wondering why they were left off the team. This year's MLB All-Star Game will feature at least one player representing every team; the winning team no longer guarantees its league home field advantage in the World Series, as was tradition in years' past.
Players are selected in a few different ways to ensure each league is well represented. This process also helps drown out skeptics who say All-Star selections are 'popularity contests' rather than merit based. Here's a breakdown of how Major League Baseball determines All-Star nominations:
Unfortunately, the process still isn't perfect, and more deserving players will either get in on the Final Vote, or are going to be enjoying the 89th Midsummer Classic at Nationals Park in Washington D.C. from their couch.
Here are the players with the biggest gripe being held off the All-Star team:
1. Jesus Aguilar, First Baseman, Milwaukee Brewers
.306 BA, 22 HRs, 63 RBIs, 1.001 OPS
Right now, Aguilar is the best player on National League's best team. He's top-5 in ALL of baseball in slugging percentage, OPS and RBIs. His 22 home runs lead all Major League first basemen, and he hits a long ball every 11.1 at-bats; that's the fewest at-bats per homer ratio in all of baseball. He's on the NL ballot for the Final Vote, and no one is more deserving than he is.
2. Blake Snell, LHP, Tampa Bay Rays
12-4, 2.09 ERA, 116.0 IP, 1.026 WHIP
https://www.instagram.com/p/Bk_V60AlhH0/?hl=en&taken-by=chrisarcher22
The American League's ERA leader isn't an All-Star. Snell's 12 wins tie him with Corey Kluber for second most in all of baseball, and he's on par with the baseball's aces, starting 19 games for Tampa Bay so far in 2018. Snell's 5.819 hits allowed per nine innings is third-fewest in baseball, too. His teammate Chris Archer was none too pleased to see Snell's omission from this year's game.
3. Charlie Morton, RHP, Houston Astros
11-2, 2.83 ERA, 108.0 IP, 141 SOs
Two Astros' pitchers are getting the nod to head to Washington, but the third wheel Morton is being left back home, for now. The 34-year-old Morton is having a career year: he's already won more games in 2018 than he did in any year from 2008 to 2016. His 141 strikeouts are the ninth-most in the MLB, and 11.75 strikeouts per nine innings ranks third in the American League behind the Red Sox Chris Sale and teammate Gerrit Cole. Morton's saving grace might be replacing teammate Justin Verlander, who has already committed to not playing in next Tuesday's game.
4. Jed Lowrie, Second Baseman, Oakland Athletics
.290 BA, 16 HRs, 62 RBIs, 100 hits
The American Leagues best second baseman is Jose Altuve. It's second best is 11-year pro Jed Lowrie, who is being bumped from this year's game for New York Yankees rookie Gleyber Torres. Lowrie's 100 hits is ninth in the American League, and his 62 RBIs is tied for second in the AL. As a kicker, Lowrie's .993 fielding percentage is the best in the league for a second baseman. Sometimes, where you play matters more than how you play.
5. Andrelton Simmons, Shortstop, Los Angeles Angels
.307 BA, 6 HRs, 39 RBIs, 27 BB, 15 SOs
Last season, Simmons finished 8th in the American League MVP voting, didn't make the 2017 All-Star team, and he's having a better year in 2018. Simmons boasts an insane 19.7 at-bats per strikeout; the second fewest is Indians' All-Star Michael Brantley (10.5). Simmons is the leagues best defensive shortstop, too. The three-time Gold Glove shortstop has turned the most double plays (57) in the American League, and his .985 fielding percentage is fourth in the AL. Unfortunately, Simmons has to contend with more popular players like the Orioles' Manny Machado, Astros' Carlos Correa, and Indians' Francisco Lindor at the same position.
Honorable Mentions
Max Muncy, Utility Infielder, Los Angeles Dodgers
20 HRs in 67 games, 1.017 OPS
Adam Ottavino, Relief Pitcher, Colorado Rockies
4-2 record, 40.1 IP, 1.79 ERA, 63 SOs
Albert Almora, Jr., Center Fielder, Chicago Cubs
Leads NL with .326 batting average; Also the most Putouts + Assists per 9 innings (2.76) among NL Center Fielders