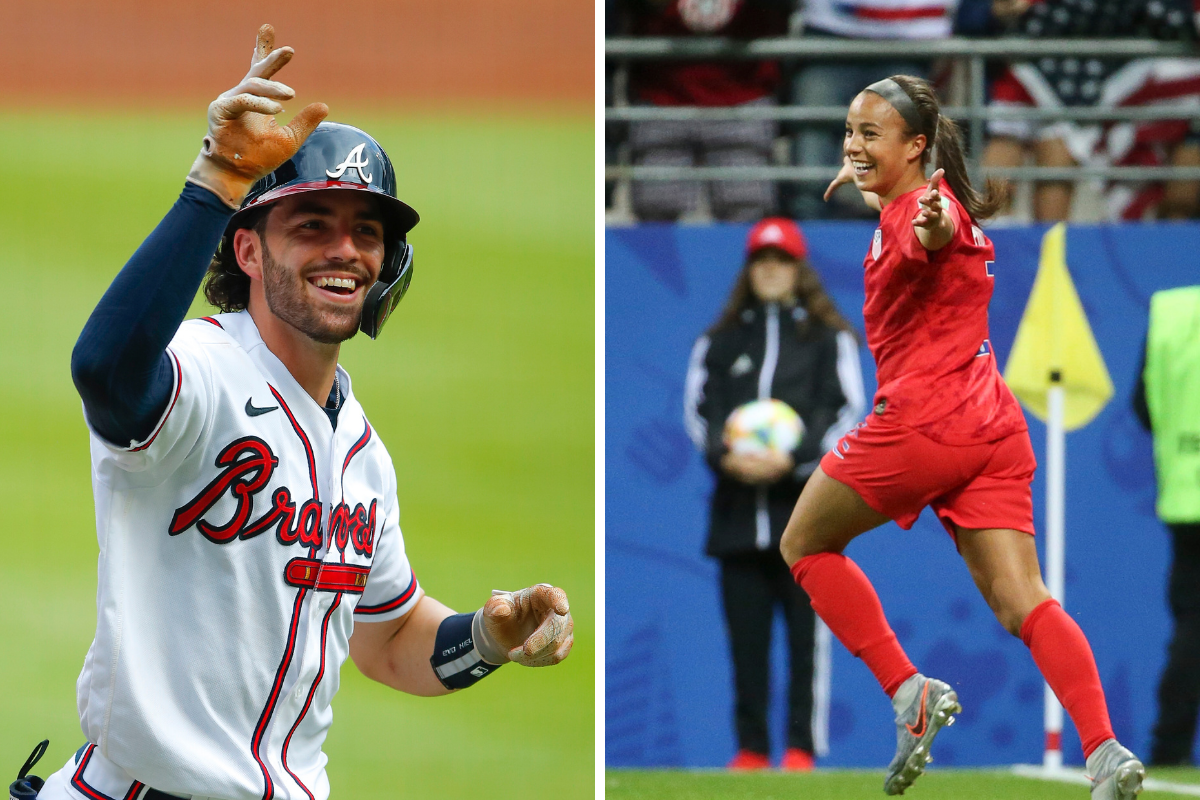 Todd Kirkland/Getty Images (left), Jean Catuffe/Getty Images (right)
Sports stars know how to play the field better than anyone. So, it should come as no surprise that plenty of sports personalities have found his or her significant other through athletics.
There's Arizona Cardinals tight end Zach Ertz and USWNT star Julie Ertz. Ertz's teammate, J.J. Watt, is married to soccer stud Kealia Ohai Watt. WNBA legend Sue Bird tied the knot with United States soccer icon Megan Rapinoe.
Atlanta Braves shortstop Dansby Swanson also looked to the pitch when searching for a romantic partner.
Dansby Swanson's Girlfriend Mallory Pugh
RELATED: Carlos Correa's Wife is a Beauty Queen Who Won Miss Texas USA
Swanson is dating American soccer player Mallory Pugh. The two met through Swanson's former teammate and Pugh's brother-in-law Jace Peterson. They began dating in 2017.
Pugh is one of the fastest-rising stars in women's soccer. Born Mallory Diane Pugh on April 29, 1998 in Littleton, Colorado, she has been a natural since she first started playing soccer at 4 years old. Pugh rose through the club ranks in Colorado. By the time she reached high school, she was one of the best players in the country.
Pugh's skills only grew at Mountain Vista High School in Highlands Ranch, where she scored 47 goals and recorded 21 assists while leading her team to a state championship as a freshman. She started playing internationally for the US during her prep career, too.
The footballer originally committed to play college soccer for UCLA but later turned the Bruins down to play for the Washington Spirit of the National Women's Soccer League. Since joining the NWSL, she's also played for Sky Blue FC and currently plays for the Chicago Red Stars, where she's teammates with Julie Ertz and Kealia Watt.
Pugh made her debut for the senior United States Women's National Soccer Team when she was 17 and became the youngest USWNT player in 11 years to see the field. The forward has become a staple of the Red, White and Blue and was a member of the 2016 Olympics squad as well as the 2019 FIFA Women's World Cup championship team.
Her success has led to endorsement deals with Nike and Gatorade.
When she's not scoring goals, Pugh posts loving pictures of her personal life with Swanson on social media.
Dansby Swanson MLB Career
James Dansby Swanson was born to Cooter and Nancy Swanson on February 11, 1994 in Kennesaw, Georgia. He has an older sister named Lindsey and an older brother named Chase.
After starring at Marietta High School and being selected by the Colorado Rockies in the 2012 Major League Baseball Daft, Swanson turned down the pro deal and played college baseball at Vanderbilt University. It was in Nashville where he started to gain national attention.
The professional baseball player shined in the Commodores' run to the 2014 College World Series title and won the tournament's most outstanding player award. He was subsequently the first overall pick by the Arizona Diamondbacks in the 2015 MLB Draft.
The Diamondbacks traded Swanson to the Atlanta Braves of Major League Baseball later that same year, sending the Georgia native to play for his hometown team. The American professional baseball shortstop made his MLB debut in August 2016. He struggled in the early stages of his professional career but has found his rhythm the past few seasons.
Swanson had a .248 batting average in 160 games during the 2021 regular season. It was the most games he's played in a season thus far in his career.
As Swanson continues to get better, he's sure to get a new contract that'll boost his net worth. Combine that with Pugh's rising stardom and the two should be set.
For now, it's all about bringing a World Series trophy to Atlanta. You know Mallory will be cheering on Dansby the entire time.
Related Videos