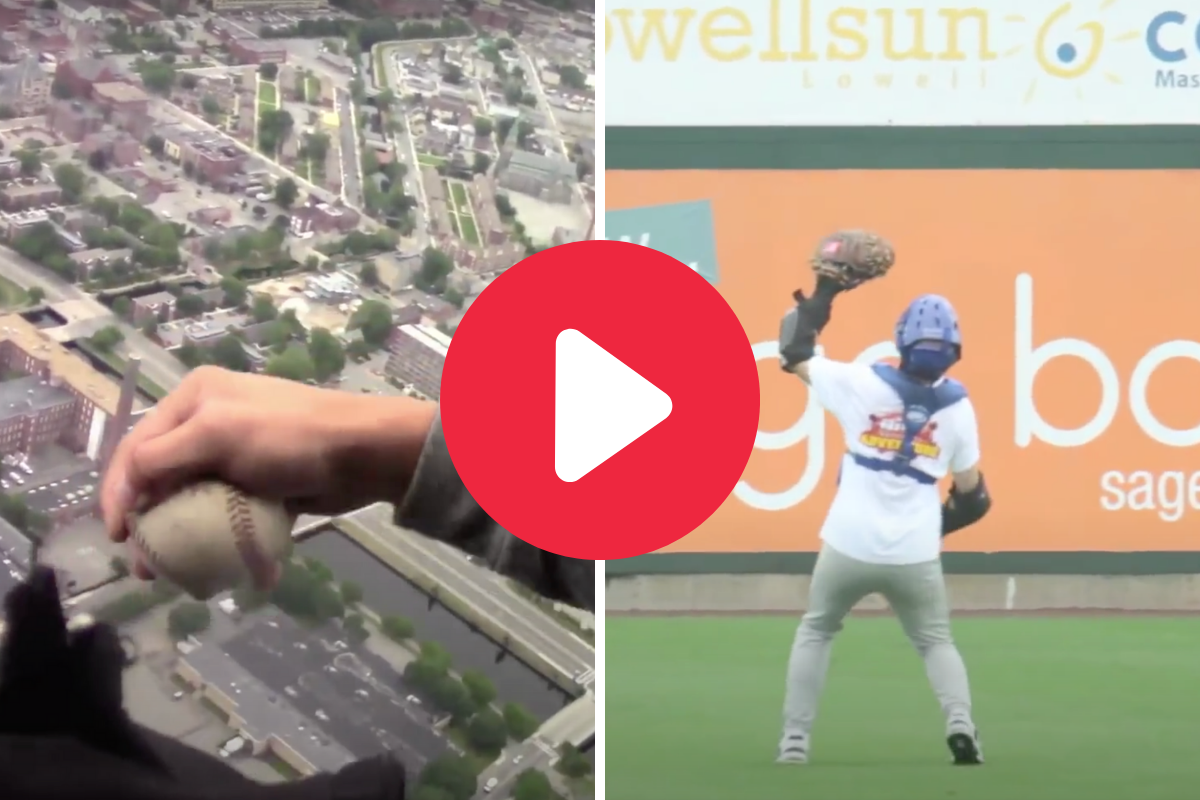 Screenshot from YouTube
Some baseball records will never be broken. Nolan Ryan's 5,714 strikeouts are practically untouchable. Starting pitchers would have to last some 40 seasons to reach Cy Young's 511 career wins. Don't even get me started on Pete Rose or Cal Ripken Jr.
America's Pastime is full of stats and numbers, but it's the wacky and bizarre records that catch the eye. Most know that Aroldis Chapman owns the fastest pitch ever, but who knew the longest home run was hit by a dude named Joey Meyer?
And because some people have too much time on their hands, the world's highest baseball catch also exists. Yes, really.
The World's Highest Baseball Catch
?RELATED: The Longest Home Run Ever Was So Deep, It Fooled the Camera Man
Major League Baseball fans know the name Zack Hample. He's made a living catching and collecting home run balls and documenting how he does it. He's faced criticism in the past because he's done what he does at the expense of casual fans and children.
Hample set out in 2013 to break a world record: the highest baseball catch.
Hample arranged for a helicopter to drop a baseball from more than 1,000 feet in the air while he stood in the outfield at Edward A. LeLacheur Park in Lowell, Massachusetts. Equipped with a full set of catcher's gear, Hample impressively came down with the catch using a catcher's mitt.
"My biggest fear going into this was probably breaking my hand or a wrist or a fingers," said Hample, who also worried about the ball hitting him in the head and neck, in a YouTube video posted by BIGS Sunflower Seeds.
Unfortunately for Mr. Hample, there were no Guinness World Records judges in attendance to authenticate his claim. Hample insists that he broke the record, which was previously from 822 feet, per Yahoo Sports.
I'll go ahead and say it: I'm impressed. Fielding a pop fly in Chicago winds is hard enough. Keeping your eye on a ball dropped from 1,000 feet? Yeah, no chance.
Hample isn't the only daredevil to attempt this type of stunt.
Babe Ruth reportedly once caught a ball from an airplane flying 250 feet above him.
Back in the 1930s an MLB catcher who played for the Cleveland Indians, St. Louis Cardinals and San Francisco Seals (a minor league team) named Joe Sprinz tried catching a ball dropped from a blimp 800 feet above him. The ball rifled into his glove and allegedly broke his jaw.
Moral of the story: Don't attempt this stuff, and if you do you better have a Guinness World Record judge on hand. Otherwise, what's the point?