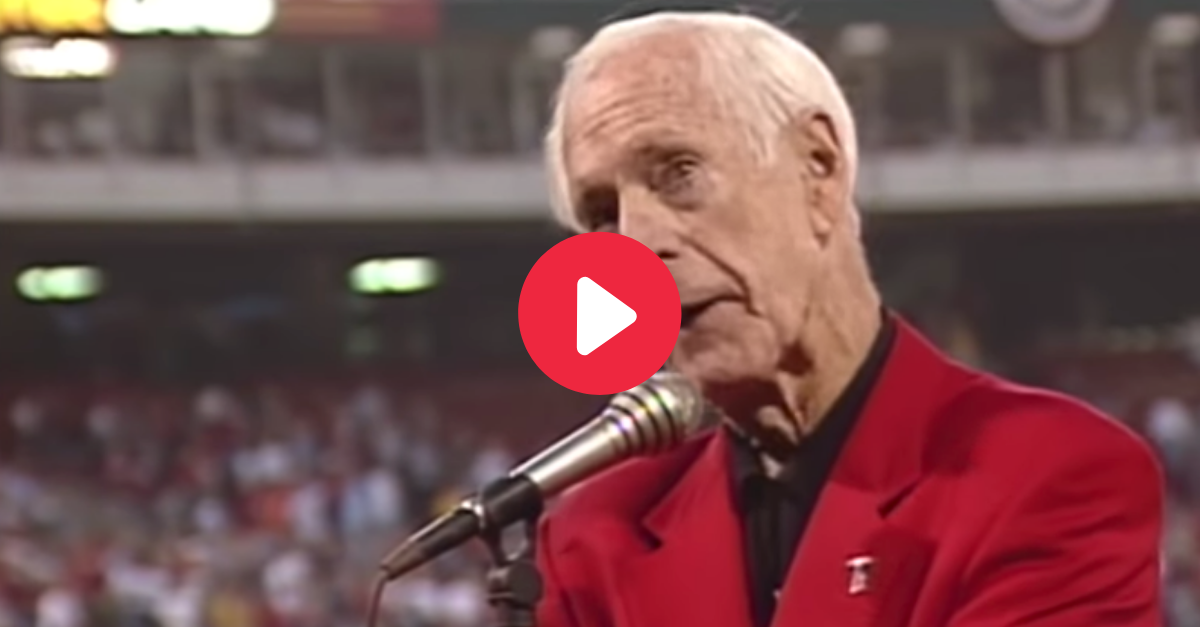 Screenshot from YouTube: MLB
Hall-of-Fame broadcaster Jack Buck was the best in the business, and maybe, the best there ever was. For nearly two decades, Buck teamed with Hank Stram as the voices of Monday Night Football for CBS Radio. Buck called numerous NFL playoff games, 17 Super Bowls — the most of any announcer — and even called the iconic "Ice Bowl." Buck's most famous moment, though, is one that nearly every sports fan still recognizes.
During Game 1 of Major League Baseball's 1988 World Series, Kirk Gibson of the Los Angeles Dodgers hit a walk-off home run despite multiple leg injuries. As Gibson hobbled around the bases, Buck famously exclaimed, "I do not believe what I just saw!"
RELATED: Mets Score 9 Runs on 11 Hits, Win on Emotional 9/11 Anniversary
Jack Buck — the father of Joe Buck — earned induction into the National Baseball Hall of Fame, Pro Football Hall of Fame, Cardinals Hall of Fame, and National Radio Hall of Fame for his storied career. Sadly, Buck died on June 18, 2002 after battling lung cancer, Parkinson's disease and numerous other health issues.
Late in his life, Buck returned to Busch Stadium, the place where his career began as the voice of the MLB's St. Louis Cardinals, to deliver one of the most incredible speeches you'll ever hear. Frail, sick and laboring from his illnesses, Jack Buck stood poised and unwavering.
The iconic voice read his own patriotic-themed poem titled "For America" just days after the United States fell victim to the terrorist attacks on September 11, 2001.
In response to people who said it was too soon for sports, including baseball games, to come back, Buck fervently said, "I don't know about you, but as for me, the question has already been answered: Should we be here? Yes!"
Then, before the first game back, Buck delivered his poem, which received a standing ovation and was followed by a 21-gun salute as part of the pre-game ceremony before the Cardinals' National League showdown against the Milwaukee Brewers.
Remembering Jack Buck's 9/11 Poem
"Since this nation was founded under God,
More than 200 years ago,
We?ve been the bastion of freedom,
The light which keeps the free world aglow.

"We do not covet the possessions of others,
We are blessed with the bounty we share.
We have rushed to help other nations,
Anything… Anytime…Anywhere.

"War is just not our nature.
We won?t start, but we will end the fight.
If we are involved,
We shall be resolved,
To protect what we know is right.

"We?ve been challenged by a cowardly foe,
Who strikes and then hides from our view.
With one voice, we say there?s no choice today,
There is only one thing to do.

"Everyone is saying the same thing,
And praying that we end these senseless moments we are living.
As our fathers did before, we shall win this unwanted war.
As our children will enjoy the future we?ll be giving."
Jack Buck is a legend in his profession, and for many sports fans, one of the greatest voices in pro sports history. But this moment, in the shadow of one of our country's most difficult days, Buck rose to the challenge before a Cardinals game and put the spirit of America front and center for the world to see.
It's a moment so many will never forget.
This post was originally published on September 11, 2019.