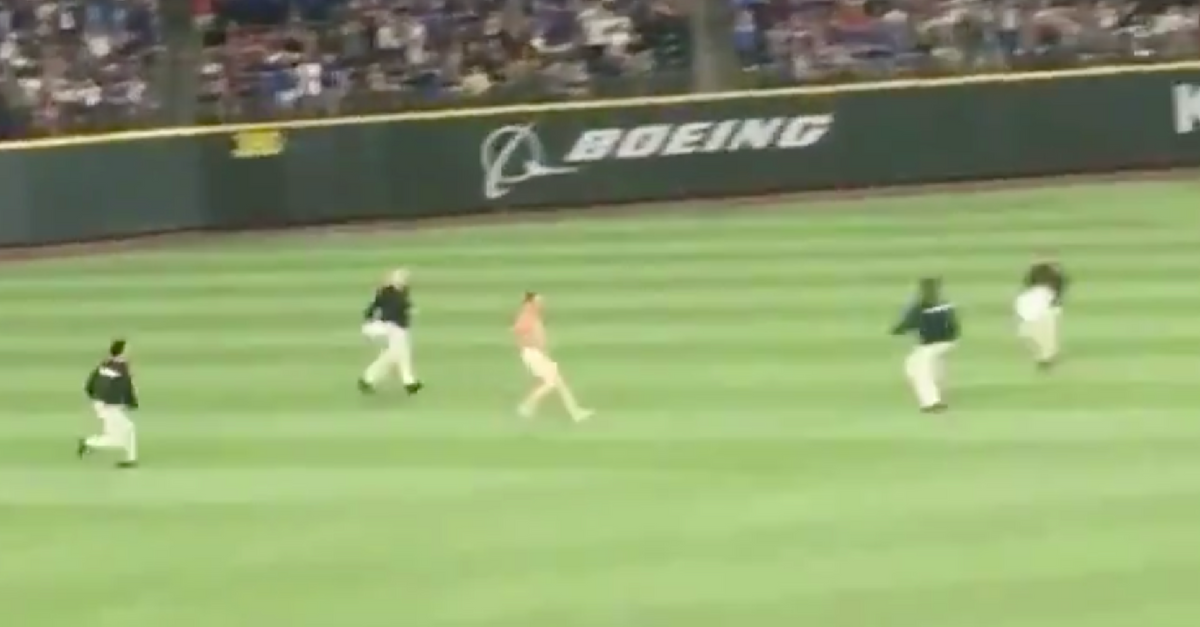 Twitter: @shanelpratap
With actions come consequences, and a simple bet at a baseball game has produced a potentially harsh punishment for one man. There is a chance the guy who streaked at the Seattle Mariners game over the weekend could actually get deported.
This all happened Saturday night at Safeco Field in Seattle — a game the Mariners lost 5-1 to the Toronto Blue Jays — when a man accepted a small offer from his friends, stripped down all of his clothes, and took the field for a little run in the ninth inning.
Of course, people had their cell phones ready to capture the craziness.
WARNING: This man has no clothes on. None. He was Full Monty in the outfield before getting tackled and escorted off the field by security.
An underrated part to this is security chased him with towels so they could immediately cover him up once apprehended.
Streaking is far from uncommon in sports. It probably happens more than you think, as weird as that sounds. This one is hilarious from an outsider's perspective because he clearly did not go to the game with this planned. His friends just bet him to do it, and he did.
They were even holding his clothes outside of the game and plan to start a GoFundMe page to help bail the guy out of jail.
The only person this isn't funny for is the actual streaker.
Not only did he get a bad deal from his buddies, but he also spent the night in jail, spent most of Sunday still incarcerated, and now might have to legitimately go home.
TV broadcaster Hazel Mae said the man, an Irish citizen who lives in Vancouver, could possibly be deported from Canada because he streaked the baseball game to make a whopping $80.
Was it worth it? Only the man can answer that, but it's hard to see any scenario in which this would be considered a good thing.
That's a terribly small amount of money for such a life-altering moment.