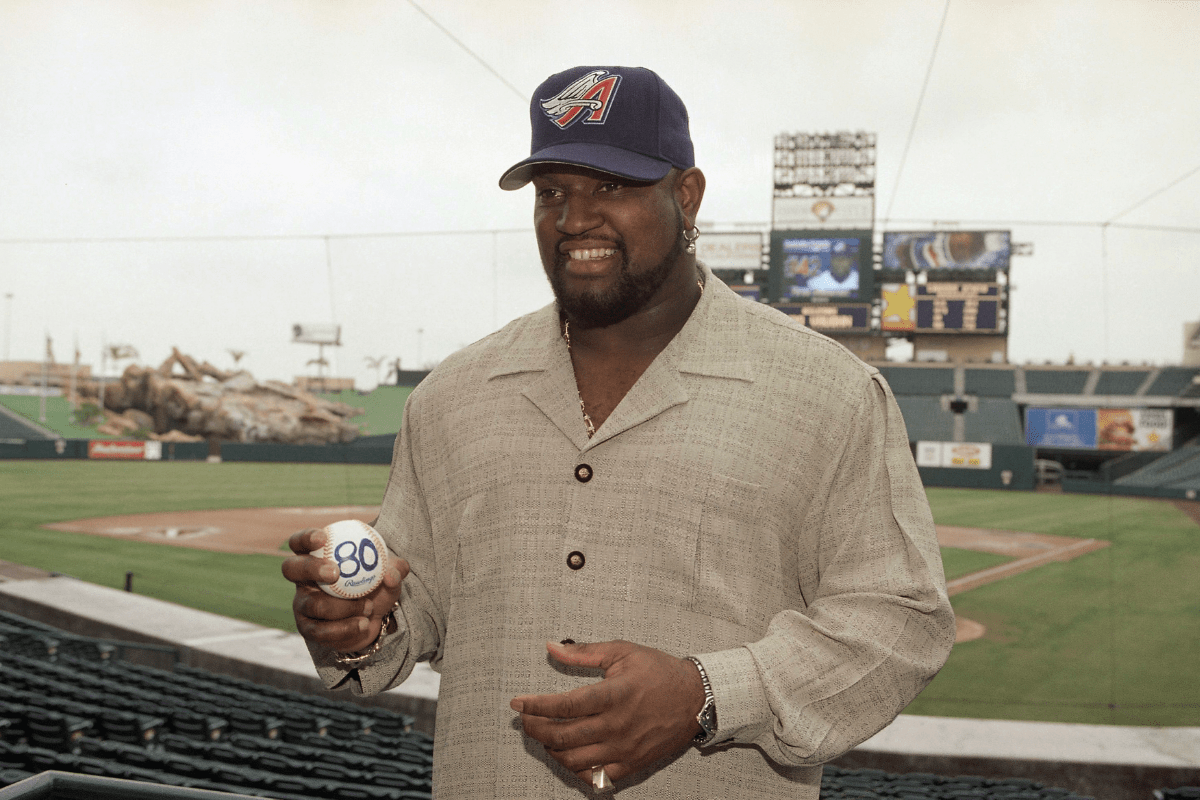 AP Photo/Damian Dovarganes
Mo Vaughn put Major League Baseball pitchers on notice whenever he stepped up to the plate.
He cut an intimidating figure as a baseball player. Crowding the box with his large physique, Vaughn dared hurlers to try and get a ball past him. It didn't always work for the pitcher.
Where is the former Boston Red Sox slugger now? Let's find out where the hitter ended up after leaving baseball behind.
Mo Vaughn's Career
RELATED: David Ortiz?s Net Worth: How Rich is ?Big Papi? Today?
Maurice Samuel Vaughn, better known as Mo, was born in Norwalk, Connecticut, and stayed in the Northeast for quite some time.
He went to school in Connecticut and New York and then played his college baseball at Seton Hall University. He was teammates with future Hall of Fame player Craig Biggio. The Pirates must have been quite good at that time. Indeed, they won the Big East tournament in 1987, with Vaughn being named the tourney's MVP.
Vaughn got to stick around the area. The Boston Red Sox selected him with the 23rd pick of the 1989 MLB Draft. After a couple years of minor league baseball, Vaughn hit the big leagues in 1991. By 1993, after he got a chance to adjust to Major League Baseball, he came into his own star first baseman.
In 1994, Vaughn posted a batting average over .300 for the first time, a feat he managed for five straight seasons. Vaughn's 1995 campaign would see the man known as "The Hit Dog" lead all American Leaguers in RBIs with 126. This (and his 39 home runs) helped Vaughn make his first MLB All-Star Game and earned him the American League MVP Award.
That being said, you could argue that Vaughn's best season came the following year in 1996. He hit a whopping 44 home runs and tallied 143 RBIs while also posting a .326 batting average and a 1.003 OPS. He placed fifth in MVP voting behind names like Ken Griffey Jr., Alex Rodriguez and Juan Gonzalez (who won it). By 1998, the 30-year-old Vaughn played in his third All-Star Game.
But, not all was well in Massachusetts. The Red Sox lacked playoff success with Vaughn. Any baseball fan around before 2004 knows they hadn't won a World Series since 1918. On top of that, Vaughn quarreled with Boston general manager Dan Duquette. He had some off-the-field concerns as well.
The Cleveland Indians eliminated Vaughn's Red Sox in 1998 for the second time. So the slugger signed a six-year, $80 million free agent deal with the Anaheim Angels. Vaughn's time as a Red Sox player ended. He said goodbye to Fenway Park and hello to … whatever the Angels called their ballpark. The one with the big rocks. Sorry, but Edison International Field of Anaheim (which it was called when he signed) is a terrible name.
Vaughn hit over 30 home runs in 1999 and 2000 but then missed the 2001 season with an injury. After that, he was traded to the New York Mets for pitcher Kevin Appier before the 2002 season. Vaughn hit a 505-foot homer at Shea Stadium in his first year with the Mets, showing the power was still there.
Unfortunately, knee injuries forced him to retire after the 2003 season. He was 35.
Mo Vaughn Now
Vaughn is now 53. Like other former MLB players, he couldn't stay away from baseball since retiring. He was named in the Mitchell Report, but nothing ever became of that. Vaughn has been involved in many different ventures since hanging up the cleats. That makes sense considering he reportedly made more than $100 million during his career.
Vaughn runs a real estate company focused on low-income housing redevelopment called Omni New York. He also owns Mo Vaughn Transport, a trucking company based in Ohio.
Additionally, he owns Vaughn Sports Academy in Boca Raton, Florida. According to the academy's website, it's a "place where kids of all ages and expertise can come to practice baseball, join workshops and train with some of the most elite coaches in the country, including Mo Vaughn himself."
Three-time All-Star Mo Vaughn was indeed an imposing hitter. He hit .293 and clobbered 328 home runs. He can always claim an MVP award to his name. Vaughn is a quintessential "Good but not a Hall of Famer" player.
But not all Hall of Famers lodge in our memories as Vaughn did. That's what happens when you can hit a ball over 500 feet when you're 34.