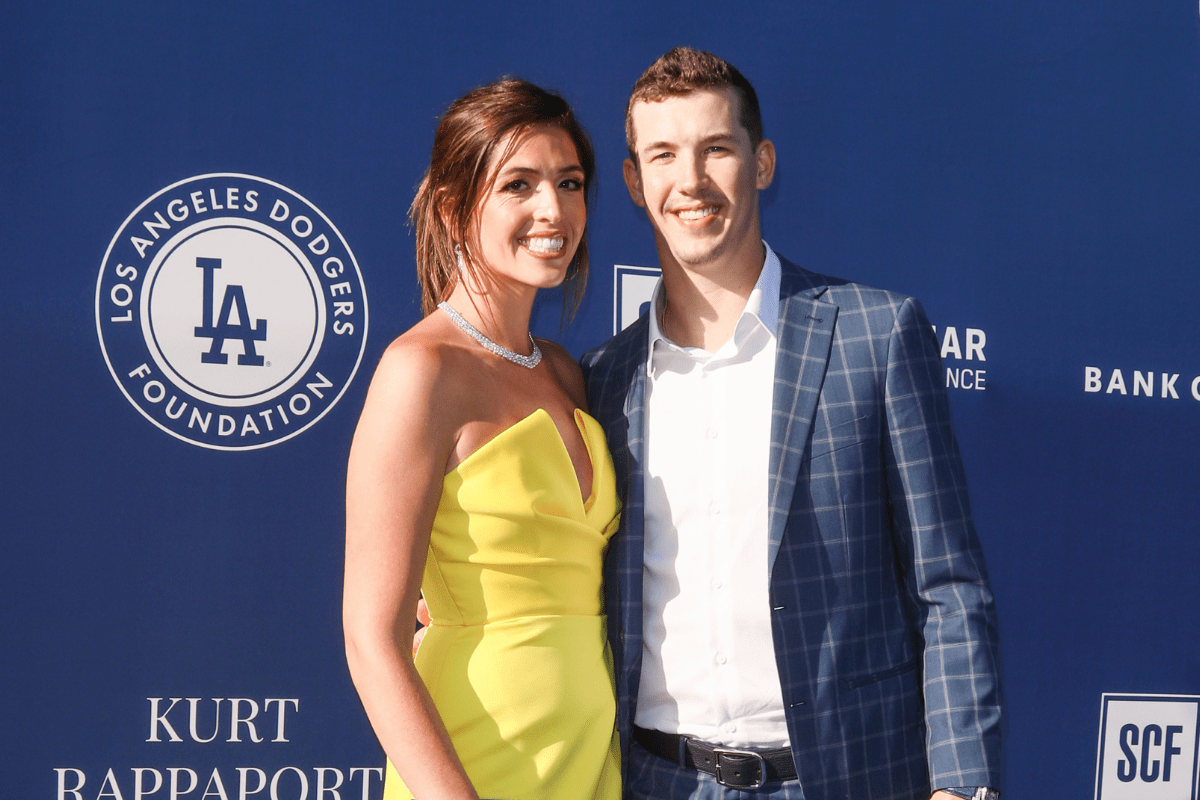 Photo by Paul Archuleta/FilmMagic
Los Angeles Dodgers pitcher Walker Buehler has made an impressive entrance to Major League Baseball, emerging as one of the top young arms in the game on an already-loaded Dodgers roster. Equipped with a blazing fastball and wipeout off-speed pitches, Buehler has taken no days off sending opposing hitters back to the dugout.
The 2020 World Series Champion has been living the good life, winning games on the field and finding a ton of success. The 27-year-old flamethrower is engaged to his current girlfriend, McKenzie Marcinek, who happens to be his biggest fan.
Walker Buehler's Girlfriend McKenzie Marcinek
RELATED: Mookie Betts & His Fiancée Started Dating in Middle School
Walker Anthony Buehler's longtime girlfriend and now fiancée is McKenzie Marcinek. It's unclear when they began dating, but they've been together for quite some time now.
Buehler is from Lexington, Kentucky, where he attended Henry Clay High School and then starred on the mound at Vanderbilt University. Marcinek reportedly grew up in Kentucky and attended the University of Kentucky, where she received a bachelor's degree in family science and another bachelor?s degree in elementary education and teaching.
The couple has been together since at least 2011, when Buehler was still in high school. Now that he's turned into a mainstay in the rotation at Dodger Stadium, she remains by his side.
Marcinek and Buehler also reportedly own a home together in Kentucky. They are the proud parents of a French Bulldog named Nala, who they frequently share pics of on social media. In addition to posts of their beloved pet, the pair took to Instagram to share the news of their engagement.
According to Heavy, Marcinek previously worked as the website assistant manager for a company called Bluetique in Lexington. It's unclear if she still works for the company or what her current job is, but we do know she's Walker Buehler's No. 1 fan.
Walker Buehler MLB Career
Buehler was drafted in the first round of the 2015 MLB Draft by the Dodgers.
He made his debut for the team in 2017 before taking over as a member of the rotation in 2018. He made the National League All-Star team in 2019 before helping lead the Dodgers to a deep playoff run. His playoff debut came against the Atlanta Braves, during which he allowed five runs, including one home run across five innings. The Dodgers advanced to the NLDS, where they were thwarted by the Washington Nationals.
He played a key role in the Dodgers' 2020 World Series title alongside fellow core teammates Cody Bellinger, Justin Turner, Clayton Kershaw, Mookie Betts and more. Despite having played just four seasons in the league, Buehler has already made 11 playoff starts and has proven himself in critical situations. Alongside new teammates like Max Scherzer and Trea Turner, he and the Dodgers are thinking back-to-back World Series titles in 2021.
The sky is the limit for Buehler on the field, and he and his soon-to-be-wife are looking forward to what the future holds for them.
Related Videos