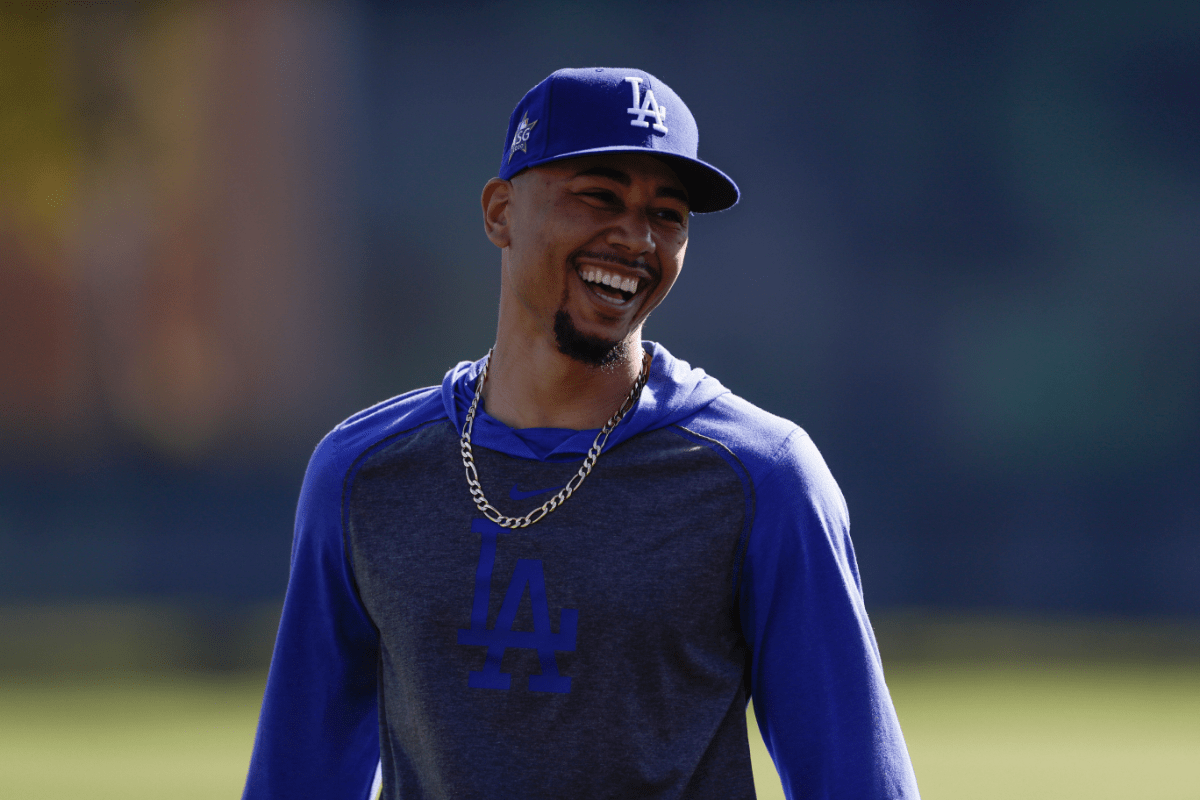 AP Photo/Gregory Bull
Mookie Betts is pretty much the best player in baseball not named Mike Trout. The difference is MLB fans are treated to Betts' incredible athleticism in the playoffs because he's played for some terrific teams.
Besides being a four-time All-Star, three-time Silver Slugger, four-time Gold Glove winner, 2018 American League MVP and World Series champion, Betts is uber-talented at many other things. The 28-year-old is a distinguished professional bowler who learned from his mother, Diana Benedict, and can solve a Rubik's Cube quicker than he steals bases.
Betts, of course, grew to baseball stardom playing for the Boston Red Sox. He was traded and then signed a mind-blowing 12-year, $365 million contract with the Los Angeles Dodgers that skyrocketed his net worth. So far, he's lived up to the deal by helping them reach the 2020 World Series in a season shortened by the coronavirus pandemic.
The Dodgers' star baseball player has fans across the globe, but his biggest two may be the girls he loves.
Mookie Betts' Girlfriend Brianna Hammonds
Mookie Betts has been dating a woman named Brianna Hammonds for a long time, judging from posts on her Instagram account. Not much is known about her except that she graduated from Middle Tennessee State University in 2015.
The two celebrated their seventh anniversary in 2012, which means they've been together for some 15 years now. Considering Betts is just 28, that means they started dating when he was 13 and in middle school.
Born Markus Lynn Betts, Mookie is from Nashville, Tennessee, and attended John Overton High School before committing to play at the University of Tennessee (then signing with the Red Sox for $750,000). He likely met his longtime girlfriend in The Volunteer State.
Hammonds has been to quite a few of her boyfriend's baseball games over the years. She's attended minor league baseball games, galas and even celebrated on field at Fenway Park during Boston's 2018 World Series run.
When the right fielder won the American League Most Valuable Player award, she and the rest of his family was right by his side.
"Our MVP‼️So Incredibly proud of everything you have accomplished! You have worked so hard and now you are being rewarded! 2018 is a year we will never forget!" she wrote on Instagram.
Betts, by the way, became the first player in Major League Baseball history to win an MVP, Silver Slugger, Gold Glove, batting title, and World Series in the same season. Take that, Trout!
Mookie Betts' Daughter
In 2018, Betts and Hammonds welcomed their first child, daughter Kynlee Ivory Betts.
The MLB star outfielder was overjoyed when she came into the world.
"Never knew what unconditional love meant or how it felt until I met this little princess. Nov 6th 2018 is a day I'll never forget," he wrote on Instagram.
After Betts hit three home runs against the San Diego Padres in 2020, marking an MLB record-tying six career three-home run games, he shared an adorable video of Kynlee's reaction to her father raking.
I think it goes without saying that Brianna and Baby Betts are Mookie Betts' biggest fans.