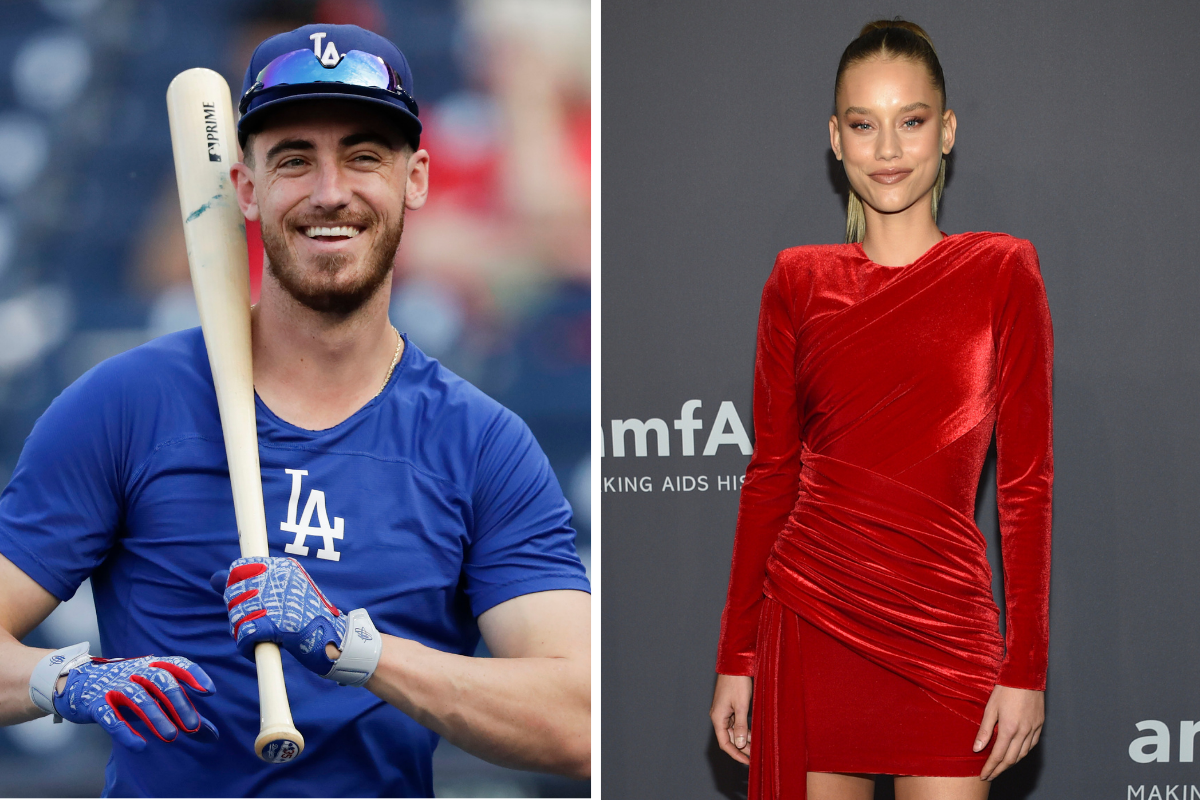 AP Photo/Julio Cortez (left), Photo by Evan Agostini/Invision/AP (right)
A MLB superstar in a big market and with ridiculously good looks? That doesn't apply to many, but it certainly does to Los Angeles Dodgers outfielder Cody Bellinger. The 25-year-old slugger is the total package, and it's no wonder why ladies try rushing the field to give him a hug.
Born in Scottsdale, Arizona, Bellinger has been a star since a young age. He first popped on the radar during the 2007 Little League World Series, got drafted out of high school, and has been smashing home runs in the majors for the past four seasons.
There's no doubt he is well on his way to greatness. The outfielder and first baseman already has two MLB All-Star appearances, and was named the 2017 Rookie of the Year, 2018 NLCS MVP, and 2019 National League MVP. He also had a Gold Glove Award and Silver Slugger Award on his resume for good measure entering the 2020 campaign.
On the field, his talent is no secret. His dating history, however, is a different story.
Cody Bellinger Dating History
RELATED: Clayton Kershaw Married His High School Sweetheart and Had 3 Kids
For the past three seasons, Cody James Bellinger — the son of two-time World Series champion Clay Bellinger from the New York Yankees — has become a household name in Major League Baseball. The former Hamilton High School standout in Chandler, Arizona is just getting warmed up, too.
In January 2020, Bellinger signed a $11.5 million contract for the 2020 season, which is an MLB record for a player in his first year of arbitration eligibility.
Baseball is big in the Bellinger family. Cody is a superstar and his younger brother, Cole Bellinger, was drafted by the San Diego Padres.
So Bellinger has skills and a rising net worth, but what about a special someone?
The answer is no. Cody Bellinger is not married yet. However, the star baseball player has been linked to a couple of women in the past.
As a rookie in 2017, Bellinger was rumored to be dating girlfriend Melyssa Perez, a pre-law student at the University of Texas. According to TMZ Sports, they went on a few dates, and he brought her to Dodger Stadium field and into the dugout, which she shared and has since deleted on social media.
It appears Perez was demoted to ex-girlfriend status as Bellinger was more recently been spotted with Sabrina Denham (or Sabrina Denhamm). The two are rumored to have known each other in high school.
Denham joined Bellinger at the 5th annual Los Angeles Dodgers Foundation Blue Diamond Gala and at a Los Angeles Lakers game in November 2019. She was also featured on the Dodgers' Christmas post.
Was she actually Cody Bellinger's girlfriend? Were they ever an official item? That remains a mystery, but there was clearly something there.
The dating rumors are always swirling with Bellinger and it looks like he has a new girlfriend.
Cody Bellinger's Girlfriend Chase Carter
Los Angeles Dodgers star Cody Bellinger is reportedly dating Sports Illustrated swimsuit model Chase Carter. She is from The Bahamas and has also been a Maxim cover girl.
Perhaps most notably in the MLB world, she is Giancarlo Stanton's ex girlfriend, according to Swipe Sports. The New York Yankees star was seen with the model in 2019, including making an appearance on her Instagram story, where she boasts over 441,000 followers.
As the MLB playoffs continue, with the Dodgers playing the Atlanta Braves in the NLCS and the Houston Astros battling the Tampa Bay Rays in the ALCS during the coronavirus pandemic and COVID-19 outbreak, there's no doubt Bellinger's girlfriend will continue to be a trending topic.
This post was originally published on July 29, 2020 before updating.