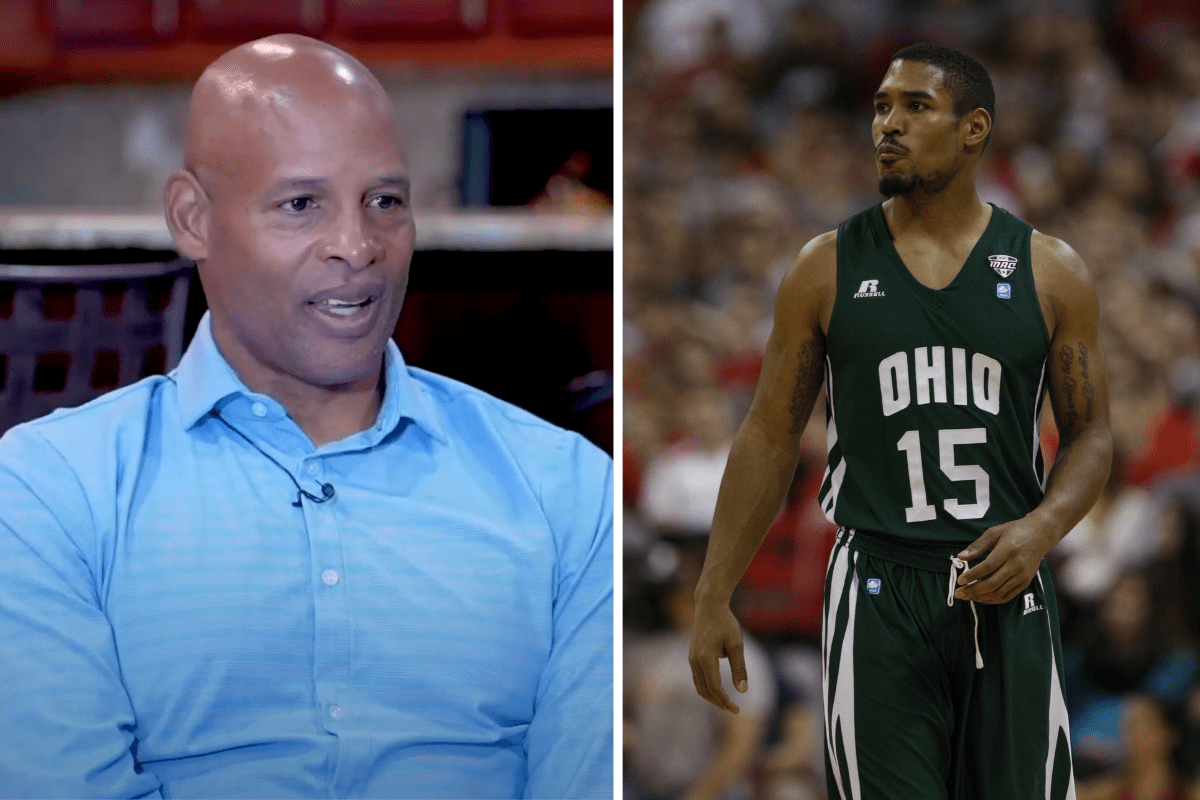 Screenshot from YouTube (left), AP Photo/Paul Vernon (right)
Former professional basketball player turned basketball analyst Clark Kellogg is one of the most-recognizable faces in sports broadcasting.
The former Indiana Pacers star had his NBA career cut short by knee problems, but has transitioned seamlessly into a role as a studio analyst with CBS Sports.
While he never got to live out his NBA dream to its full extent, Kellogg has managed to find happiness through broadcasting and raising a family with his wife Rosy.
Clark Kellogg Basketball Career
RELATED: Who is Greg Gumbel's Wife?
The Cleveland, Ohio native attended Ohio State University, where he earned All-Big Ten Conference and Most Valuable Player honors.
Prior to playing college ball in Columbus, Kellogg was a McDonald's High School All-American at St. Joseph's High School. He led his team at the Capital Classic Games and to the state championship game, where he scored more than 50 points in a loss to Columbus East.
He was selected in the first round (8th overall) by the Indiana Pacers in the 1982 NBA Draft. He made the 1982-83 NBA All-Rookie Team during his first year in the league after averaging 20.1 points, 10.2 rebounds and 2.8 assists.
Kellogg enjoyed three more impressive seasons from 1983-86 before knee injuries forced a premature end to his career in the National Basketball Association.
Broadcasting Career
Clark Kellogg got his broadcasting career started in the 1990s, working for ESPN as a basketball analyst while also serving for the Big East Network and Prime Sports. Prior to entering the fray as a journalist, Kellogg served as the VP of Player Relations for the Indiana Pacers.
After his stint with ESPN, Kellogg landed with CBS, covering the Men's NCAA Basketball Tournament in 1993 and 1994. He then earned a full-time role with CBS Sports as a game analyst, and hosted March Madness as a lead college basketball analyst.
The former NBA player assisted with CBS' Road to the Final Four, and even made a visit to Barack Obama at the White House, where the two played a friendly game of H.O.R.S.E.
Additionally, Kellogg has lent his voice to the widely popular video game franchise, 2K Sports, where he features as a play-by-play analyst for the NBA 2K series.
Kellogg was appointed to the Ohio State University's Board of Trustees by Ohio Governor Ted Strickland.
Clark Kellogg Family Life
Clark Clifton Kellogg Jr. has been married to his wife Rosy for 37 years.
They have two children together: son Nick and daughter Talisa.
Talisa Kellogg was a volleyball player at Georgia Tech University, while Nick Kellogg played basketball for the Ohio Bobcats.
Clark Kellogg Net Worth
Clark and Rosy Kellogg reside in a beautiful home in Westerville, OH, and reports claim that Kellogg has an estimated net worth of $2 million.