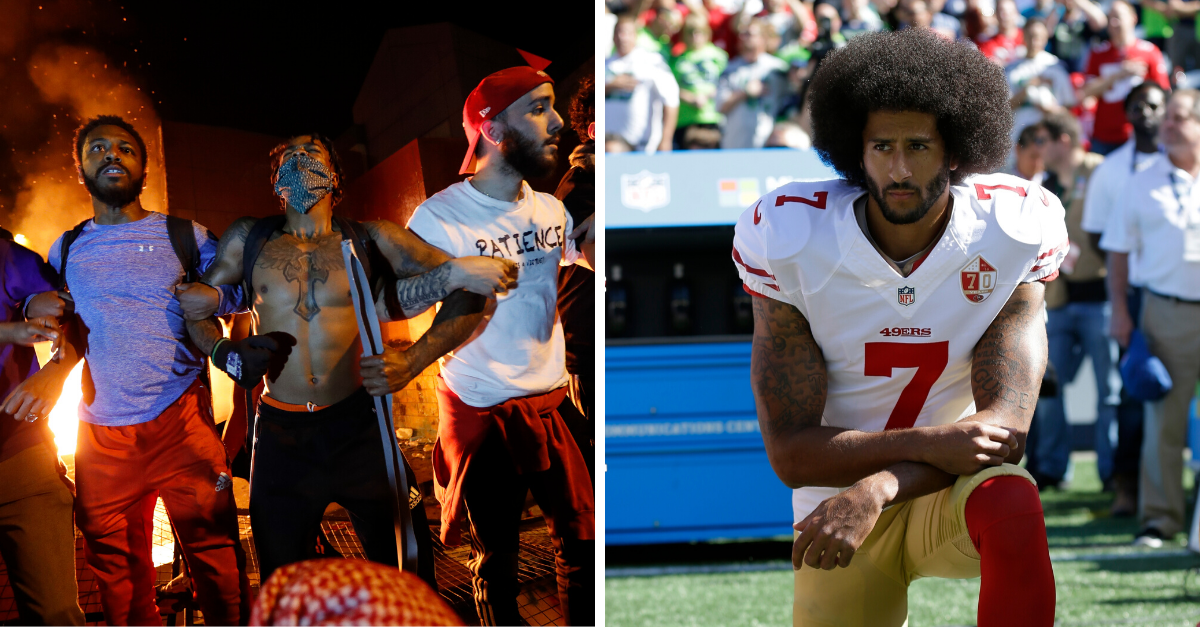 AP Photos/John Minchillo (left), Ted S. Warren, File (right)
The protests boiling after George Floyd's death turned Minneapolis, Minnesota, upside down. Governor Tim Walz activated 500 National Guard troops to aid local law enforcement and control crowds that looted stores and set fire to Minneapolis Police's Third Precinct on the third night of protests. Most importantly, the violent protests originally formed out of anger that, once again, a black man died in the custody of a white police officer. The video of Derek Chauvin kneeling on Floyd's neck is shocking.
President Donald Trump led the charge to corral the protesters, while athletes from all over the United States voiced their sadness on social media. Among them was NBA superstar LeBron James, who shared a photograph with his 65.2 million Instagram followers ? One half of the photo was Chauvin kneeling on Floyd, and the other was former San Francisco 49ers quarterback Colin Kaepernick kneeling in protest during an NFL national anthem.
Recalling the highly politicized national anthem protests of recent years, the photograph's text read: "This…" "…Is Why."
LeBron James Reacts to Death of George Floyd
Kaepernick's spoken out numerous times against the social injustices his protests were aimed at. His inability to land a job in the National Football League made him, essentially, the face of the growing resistance popping up after each example of the police brutality that's publicized.
He's busy working to affect change, too. The Colin Kaepernick Foundation funnels thousands of dollars to activist groups, as well as holding "Know Your Rights Camps" that teach how to interact with and around police officers.
Kaepernick took to social media to share support for the Minneapolis protesters and ongoing protests throughout the country.
Colin Kaepernick Voices Support for Minneapolis Protesters
"When civility leads to death, revolting is the only logical reaction.

"The cries for peace will rain down, and when they do, they will land on deaf ears, because your violence has brought this resistance.

"We have the right to fight back!

"Rest in Power George Floyd"
RELATED: ?Colin Kaepernick's Memoir Set for 2020 Release Date
Hundreds of thousands responded in support of Kaepernick across social media as the Minneapolis protests grew and voices became louder on both sides: one pleading patience, the other demanding swift justice.
Minneapolis Mayor Jacob Frey on Protests
?Anger and sadness that has been ingrained in our black community, not just because of five minutes of horror. But 400 years,? Frey said at a news conference (via USA Today). ?If you?re feeling that sadness and that anger, it?s not only understandable, it?s right. It?s a reflection of the truth our black community has lived.

?While not from lived experience, that sadness must also be understood by our non-black communities,? Frey added. ?To ignore it, to toss it out, would be to ignore the values we all claim to have. That are all the more important during a time of crisis.?
Police began using tear gas and water cannons to push back the protesters. The second night of protests on Wednesday night saw several stores set ablaze and many more looted.
Just weeks after Ahmaud Arbery was hunted and murdered in Glynn County, Georgia, and the widening concern about the coronavirus pandemic spreading even more, the division amongst us is growing terrifyingly fast. Wherever you are, stay safe.