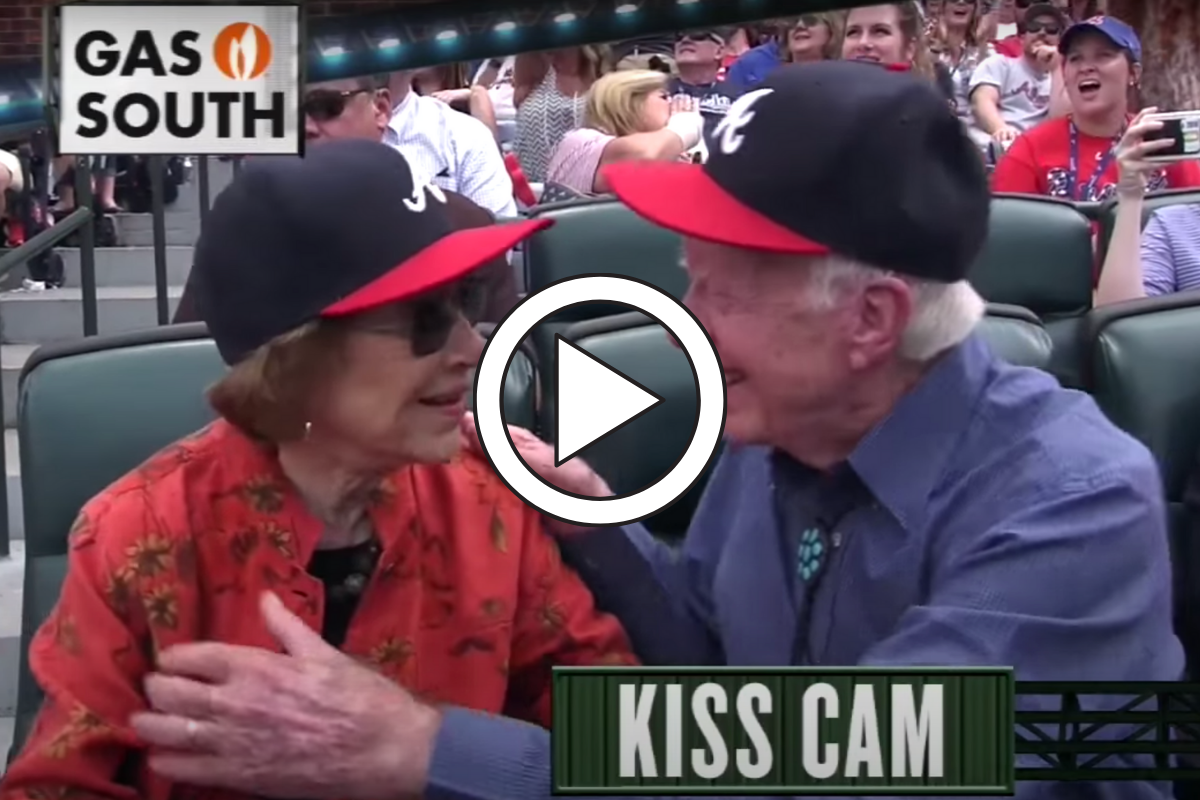 Screenshot from YouTube
Former President Jimmy Carter and his wife Rosalynn Carter are no stranger to sporting events in Georgia. Whether it?s an Atlanta Braves or Atlanta Hawks game, they always seem to have a good time when they go. It?s no surprise the camera always seems to find them, even the Kiss Cam.
The 39th President of the United States and First Lady have been happily married for 74 years. Save the political talk for another time. Their love is inspiring, and neither of them are scared to give the other a smooch in public.
On October 1, 2020, President Carter turned 96 years old, and it?s only fitting to take a look back at some of their famous kisses.
President Jimmy Carter & Rosalynn on Braves Kiss Cam
RELATED: Fan Records Awkward Make-Out Session on NBA ?Kiss Cam?
One famous kiss, which has turned into an MLB Cardboard Cutout, happened during the last game ever at Turner Field in October 2016. The Atlanta Braves took down the Detroit Tigers. That ballpark had so many fun memories, and President Jimmy Carter helped send it off in style.
As the Gas South Kiss Cam went around the ballpark, they focused in on the former POTUS and First Lady. President Carter adjusted his hat (a very pro move) before kissing his wife Rosalynn for a few seconds. It was all smiles for both.
The Carters were also featured on the Kiss Cam during a 2015 Braves game against the Toronto Blue Jays.
Oh, and they?ve also been on the Kiss Cam when the Atlanta Hawks played the New York Knicks on Valentine?s Day in 2019.
Former President Jimmy Carter?s Valentine?s Day Kiss
Date night for the Carters on Valentine?s Day 2019 featured a Hawks-Knicks game at State Farm Arena. They were also honored for their humanitarian efforts, according to Today, but the real story was another Kiss Cam appearance for the 94-year-old Carter and his wife.
Unfortunately, the Kiss Cam has gone away during the coronavirus pandemic and COVID-19 at MLB, NBA and NFL games.
While most Americans, including undecided voters, are tuning into the heated and trending presidential debates between President Donald Trump and Vice President Joe Biden, it?s never a bad thing to step away from the breaking news and remember a good kiss.