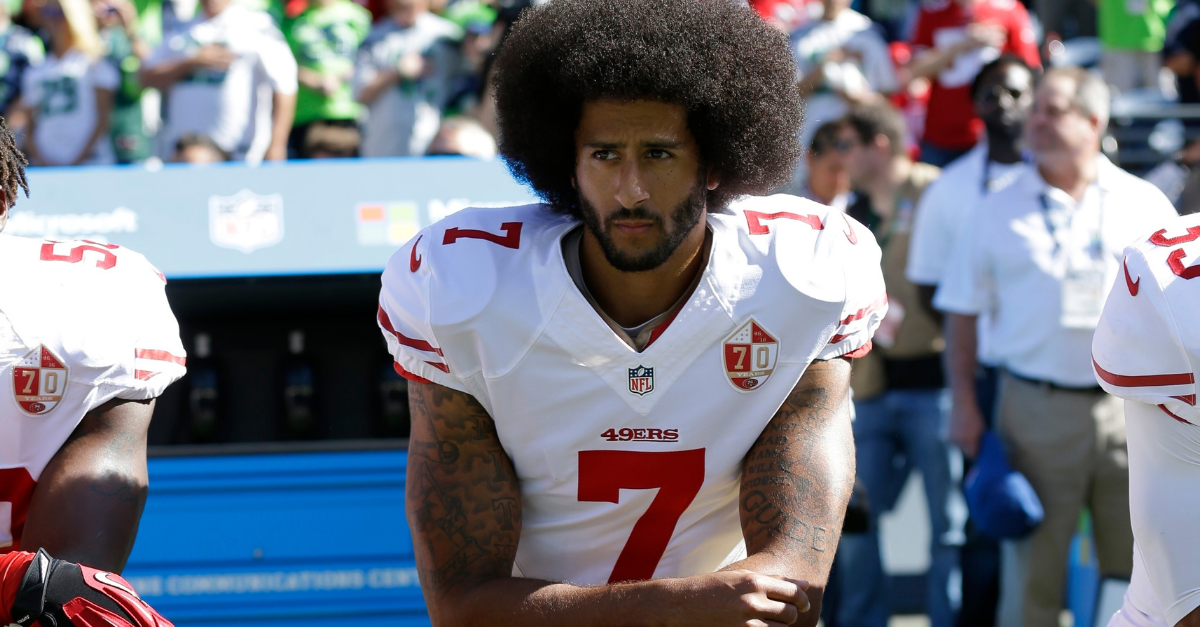 AP Photo/Ted S. Warren, File
Some people praise Nike for its decisions, such as signing an inspirational runner with cerebral palsy to a professional contract. Others go on social media to rage about controversial advertisements. A sheriff?s office in Arkansas apparently took the latter to the absolute extreme.
A picture surfaced on Twitter early Wednesday evening of 12 inmates in Union County, Arkansas all wearing one of two Nike t-shirts in their mug shot. The reason? Shaun King, the co-founder of Real Justice and prominent civil rights activist who has over one million followers on Twitter, learned it was to mock the sports apparel giant and former San Francisco 49ers quarterback Colin Kaepernick, who was the face of the brand?s recent ?Just Do It? campaign.
RELATED: Alvin Kamara's Postgame Attire Might Be Bolder Than Any Anthem Protest
Soon after activist Shaun King?s tweet of the inmate photos, which now has over 5,000 retweets, nearly 7,000 likes, and over 1,000 comments, the southwest Arkansas sheriff?s office removed the jail roster photos from the Internet.
Was this in admission of guilt or to avoid anymore backlash? Perhaps there are some potential legal ramifications with this practice, too? Who knows? But the pictures no longer exist on the jail?s online roster.
?The Sheriff in Union County, Arkansas is putting Nike t-shirts on people they arrest and making them wear them during mugshots. Source says it is to mock Nike and Colin Kaepernick. Disgusting.? ? Shaun King via Twitter
Several outlets attempted to reach Union County Sheriff Ricky Roberts or Chief Deputy Charles Phillips for comment, but all are awaiting a reply.
According to the Arkansas Democrat-Gazette, there were at least 11 of the 182 inmates were wearing the large, black t-shirt with NIKE ATHLETICS above the company?s signature swoosh, and the shirt began to show up in mug shots around September 15, which is right around the time Nike announced Kaepernick, the original national anthem protestor against social injustice in the NFL, would be a prominent face in its anniversary advertisement.
This is an intriguing story to follow, especially since the pictures have been removed by the Union County Sheriff?s Office.
No matter what, though, in a world of there is no such thing as bad publicity, Nike wins again.
After all, someone had to buy the Nike shirts.