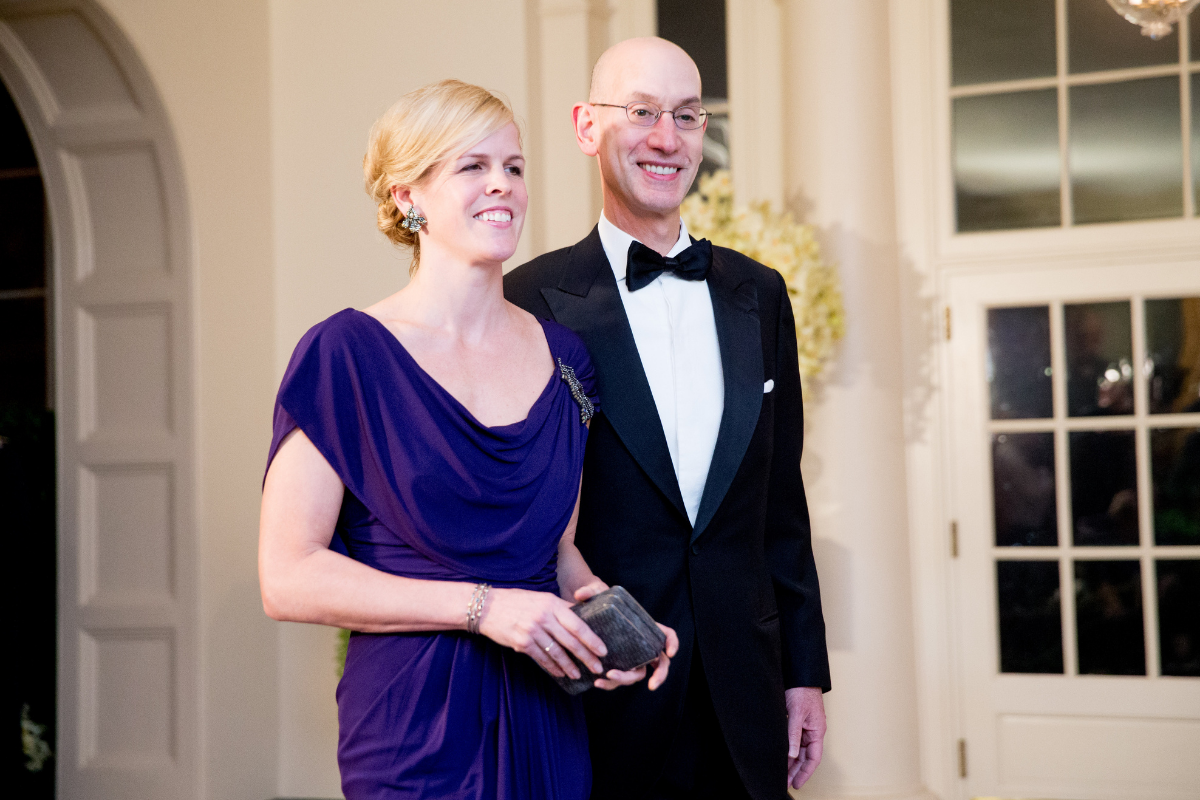 AP Photo/Andrew Harnik
As a professional sports commissioner, you're the spokesperson and moderator of the league's most powerful people. You manage billions in revenue while slapping fines for in-game antics. Commissioner's speeches can seem so manufactured at times, it is theorized that some may be robots.
NBA commissioner Adam Silver is the best in the sports business. He's elevated the league into a global brand while promoting equality and social justice.
Silver's business dealings are transparent. His personal life is opaque, and he prefers it that way.
Adam Silver's Wife Maggie Silver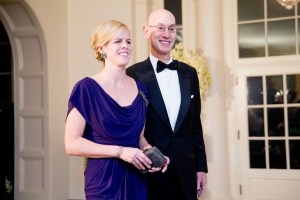 AP Photo/Andrew Harnik
According to Player Wives, Silver and his wife Maggie Grise have been together since at least May 2014 ? a few months after he took over as commissioner of the National Basketball Association for David Stern. The details of their relationship are muffled, but we do know they met through a mutual friend and married in May 2015. Grise is an interior designer in New York City.
Silver and Grise attended the state dinner hosted by then-President Barack Obama and first lady Michelle Obama for Canadian Prime Minister Justin Trudeau and his wife, Sophie Gregoire.
Their first child, daughter Louise Burns Silver was born in 2017. They welcomed a second daughter in May 2020. For those keeping track of the stars, Silver's second daughter is indeed a Taurus.
At home, Silver and Grise take a break from hoops to raise a loving family.
Adam Silver's Career
RELATED: Adam Silver?s Net Worth Proves Leading the NBA Pays Handsomely
Born on April 25, 1962 in Westchester County, New York to Edward Silver and Melba Silver, Adam's been focused on his career since graduating from Rye High School and earning a political science degree from Duke University. It's fair to assume that growing up near the Big Apple made him a New York Knicks fan. Although, this isn't confirmed.
His early life education prepared him to work as an aide for United States Congressman Les Aucoin for a year before attending the University of Chicago Law School. He entered the legal world as a law clerk for Southern District of New York Judge Kimba Wood and later as a litigation associate of the Cravath, Swaine & Moore law firm.
Since 1992, the American lawyer's worn many hats as an NBA employee including Deputy Commissioner and Chief Operating Officer, President and COO of NBA Entertainment, NBA Chief of Staff, and Special Assistant to the Commissioner of the NBA. In his NBA Entertainment role, he was the executive producer of the IMAX movie "Michael Jordan to the Max."
Outside of basketball, Silver holds membership on Duke's board of trustees and serves on the board of the Lustgarten Pancreatic Cancer Foundation. In 2015, he was named one of TIME's 100 Most Influential People. The following year, the University of Chicago Law School awarded him the distinguished alumnus award. As if that isn't enough, Sports Illustrated named Silver the Executive of the Year in 2014 and the Sports Business Journal named him the Sports Executive of the Decade in 2019.
Adam Silver's net worth isn't anything to bat an eye at, either. His personal fortune is reportedly $35 million.
The current commissioner of the National Basketball Association proved he's capable of making tough decisions under pressure, too.
From banning former Los Angeles Clippers owner Donald Sterling for making racist remarks in 2014, defending Daryl Morey's free speech, canceling the NBA season due to the COVID-19 outbreak, and orchestrating the NBA Bubble to announcing picks at the NBA Draft, he's the right person to lead.