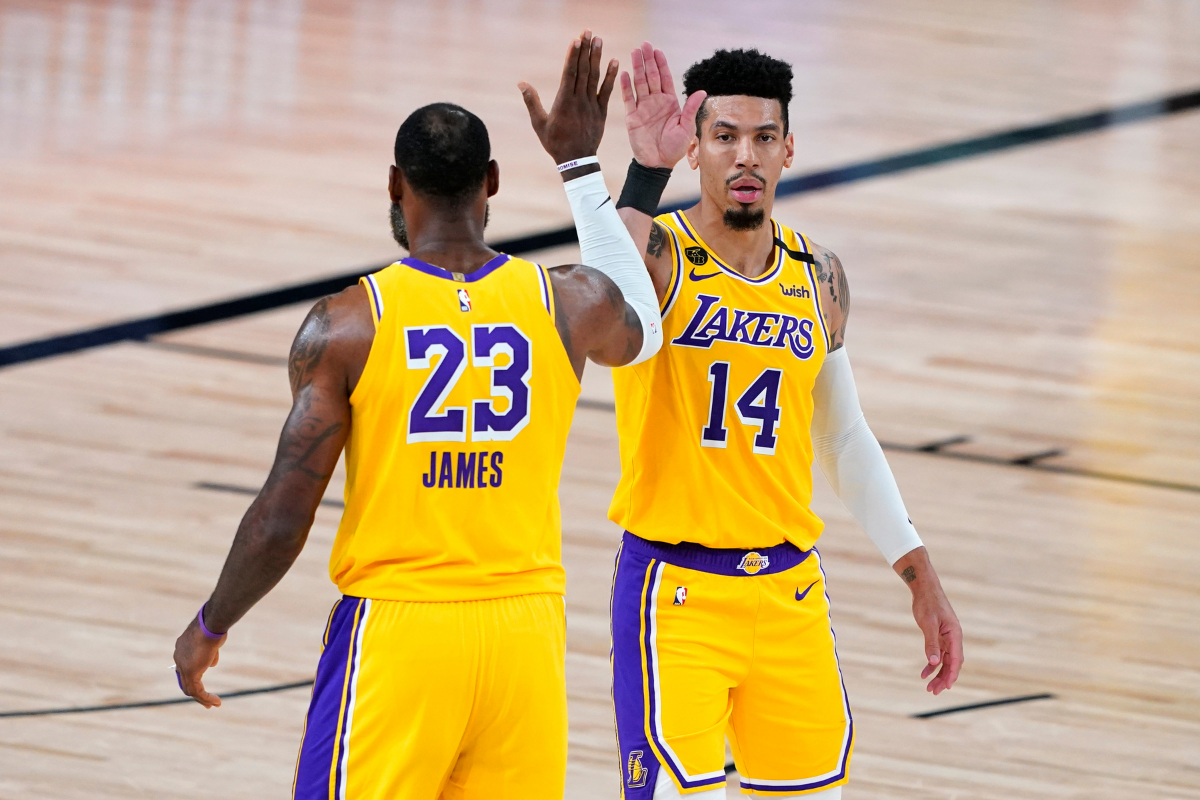 AP Photo/Ashley Landis
LeBron James has some company.
The Los Angeles Lakers small forward and four-time MVP is going for an NBA championship with his third different franchise. His teammate Danny Green is aiming for the same prize.
The North Babylon, New York, native helped take down James as a member of the San Antonio Spurs in 2014. The 11-year NBA player joined Kawhi Leonard north of the United States' border to secure the Toronto Raptors' first title in franchise history in 2019.
This year, James and Green have a real shot to complete this rare feat together.
First, Green had to take care of some personal matters.
Danny Green's Fiancee Blair Alise Bashen
RELATED: Dwight Howard?s Fiancee is a Basketball Star Herself
Three weeks before the Lakers reported to Orlando for the NBA bubble following the hiatus caused by the COVID-19 outbreak, the two-time NBA champion popped the question to his longtime girlfriend Blair Bashen to celebrate their five-year anniversary.
The University of North Carolina grad and winner of the 2009 NCAA championship took her to the beach in Ventura, California, got down on one knee, and asked the biggest question of his life. She said….wait for it….yes.
They both shared the news on social media (@greenranger14).
According to Players Wiki, Blair is a native of Houston, Texas. She was a standout volleyball player in high school and continued her athletic career at Purdue from 2007-2011. She'll gain two new-in laws in Danny Green Sr. and Rene Darrell in addition to new brother-in laws.
Danny's brother Rashad played basketball for Manhattan College from 2007-08 and later the University of San Francisco from 2009-12. Devonte Green played for the Indiana Hoosiers from 2016-20.
The UNC product was selected in the second round by the Cleveland Cavaliers in the 2009 NBA Draft. The American basketball player teamed up with LeBron in Ohio for one year before he went to the Miami Heat.
The shooting guard, who signed a two-year, $30 million contract with the Lakers in July 2019, will have to step up his 3-point shooting in the NBA Finals to alleviate the pressure from James and Anthony Davis.
The LA Lakers starter has his marriage plans on pause to concentrate on his NBA career. It's all business in pursuit of completing a historic playoff run.