AP Photo/David Zalubowski, File
Los Angeles Lakers center Dwight Howard is easily one of the greatest centers in NBA history. Since becoming the first- overall pick in the 2004 NBA Draft, the 6-foot-10 athlete has developed into an eight-time NBA All-Star, five-time All-NBA First-Team player, three-time NBA Defensive Player of the Year and tallied more than 18,000 points.
Howard may not be the dominating shot-blocker or dunk artist he once was with the Orlando Magic, but the 34-year-old is proving he's still a serviceable big man. He's played for the Houston Rockets, Atlanta Hawks, Charlotte Hornets, Washington Wizards and joined LeBron James and the Los Angeles Lakers in 2019.
While Howard has played in an NBA Finals before, he's hoping to nab his first ring after the Lakers won the Western Conference and are taking on the Miami Heat in the NBA Finals. Sixteen NBA seasons into his career and fans know a pretty fair amount about his personal life.
Howard just this year experienced pain when his son's mother tragically died. He's also been the subject of some crazy rumors and hateful comments on social media. Who is the eight-time All-Star selection's fiancee and five children?
Who is Dwight Howard's Fiancee Te'a Cooper?
RELATED: Kyle Kuzma is Young, But His Celebrity Dating Rumors Are Already Wild
Dwight Howard is engaged to WNBA player Te'a Cooper. Cooper plays guard for the Los Angeles Sparks, which makes them something of a power couple in the LA basketball scene.
Cooper is 23 and just finished her college basketball career at Baylor last year. Howard, who is 11 years older, has been the subject of criticism because of their age gap. They reportedly began dating when Cooper was a teenager.
Cooper began her basketball career at McKeachern High School in Powder Springs, Georgia. She then played collegiately at the University of Tennessee before transferring to the University of South Carolina in 2017.
She wrapped up her career at Baylor in 2019-20 as a graduate transfer and was then selected in the second round of the 2020 WNBA Draft by the Phoenix Mercury. The Mercury cut her amid the coronavirus pandemic and COVID-19 outbreak, leading to the Sparks picking her up.
She and Howard got engaged sometime in 2019, and he told KWTX.com that he was a big fan of the Baylor Bears women's basketball team.
"I've been a big Bears fan for a long time," Howard told KWTX.com. "I haven't had a chance to get to a game this year but I watch all the games faithfully. It's been one of the most exciting seasons for the men and the women, too."
Cooper told BaylorBears.com that being engaged to an NBA superstar isn't a problem "because nobody really says anything. If I'm somewhere, and they're all talking about it, I couldn't hear you unless you told me. So, I don't really get bothered by anything."
While Howard has 2.8 millions followers and Cooper more than 600,000, the two don't post about each other very much. Hopefully, things are still good between the two pro basketball players.
Dwight Howard Sexuality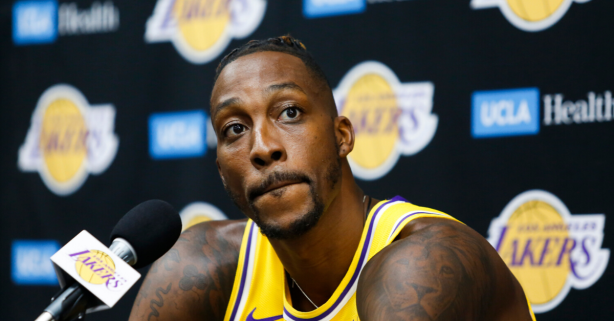 Howard faced all sorts of accusations and hateful comments in March 2019. A man named Masin Elije came forward and filed a lawsuit against Howard, claiming they were together but that Howard had cheated on him with men and trans women, according to NewsWeek.
Howard has also dressed in drag as Rihanna on a Spanish TV show.
The Lakers center finally addressed rumors in 2019 about his sexuality.
"I'm not gay," Howard said on Fair Game with Kristine Leahy. "It's a lot of people who are and they have to hide, and there's people who have mental issues and they have to hide. There's people who have different problems in life and they have to hide. They have to put on the mask every day, and it's like, I don't wanna wear no mask, I just wanna be."
Whoever Dwight Howard chooses to spend time with is his business, but he felt like he needed to address the situation.
Dwight Howard's Kids
Dwight Howard has five children with five different women, according to Sports Illustrated.
He had his first son, Braylon Howard, in 2007 with former Orlando Magic cheerleader and Basketball Wives star Royce Reed.
His four other children are named Jayde, Layla, David and Dwight III. Two of the mothers live in Florida, two in Los Angeles and one in Houston.
"It's a tough situation, obviously," Howard told Sports Illustrated in 2017. "I should have been more responsible. I messed up. I sinned. But I won't look at any of them as a mistake. They're all a blessing to me."
In May 2020, Howard experienced heartbreak. Melissa Rios, the mother of his 6-year-old son David, died of an epileptic seizure at her home in Calabasas, California, according to ESPN. She was a real estate agent and epilepsy advocate.