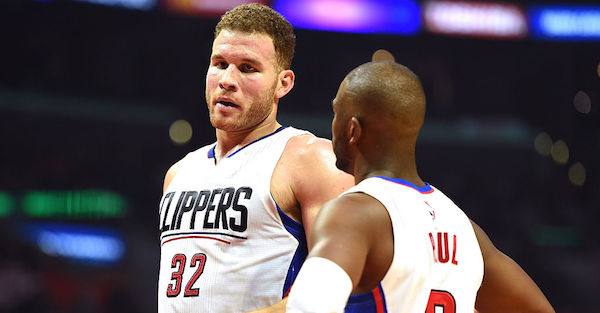 Harry How/Getty Images
LOS ANGELES, CA - NOVEMBER 16: Blake Griffin #32 and Chris Paul #3 of the LA Clippers react after a Clipper foul during the first half against the Memphis Grizzlies at Staples Center on November 16, 2016 in Los Angeles, California. NOTE TO USER: User expressly acknowledges and agrees that, by downloading and or using this photograph, User is consenting to the terms and conditions of the Getty Images License Agreement. (Photo by Harry How/Getty Images)
It's Woj, so this is probably about as close to official as it gets.
On Friday, Yahoo!'s Adrian Wojnarowski reported that L.A. Clippers forward Blake Griffin had opted out of his contract in order to become a free agent on July 1.
Related: Trade reportedly in place for 4-time All-Star Paul George depending on one massive move
ESPN is reporting that Chris Paul, as expected, has also opted out of his contract.
Griffin had a $21 million player option for next season, but with the recent increase in the NBA's salary cap thanks to the new multi-billion dollar television deal, Griffin should be looking at a major raise in pay.
Griffin could still re-sign with the Clippers, but multiple teams were reportedly interested in Griffin's services even before he opted out of his contract. Those teams include the Boston Celtics, the Miami Heat, and the Houston Rockets. Miami is looking for another star after the departures of LeBron James (Cleveland), Dwyane Wade (Chicago), and Chris Bosh (career-ending injury), while Houston and Boston would be hoping that Griffin is the piece that could but them in real contention for the NBA Finals.
Griffin is a five-time NBA All-Sar, and he was the No. 1 overall pick back in 2009 out of Oklahoma. Griffin, 27, has averaged 21.5 points (51.8% field-goal shooting), 9.4 rebounds, and 4.1 assists per game in his seven-season career.