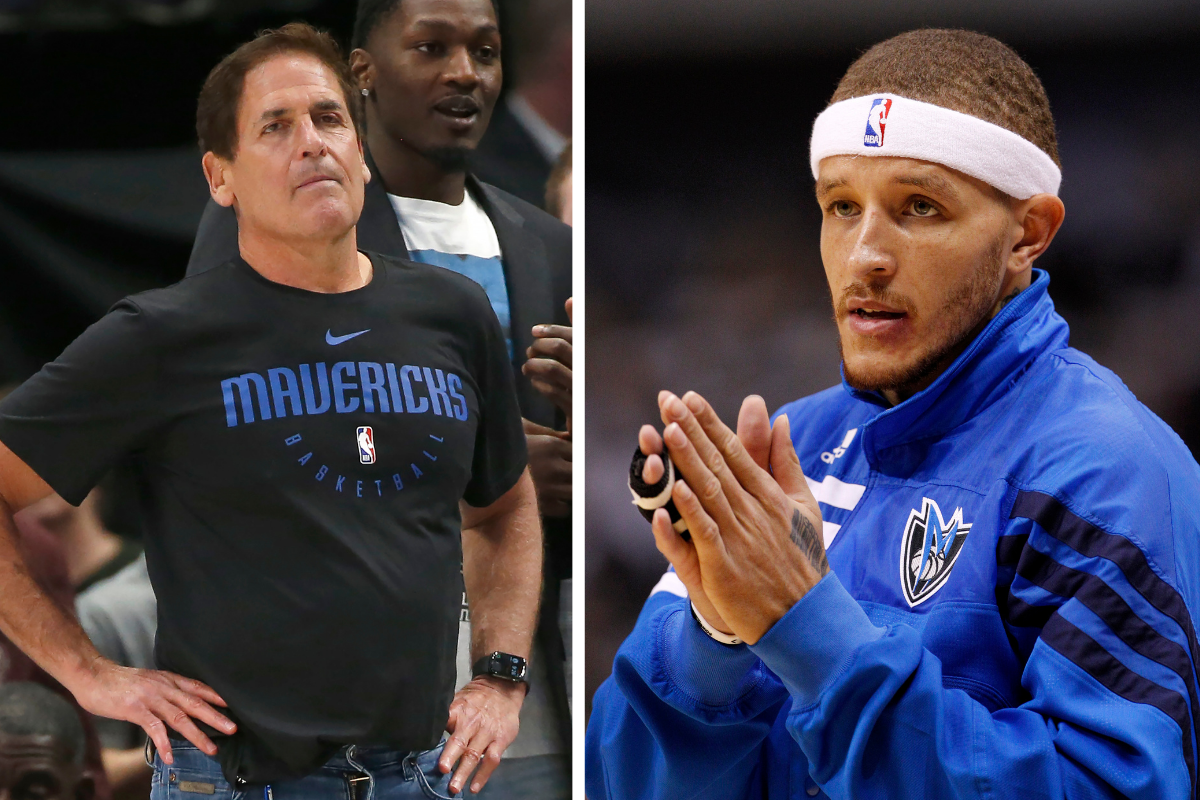 AP Photo/Ron Jenkins (left), AP Photo/Tony Gutierrez (right)
Dallas Mavericks owner Mark Cuban found Delonte West at a north Texas gas station.
West, an ex-NBA player who last played for the Mavs in 2012, needed the help of a friend.
It might have saved his life.
Delonte West's Basketball Career
West, a Greenbelt, Maryland native, attended Saint Joseph's University after graduating from Eleanor Roosevelt High School. As a junior he helped lead the Hawks to a 27-0 regular season record. St. Joseph's season culminated in an Elite Eight loss to Oklahoma State in the 2004 NCAA Tournament.
West was the 24th-overall pick in the 2004 NBA Draft by the Boston Celtics. He played with the C'ss and Cleveland Cavaliers, where he was teammates with LeBron James and reached the playoffs in each of his three years with the team, before landing in Dallas.
During the 2011 NBA lockout, the first-round pick applied for a job at a Home Depot and worked at a furniture store.
The point guard's NBA career ended with the Texas Legends, the Mavs' D-League team, in 2015.
Mark Cuban Helps Former NBA Player Delonte West
RELATED: NBA Star Blew $100 Million, Then Worked at Starbucks
In 2008, West was officially diagnosed with bipolar disorder. In recent years, he's reentered the public eye. In 2016, he was photographed barefoot and in a hospital gown in Houston, Texas. Later that year, a social media post showed West panhandling in Temple Hills, Maryland ? sparking rumors that he was homeless.
In January 2020, West was beat up on a Washington, DC highway. A post-altercation video revealed West's mental illness substantially worsened.
West's former teammate Jameer Nelson offered his support. Former Los Angeles Clippers head coach and newly minuted Philadelphia 76ers head man Doc Rivers, who coached West on the Celtics, has offered help in the past. The same can be said for West's St. Joe's coach Phil Martelli, who is an assistant coach at Michigan.
In September 2020, in the midst of the COVID-19 outbreak and just before the NBA Finals between the Los Angeles Lakers and Miami Heat, West was seen panhandling in Dallas. Cuban heard the news and tried to reach West over a few days time. The call finally went through, and Cuban picked him up at a gas station, according to ESPN.
The Athletic's Shams Charania also covered the story.
Aided by Cuban, the 37-year-old reconnected with his family and checked into a hotel. After years of turning down care for his mental health and addiction issues, he agreed to check into a Florida rehab facility.
According to TMZ, Cuban is helping cover the cost.
Surrounded by family and friends like Cuban, Nelson, Martelli, and Rivers, West will have a strong support system on the road to recovery.