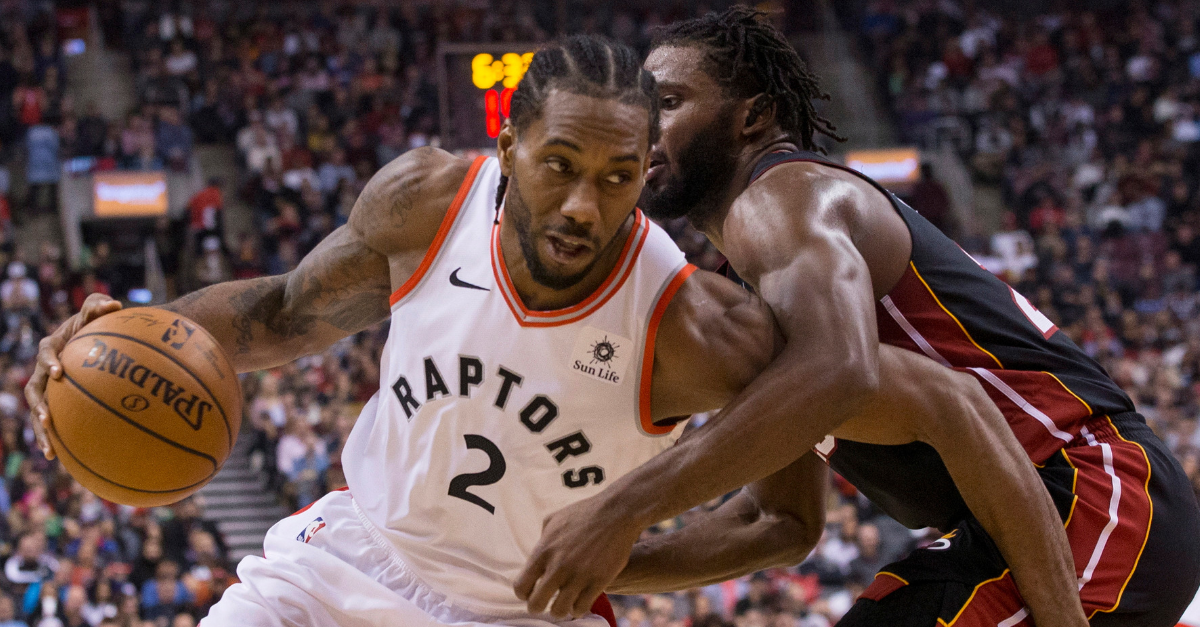 Chris Young/The Canadian Press via AP
Just when you thought it was really weird to see Kawhi Leonard in a Toronto Raptors jersey this season, wait until you see him in his new signature shoe. Brace yourself, basketball fans, because the divorce and trade from the San Antonio Spurs looks almost normal by comparison.
Earlier this season, the 27-year-old Leonard turned down an extension with Jordan Brand to become a sneaker free agent. Perhaps he was just going to look for a bigger deal and wanted to explore other options. Turns out, the two-time NBA All-Star and two-time NBA Defensive Player of the Year was wanting to shock everyone once again.
On Wednesday, Chris Haynes of Yahoo! Sports reported the 6-foot-7 small forward has reached a multi-year agreement to be the new face of New Balance basketball and the company?s push to re-establish itself in the basketball market.
RELATED: 8 Way-Too-Early MVP Candidates After the NBA?s First Month
Leonard, who is averaging 24.3 points and 8.6 rebounds in his first season with the Raptors, caught everyone by surprise with the new multiyear endorsement deal for these three reasons.
1. It?s New Balance!
With companies such as Puma and China-based Li-Ning and Anta trying to make their way into the space, it?s no surprise New Balance is attempting to do the same. However, it?s just not the coolest brand around for a guy Leonard?s age or status in the NBA. What will this signature shoe even be called?
2. It?s New Balance!!
Seriously, though. Toronto Raptors star Kawhi Leonard is going to wear New Balance. What?
3. It?s New Balance!!!
It?s one thing for James Harden to switch from Nike to adidas or for Steph Curry to remain loyal with Under Armour. It?s another thing for LeBron James to have a lifetime contract with Nike or for players such as Gordon Hayward, Klay Thompson, and Dwayne Wade to go against the grain. It?s a completely different game for an All-Star in his prime to leave the most iconic basketball sneaker brand in the world to go be the face of? New Balance.
It?s safe to say there will be more jokes than Kawhi Leonard New Balance sneaker heads for a while. But then Leonard will likely laugh all the way to the bank and make us all look foolish.