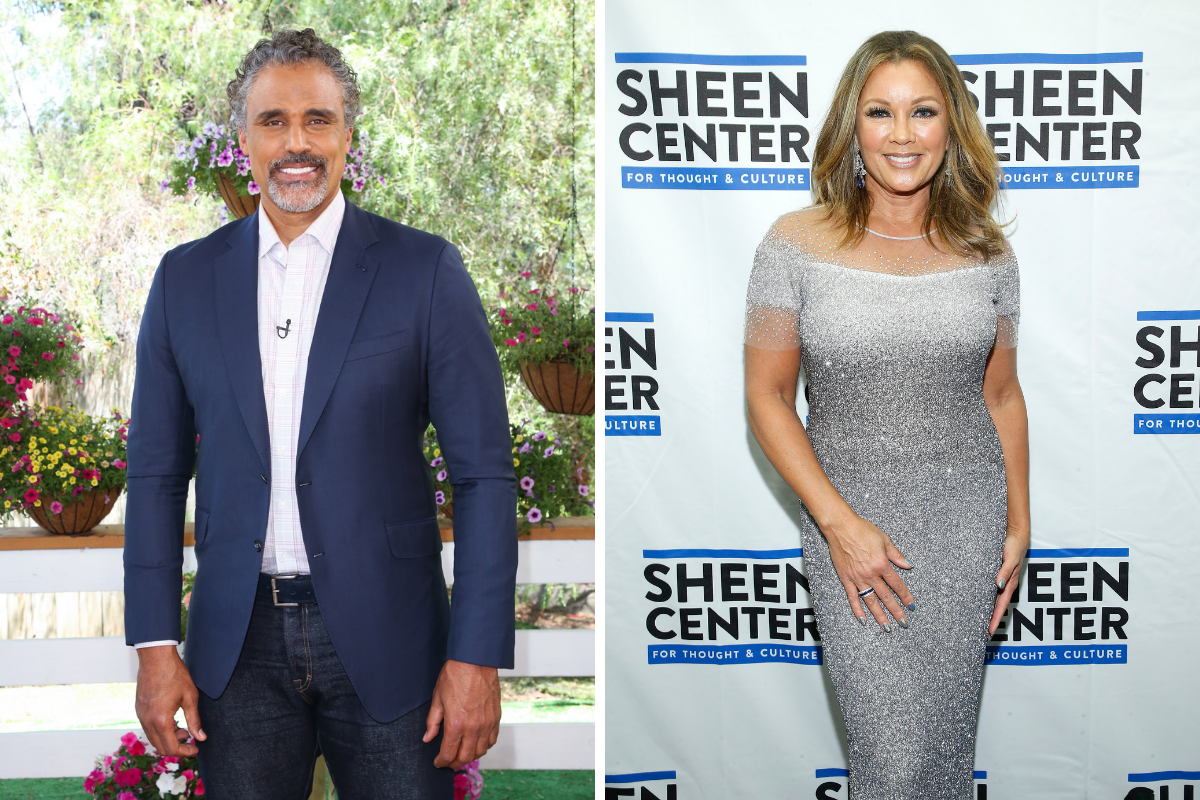 Paul Archuleta via Getty Images (left), John Lamparski for Sheen Center for Thought & Culture via Getty Images (right)
They call George Clooney the silver fox. The famous actor has seemingly had that distinguished shine in his hair since he was a teenager and literally played a fox.
I hereby propose the title be surrendered to Rick Fox. The retired basketball player sports a peppered look these days. He looks like a seasoned cop who's seen too much but can still mix it up.
Fox's good looks have paid off in Hollywood. He stepped in front of the camera as an actor ? most notably as Clyde "Sweetfeet" Livingston in the cinematic masterpiece Holes.
As far as his love life, the former NBA star used to be married to actress/singer/fashion designer Vanessa L. Williams.
Rick Fox and Vanessa Williams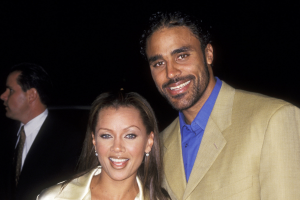 RELATED: Grant Hill & His Star Wife Have Been Married More Than 20 Years
Fox and Williams eloped in the summer of 1999 in the Caribbean. They had an additional ceremony in New York City later that year.
The two had a daughter named Sasha Gabriella Fox in May 2000.
The high-profile couple lasted five years and filed for divorce in August 2004. They stayed dedicated as parents.
The split was amicable enough for the former couple to appear together on season two of Ugly Betty and the BET series Twenties.
Fox has also reportedly dated Sharon Stone, Kristin Davis, actress Eliza Dushku, and Kari Hillsman. He has a son named Kyle Fox with Hillsman.
Rick Fox Basketball Career
Fox, whose full name is Ulrich Alexander Fox, was born to Dianne Gerace and Ulrich Fox in Toronto, Ontario, Canada. His mother was an Olympic high jumper and pentathlete.
He's of Bahamian, Canadian, Italian, and Scottish descent. He was on the high school basketball teams at Kingsway Academy in Nassau, Bahamas and at Warsaw Community High School in Warsaw, Indiana.
As one of the top recruits in the country, Fox was ruled ineligible by the Indiana High School Athletic Association (IHSAA) prior to his senior season due to him already completing eight semesters between the Bahamas and Indiana. He was still selected to the Indiana All-Star team.
He went on to play collegiately for the University of North Carolina basketball team. He helped lead the Tar Heels to the 1991 Final Four, where they fell to Kansas just one win shy of the NCAA final.
The Canadian-Bahamian basketball player was selected 24th overall by the Boston Celtics in the 1991 NBA Draft. He was the first rookie to start on opening night since Larry Bird in 1979.
He signed with the Los Angeles Lakers in 1997, where he won three consecutive NBA championships with Kobe Bryant and Shaquille O'Neal from 2000-02. He retired from the National Basketball Association in 2004.
Here are his career highlights:
? 3x NBA Champion
? NBA All-Rookie Second Team (1992)
? First-team All-ACC (1991)
? ACC Tournament MVP (1991)
In his 13-year professional basketball career, Fox averaged 9.6 points, 3.8 rebounds, and 2.8 assists.
Acting Career & Professional Gaming
As an actor, Fox gained recognition in the HBO series Oz as Jackson Vahue. He's appeared in the motion pictures Blue Chips, Eddie, He Got Game, Dope and several others.
He's also had roles in the TV shows Shameless, One Tree Hill, Hit the Floor, The Big Bang Theory, Franklin & Bash, Single Ladies, Body of Proof, The Game, Dancing with the Stars, Mr. Box Office, The Fairly Odd Parents, and the UPN series Kevin Hill as Stephen Melbourne. In 2015, he played Principle SSA Webb in the TV movie Sharknado 3: Oh Hell No!
Fox and his daughter worked on screen together in the 2019 TV movie One Fine Christmas. His younger sister Jeanene Fox is also an actress and model.
Fox founded the Esports franchise Echo Fox in 2015. The organization competes in various games such as Call of Duty, CS:GO, Dragon Ball FighterZ, Injustice 2, Madden, Mortal Kombat, Super Smash Bros., and Street Fighter.
Fox is a man who hears many hats. The titles of basketball player, Esports franchise owner and television actor have helped him build a net worth of $20 million.