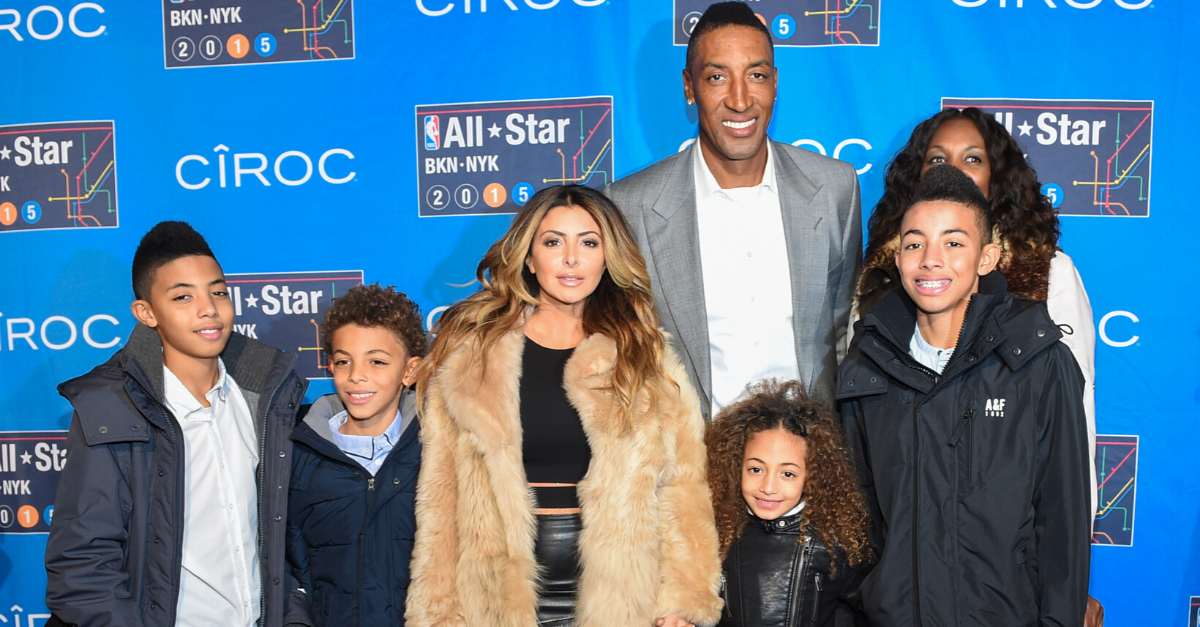 Photo by Scott Roth/Invision/AP
Scottie Pippen is a household NBA name. The man who played second fiddle to Michael Jordan on the Chicago Bulls in the 1990s won six NBA Finals, seven NBA All-Star selections and two Gold Medals olympics as a member of the 1992 United States "Dream Team."
Often underrated, the 6-foot-8 former small forward from Hamburg, Arkansas, starred at the University of Central Arkansas before scoring more than 18,000 points across his 17-year career with the Bulls, Houston Rockets and Portland Trailblazers. The Basketball Hall of Fame inductee earned more than $100 million in career earnings, too, proving he was much more than M.J.'s sidekick.
Pippen may have looked like a hothead in the Bulls-Detroit Pistons rivalry days, but he's characterized as a pretty mellow guy. Off the court, the 54-year-old has been married twice and has seven children — including one that plays college basketball — to carry on his legacy.
Who Is Scottie Pippen's Ex-Wife Larsa Pippen?
RELATED: Michael Jordan's First Wife Made a Fortune Divorcing Him
If you don't follow all things Kardashian, here's a rundown of Larsa Pippen, the woman people called Scottie Pippen's wife for nearly 20 years and gave birth to four of his children:
– Larsa was born in Chicago, Illinois.

– She attended the University of Illinois and graduated with a political science degree.

– She and Scottie got married in 1997.

– Larsa is a model and fashionista.

– She maintains a blog, Life With Larsa, and is a brand ambassador for Haute Living magazine.

– Larsa is a former reality TV star, appearing on Bravo's The Real Housewives of Miami Season 1 in 2011 and on Keeping Up With the Kardashians

– Larsa runs the Pippen Foundation, which raises money for children's charities
Larsa Pippen And The Kardashians
Larsa Pippen not only looks like Kim Kardashian, she's good friends with her.
How that came about is a mystery, but the aforementioned TV superstar has called the ex-NBA wife her "best friend." Larsa has made appearances in Keeping Up With The Kardashians and Kim and Kourtney Take Miami.
Larsa has a lot in common with the Kardashian/Jenner family. For starters, she's garnered more than a million followers on Instagram. She also dated and married an NBA star, which falls right in line with Khloe Kardashian's marriage to Los Angeles Lakers' Lamar Odom, Kim's brief marriage to Chris Humphries or Kendall Jenner's star-studded NBA dating history.
All you need to know is Larsa Pippen is a close family friend of the Kardashians. Kim in 2014 said she turned to Larsa for parenting advice.
Larsa & Scottie's Four Kids
Larsa and Scottie had four children over the course of their relationship. Scotty Jr. was born in 2000, Preston in 2002, Justin in 2005 and Sophia in 2008. Sophia takes after her reality TV star mother, as she appeared on Dancing With the Stars: Juniors in 2018.
Their oldest son, Scotty Pippen Jr., is paving his own path on the court as a point guard for Vanderbilt University in the SEC. The Commodores point guard was named to the 2020 All-SEC Freshman Team after averaging 12 points per game in his first season.
Larsa and Scottie Are Divorced
Scottie Pippen filed for divorce from Larsa in October 2016 amid cheating allegations accusing Larsa getting together with rapper Future. She's denied that claim multiple times, but the artist has alluded to an affair in a few of his songs.
After that, the pair were able to make their marriage work until 2018, when Larsa officially filed for divorce. She claimed on social media that cheating wasn't the root of their problems, but rather it was her loneliness because he was never around. Now she goes by her birthname: Larsa Younan.
"After careful consideration and 19 years together, Larsa and Scottie have each filed for dissolution of their marriage," a representative for Larsa Pippen told E! News.

"Although they are no longer to be married, Larsa remains hopeful that she and Scottie will always do what is best for their 4 beautiful children and jointly raise them with love and respect. She would like to thank everyone for their understanding and kindly ask for privacy from the media during this difficult time of transition for her family."
Larsa and Scottie appear to be on good terms still. She defended her seven-time NBA All-Star ex on Twitter when ESPN's "The Last Dance" documentary focused on Scottie's cheap, seven-year, $18 million contract with the Bulls. Scottie went on to sign a five-year, $67 million deal with the Rockets.
"Thx for your concern Scottie did ok #TheLastDance," she wrote in a tweet accompanied with a screenshot of his career earnings.
These days, the two live separate lives. The 1994 NBA All-Star Game MVP still calls Chicago home while the Real Housewives of Miami star resides in Miami, where she's been raising their kids.
Scottie Pippen's Other Kids/Relationships
Scottie Pippen married Karen McCollum in 1988 after the two had a son, Antron Pippen. They split after two years, however.
The former NBA superstar also has two more daughters. He had Sierra Pippen with his former fiancee Yvette De Leon and Taylor Pippen with former girlfriend Sonya Roby. Taylor played college volleyball at Southern Illinois University and now works as an accountant.