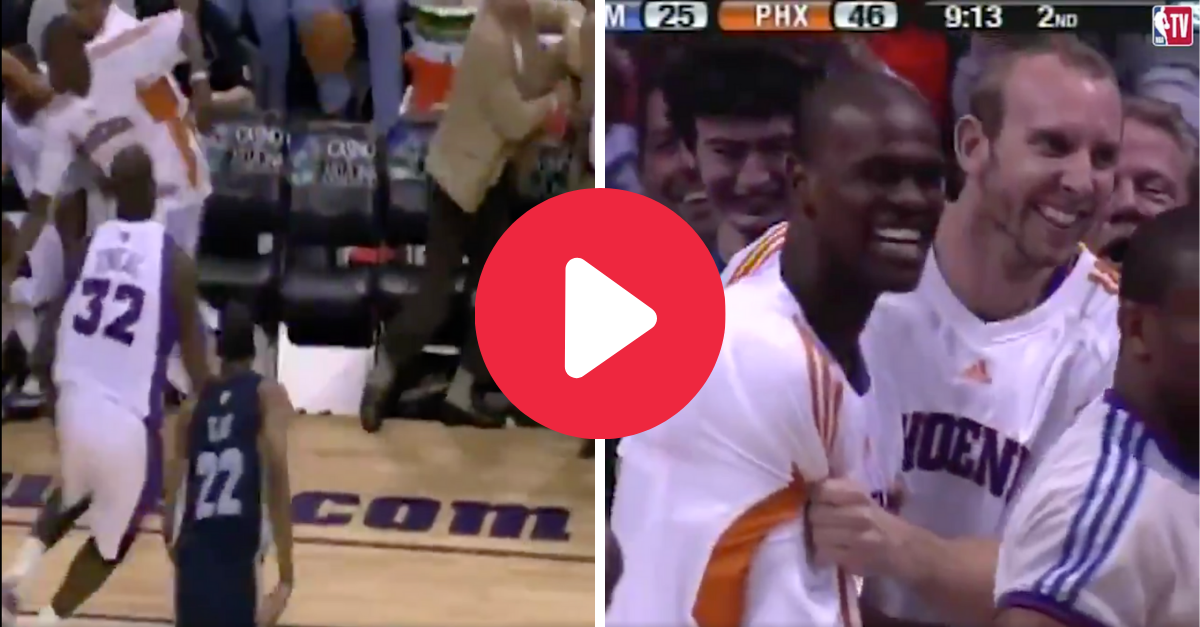 Screenshot from Twitter: NBA TV
Shaquille O'Neal is one of the largest human beings that has ever put on an NBA jersey. His combination of towering height and massive muscles enabled him to dominate defenders under the rim for the Los Angeles Lakers, Orlando Magic, Miami Heat, Phoenix Suns, Cleveland Cavaliers and Boston Celtics.
It's true that the 7-foot-1 dunk machine dubbed Shaq Diesel owns a bed the size of a small New York City apartment, wears a 22 shoe size and was once impersonated by Kevin Hart (on stilts). The beastly NBA player was so big during his playing days that fans and teammates became scared if he they saw him chasing a loose ball their way.
Mr. O'Neal was likely pushing 350 pounds when he played for the Suns around the time that he nearly squished rows of fans.
Shaq Dives Into Helpless Crowd
Shaq played for Phoenix in 2008 and 2009, around the time that the big man gave us a terrifying clip of him diving head first into a sea of fans in an NBA season game.
Imagine a small vending machine on wheels barreling toward you. That's what those poor fans — two of which were children that he thankfully leapt over — went through. Somehow that's still not the worst thing I've ever seen happen to a fan at a basketball game.
He Cleared The Bench Next Time
RELATED: Shaq Goes Undercover as Lyft Driver to Hilariously Prank Passengers
It couldn't have been long after, but the next time the hefty basketball player hustled toward the sideline for a rebound, his entire team saw it coming and got out of the way. When I say got out of the way, I mean GOT THE HELL OUT OF THE WAY.
His teammates must've remembered the previous clip and thought, "no way. I am not dying today." The best part is all of them share a laugh with Shaq over the encounter.
What Is Shaq's Weight?
Shaquille Rashaun O'Neal has always been the biggest dude in the room ever since he was born in Newark, New Jersey, to Lucille O'Neal and Joe Toney in 1972. The Big Aristotle blossomed into a star high school center in San Antonio, Texas, thanks to his incomparable size.
By the time he left the LSU Tigers basketball team, he weighed 294 pounds and looked as lean and mean as LeBron James in his prime. He hovered around the 300 mark during his rookie of the year season with the Magic after they made him the first-overall pick in the 1992 NBA Draft.
It wasn't until Shaq played with Kobe Bryant for the Lakers in the late 1990s that he began to really put on the pounds. By the early 2000s, he reportedly weighed 370 pounds as he put on muscle and upped his calories. Though we don't know exactly what he weighs in 2020, it's safe to assume based on his appearances alongside Charles Barkley on TNT's Inside the NBA that he's still over 350 pounds.
"When I was playing, I was a burger and bread eater, and you can't really do that every day if you're not getting exercise," Shaq told Men's Health in 2012.
Shaq's ever-increasing weight affected his health and play, too. The Lakers took issue with his reported habit of skipping the gym during the offseason.
"He's 60 pounds lighter in Miami than he was in Los Angeles," then-Lakers owner Jerry Buss told the LA Times in 2005. "And as you've probably gathered recently, he seems to be having some [health] problems. My reaction was, if he was not willing to get in shape, which he had five, eight years, some number of times to do, and we urged him. It seems that the motivation for him to lose weight was to trade him."
Still, Shaq scored more than 28,000 points (much of which were field goals and not free throws) and won four NBA Championships over his Hall-of-Fame professional basketball career. As he continues to entertain NBA fans as a sports analyst, actor and video game character (remember Shaq Fu?), never forget that he once went full Superman into a helpless crowd.