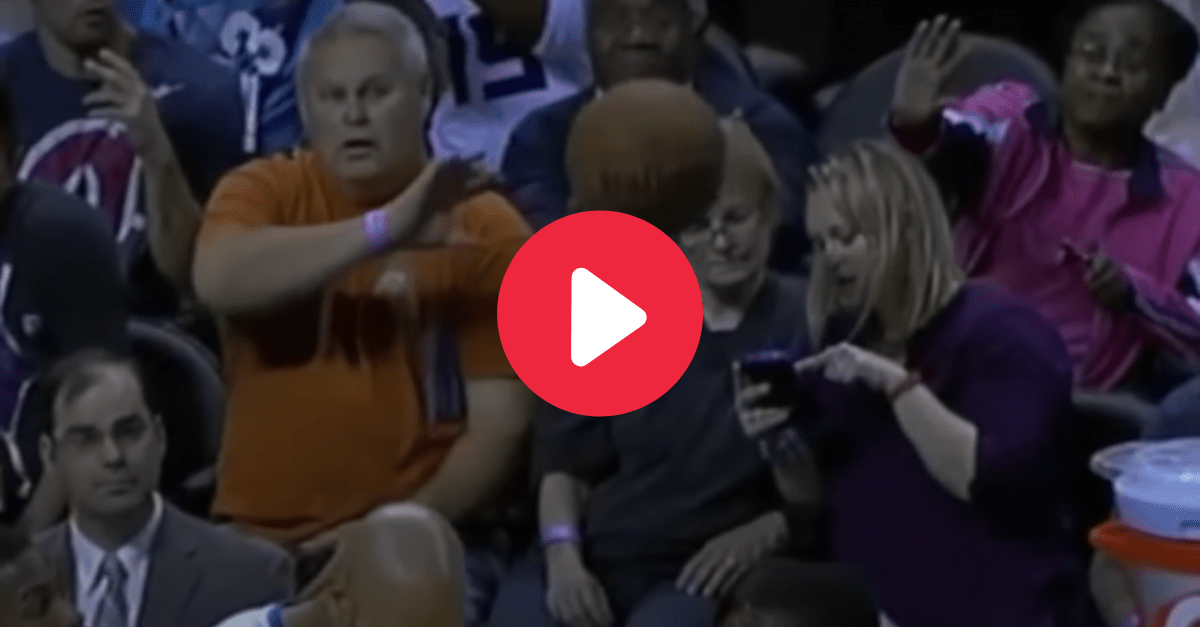 Screenshot from YouTube
If you pay good money to attend a sporting event, you better pay attention. That goes without saying when foul balls seriously injure patrons, basketball players like Shaq dive into the crowd and hockey pucks fly out of ice rinks on the regular.
These days, though, everyone is consumed with their phones. Some fans would rather be scrolling Facebook or reading about LeBron James when they can look up and watch him play from 50 feet away. I mean, what other sport can you get so close to one of the greatest athletes on the planet?
If you're not paying attention, you may end up like one poor, unsuspecting woman who was drilled with a ball at an NBA game in 2015.
The Charlotte Hornets and Sacramento Kings were in the middle of a close game during the second quarter on March 11, 2015, in Charlotte, North Carolina, when one fan apparently lost interest.
The fan was leaning over looking at a friend's cell phone when an errant pass from Hornets' Lance Stephenson sailed over guard Gerald Henderson's hands and right at the woman's face.
I think she's gonna need some new glasses. And maybe a new nose.
Woman Hit in Face With Basketball at Hornets Game
RELATED: NBA?s 22-Team Format Offers Wild Playoff Possibilities
Ouch.
The woman's glasses fly off and she immediately covers her aching face. She emerges with a bloody nose but apparently didn't suffer any serious injuries.
ESPN reported that the unnamed woman was "more embarrassed than injured" and was seen laughing later in the basketball game.
What's odd is that it's not the first time Gerald Henderson has been involved in something like this. In 2013, he hit a fan with his own pass and apologized on social media.
"Nailed a lady tonight with a pass," Henderson wrote. "If u follow me on twitter PLEASE tweet me. I know that hurt. I'm not that good of a passer. I AM SO SORRY."
Let this serve as a cautionary tale to get off your phone and pay attention to the game. Instagram can wait.