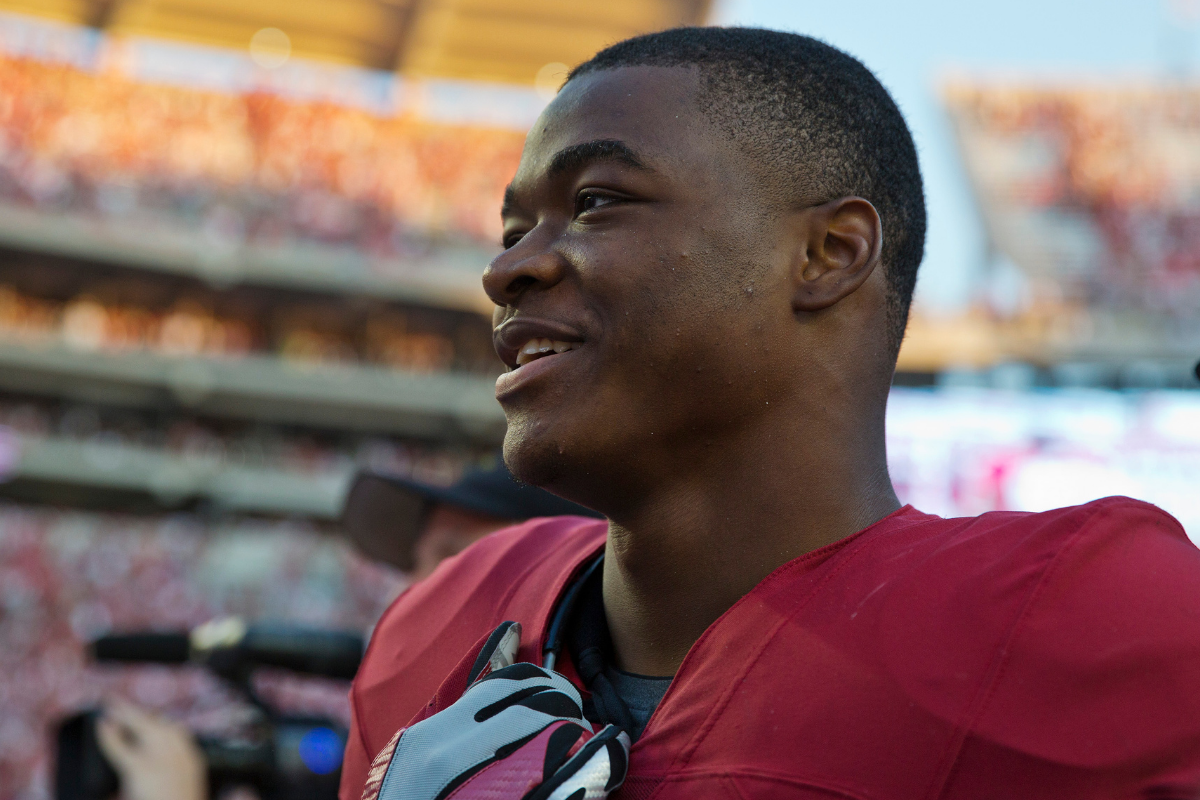 AP Photo/Brynn Anderson
Wide receiver Amari Cooper knows what it takes to be a great NFL player. Since emerging as Derek Carr's top option in 2015, Cooper has transformed offenses and been a part of four Pro Bowl rosters., including with the Dallas Cowboys.
The Alabama alum was recruited heavily, but how amazing was he in high school?
Amari Cooper in High School
RELATED: Derrick Henry?s High School Rushing Records Are Unbreakable
To answer that question, Cooper was absolutely dominant when he was healthy. He attended Miami Northwestern High School in Florida.
Believe it or not, that team's quarterback was Teddy Bridgewater. As you could imagine, the Bulls went far in the playoffs with these elite players on the offense. Cooper was injured for most of his junior year but still caught four touchdowns.
Most of these highlights come from Cooper's senior season, and they are impressive. It didn't matter if he was catching a checkdown pass or a deep ball: Cooper was outrunning opponents and reaching the end zone.
Following a final year during which he set the school's single-game and single-season receiving record, Cooper played in the Under Armour All-American Game and committed to the University of Alabama.
Amari Cooper at Alabama
Under Nick Saban, Amari Cooper only got better.
In his first taste of college football, Cooper generated 1,000 receiving yards, and the Crimson Tide beat Notre Dame to win the BCS National Championship.
Cooper tormented SEC rivals like Auburn, Georgia, and Tennessee during his tenure in Tuscaloosa. He filled the WR1 role that Julio Jones previously had on the team, and sharing the field with Derrick Henry meant that this offense was potent.
After an injury-plagued 2013, Cooper returned with a vengeance in 2014. He caught seven touchdowns, won the Biletnikoff Award, and was a third-place Heisman finalist. He had lived up to the hype and was ready for a bigger challenge.
Amari Cooper in the NFL
In 2015, the Oakland Raiders selected Cooper in the first round of the 2015 NFL Draft. He established a connection with the fans and even helped the Raiders break a long playoff drought, but his final two years in Oakland were mired in inconsistency.
He was traded to the Dallas Cowboys in the 2018 season, and his play improved almost immediately.
Although the Cowboys have struggled, Cooper has not been why. He is the best wide receiver on the roster and gets fed the ball nearly every week, no matter who is under center.
The team is a lightning rod for the media and still receive prioritized attention on ESPN.
Amari Cooper has been in the public eye since he was a high school player. He has lived up to his potential and has a long career ahead of him to continue to build up his resume.