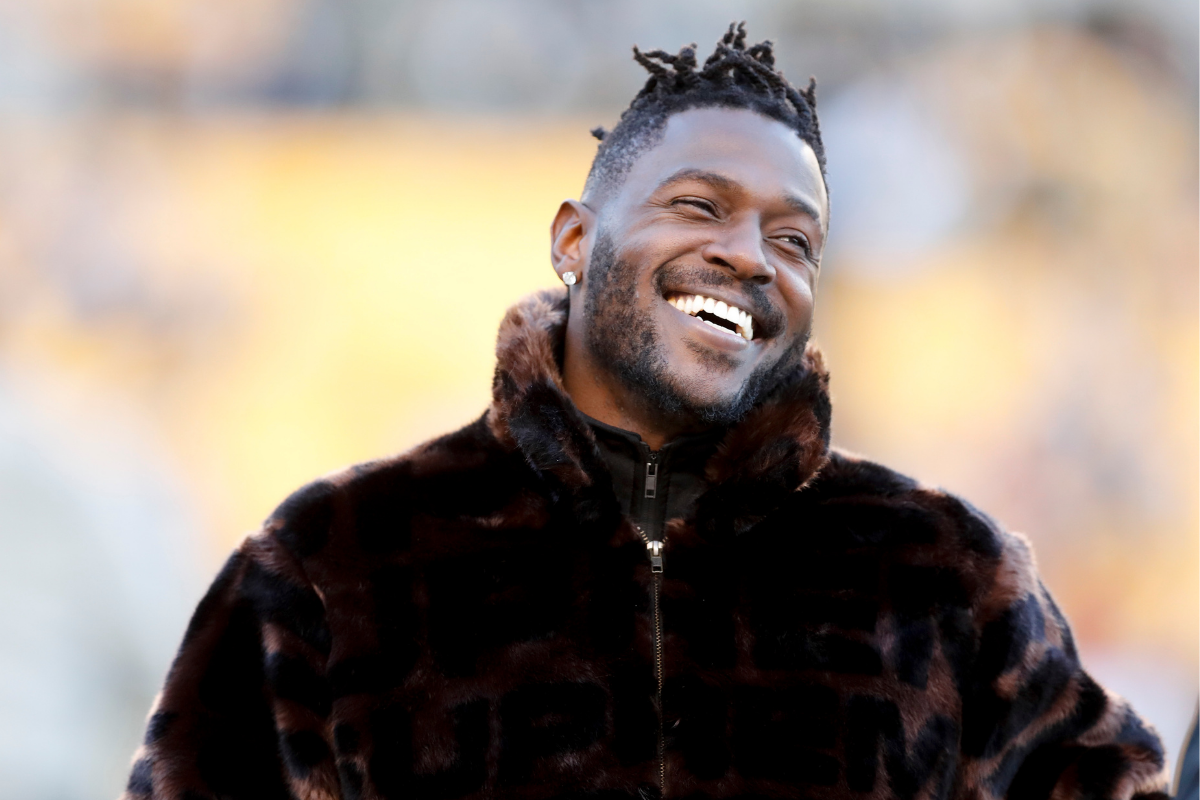 AP Photo/Don Wright
Wide Receiver Antonio Brown enjoyed nine phenomenal seasons with the Pittsburgh Steelers.
Ben Roethlisberger?s favorite target was one of the top dogs in all of football and the best wide receiver in the NFL.
Despite AB?s consistently tremendous performance on the field, his behavior off the gridiron was concerning.
Antonio Brown's NFL Rise
The former All-American football player and sixth-round pick (195th overall pick) in the 2010 NFL Draft, Brown, after three seasons playing college football at Central Michigan, was added to a Steelers team that had just won the Super Bowl in 2009. He was featured mostly as a punt returner during his rookie season, but eventually earned reps on the offense at wide receiver.
AB made seven Pro Bowls and earned First Team All-Pro honors in four consecutive seasons (2014-2017) during the prime of his career. Brown led the league in receiving yards in two seasons, tallying more than 11,200 yards while in Pittsburgh. He became one of the best players in the NFL.
In 2017, the Steelers signed Brown to a new four-year deal which made him the highest-paid receiver in the National Football League.
Brown, the son of former Arena Football League star Eddie Brown, hauled in a total of 837 receptions and 74 touchdowns during his Steelers tenure, but even numbers like that didn?t prevent an ugly exit for the Miami Norland High School alumni.
Antonio Brown's Downfall
After various issues between Antonio Brown and QB Ben Roethlisberger, as well as head coach Mike Tomlin, arose, Brown managed to buy his ticket out of Pittsburgh, being jettisoned to the Oakland Raiders in exchange for a pair of draft picks.
Well, his time in Oakland effectively mirrored the end of his stay in Pittsburgh. Brown, who signed a three-year, $50 million deal with the Raiders, was reported to be a nuisance upon arrival.
AB missed the start of Raiders training camp due to frostbite he sustained while undergoing cryotherapy treatment. Shortly after, the league adopted a new league policy preventing the use of old helmets for professional football players. Rather than peacefully try to locate a league-approved helmet, Brown went haywire, going as far as to threaten retirement over the whole helmet ordeal.
After receiving multiple fines due to overall absence from practice or inappropriate behavior, the Raiders decided to call a quick end to the AB experiment, with general manager Mike Mayock and Co. no longer believing the embattled wide receiver to be worth the trouble he brought.
Brown was cut by the Raiders before the start of the regular season.
RELATED: Antonio Brown Shows Off 12-Bedroom Mansion in Miami
His release from Oakland was followed by a flood of reactionary social media posts, which were scrutinized heavily by fans. Despite AB?s talent, it seemed he was forcing himself out of football, constantly trending in sports media for the wrong reasons.
Throughout Brown's career downfall, AB was frequenting social media, posting cryptic stories on Instagram and burning bridges with people in the process.
After his release from Oakland, AB was looked at by various teams, including the Baltimore Ravens and Green Bay Packers. Eventually, however, Brown was given another shot by Tom Brady and the New England Patriots, who signed him on a one-year deal with a $9 million signing bonus.
Unfortunately, off the field issues didn?t cease under Bill Belichick, and Brown was released just two weeks into his stay in Boston.
Part of the reason for Brown's exile from New England was the ongoing sexual assault allegations hanging over his head from former trainer Britney Taylor. An accuser also condemned Brown for allegedly having sent threatening text messages to her.
Following his release from the Patriots, Brown, a free agent, was suspended by the NFL stemming from a January 2020 arrest during which Brown was involved in an incident with the driver of a moving truck, according to ESPN.
Still, talent talks, and the Miami native was given another shot, this time on a one-year deal in his home state of Florida with the Tampa Bay Buccaneers. Having not played since his one game with the Patriots in 2019, all eyes were on AB in Week 9.
After undergoing one of the wildest downfalls in NFL history, and public fall out with girlfriend Chelsie Kyriss (the mother of his kids; Autonomy, Ali, and Apollo), Brown will look to prove he remains an elite footballer who can still bully opposing cornerbacks en route to the end zone.
Now back on a football field for the first time in more than a year, Brown will look to lock up a playoff spot with the Buccaneers.
Antonio Brown's Net Worth
AB had been collecting massive checks prior to his meltdown. Even after a year on the sideline, Brown?s bank account is sitting pretty. How much money does he have?
According to Celebrity Net Worth, Brown has an estimated net worth of $20 million.
Throughout his NFL career, Brown has made almost $77 million in career earnings. His current deal with the Tampa Bay Buccaneers is worth $750,000 in base salary, per Spotrac.
Brown's absence from the football field certainly impacted his wallet. He threw away $30 million in 2019 alone. Nevertheless, Brown is still sitting pretty when it comes to his finances.