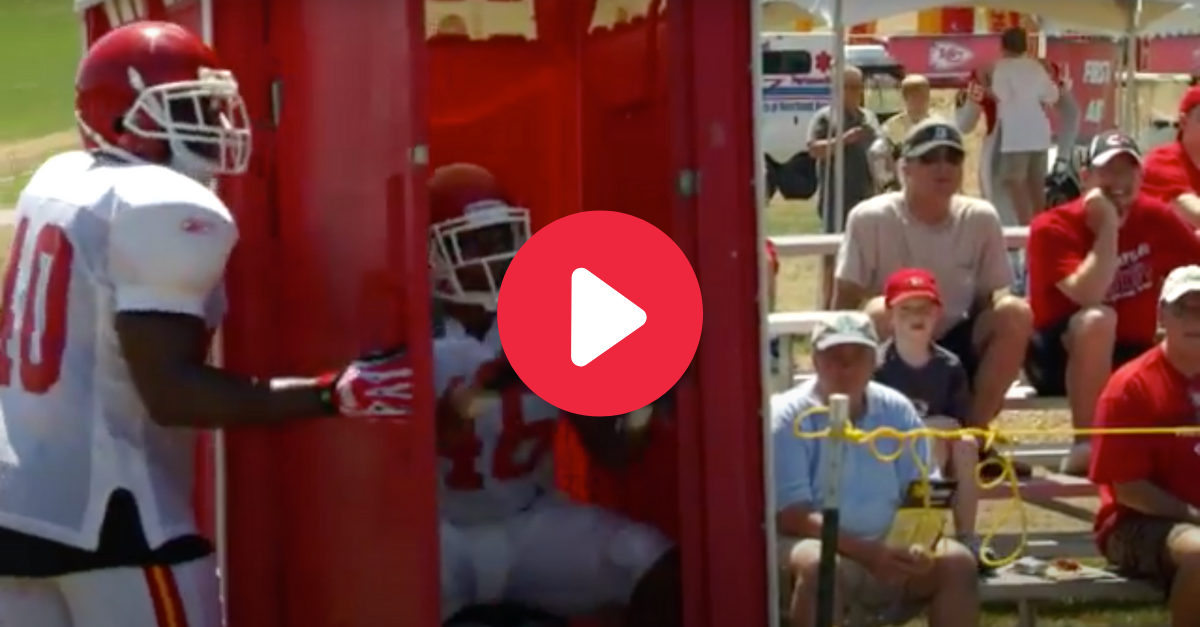 Screenshot from YouTube
Football is a freaking weird sport full of bizarre coaches. Think about it. Les Miles may or may not be a flat-Earther. Buddy Ryan once punched his fellow coach in the middle of a game. This coach somehow had a job before praising Hitler's leadership.
Unsurprisingly, these insane headset-wearing, play-calling men on the sidelines have some truly strange ideas. NFL training camp is a breeding ground for these schemes. The Green Bay Packers' brick-throwing drill, Sammy Watkins trying to catch passes while blind and the Jacksonville Jaguars ditching football for volleyball are all evidence of that.
But I have to say, the Kansas City Chiefs' port-a-potty receivers drill is the crappiest.
Kansas City Chiefs Bizarre Port-A-Potty Drill
RELATED: Oregon?s Pop-Up Porta Potty is the Future of College Football
I would kill for the reaction of the first receiver that was told to go sit in the portable toilet in full pads.
This is totally real, and it happened in 2010. The Kansas City Chiefs receivers led the NFL in drops the year before, so the coaching staff figured what better way to get them out of the toilet than by putting them in one?
Then-Chiefs assistant head coach Maurice Carthon introduced his players to the toilet during training camp. He stood some 10 feet away and flings footballs toward the squatting player on the potty while another player opens the door.
"It teaches you hand-eye coordination," Chiefs wide receiver Dexter McCluster told NFL.com.
Apparently, this was not a new drill. Carthon used it when he worked for the New England Patriots in 1994 with former New York Giants tight ends coach Mike Pope. I guess you could say it was one way to loosen up those tight ends…
How in the world this drill has lasted that long is beyond me.
"I thought that was a great drill and you think about it and you start doing it, I haven?t done it in a while but it?s a good concentration drill, I think, you know for hands, eyes, and getting the ball and getting your hands up quick," Carthon told reporters in 2010.
Chiefs head coach Todd Haley at the time didn't seem to mind it either, because he let it happen.
This might be the weirdest on-field toilet incident I've ever seen, but it's not the first. Oregon introduced the world to the amazing sideline pop-up toilet and changed the restroom game forever.