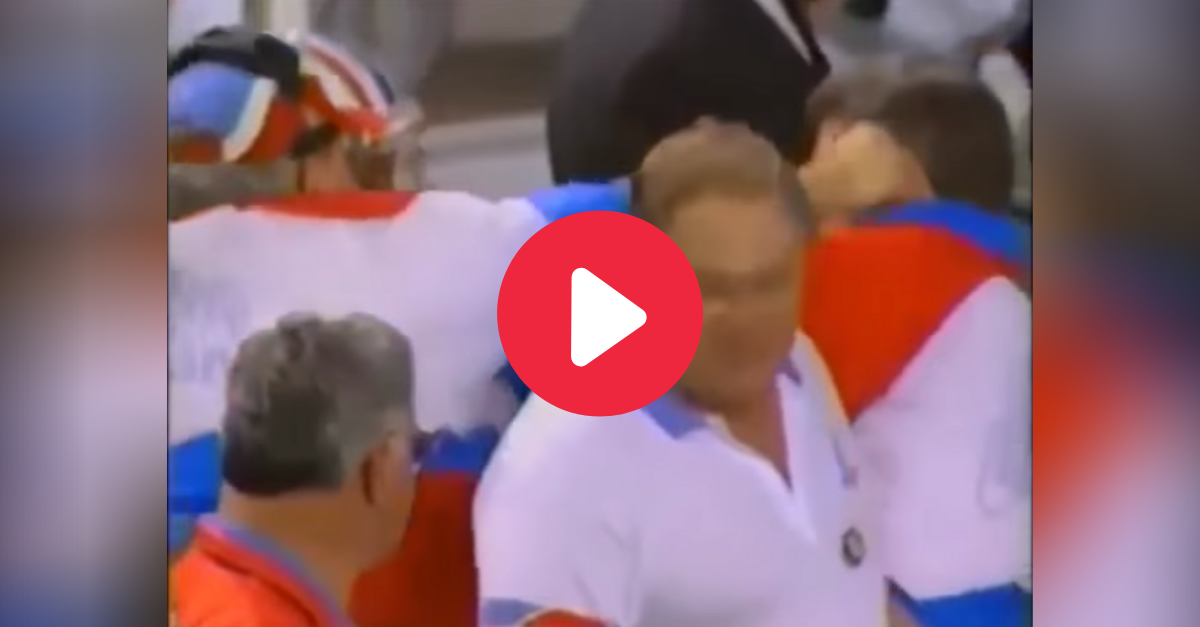 Screenshot from YouTube
How you choose to remember the late Buddy Ryan is up to you. Maybe it's for his contributions to the NFL and the game of football. He did, after all, create the 46 defense while winning Super Bowl XX over the New England Patriots as defensive coordinator of Mike Ditka's Chicago Bears in 1985. Don't forget that he served as the defensive line coach for the Minnesota Vikings' "Purple People Eaters" years.
Before passing away in 2016, he gave birth to two absolute gifts of sons. Rob Ryan and Rex Ryan became NFL head coaches like their dad and provided NFL fans with plenty of hilarious moments on the sidelines. Rex himself once told a fan to "shut the f*** up" and even impersonated his long-haired sibling.
Rowdiness and hilarity must be genetic, because Buddy Ryan was the same way.
The Houston Oilers were riding a 10-game winning streak into their 1993 regular season finale against the New York Jets. The team finished 12-4 and won the AFC Central that year under head coach Jack Pardee.
However, two assistant coaches apparently hated each other and let that hate show during a nationally-televised game on ESPN.
Buddy Ryan was not a fan of Oilers offensive coordinator Kevin Gilbride. He criticized Gilbride's run-and-shoot offense, which emphasizes on-the-fly receiver adjustments based on opposing defenses.
So when the Oilers and Jets played each other in the Astrodome and backup quarterback Cody Carlson fumbled the snap one play before halftime, Ryan began yelling at Gilbride. The Oilers were up two touchdowns, and Ryan wanted Gilbride to just run the ball.
That yelling turned into swinging, and Ryan thew a punch at Gilbride's face on the sideline.
Buddy Ryan Punches Kevin Gilbride With Jets
RELATED: Buffalo Bills Fan Celebrates Win By Blowing Up Firework In His Face
The hilarious scuffle didn't amount to much. Oilers players separated the two quickly and they won the game, 24-0, before losing to Joe Montana's Kansas City Chiefs in the AFC Divisional Playoff game.
Rex Ryan, who was then the defensive coordinator at D-I Morehead State, said he thought his hopes one day coaching in the NFL were done for.
?Things like that occasionally happen on the sidelines,? Rex Ryan told NJ.com. ?Maybe not that specifically, but I remember sitting there, watching it and I was like, ?Dad, you?ve got to be kidding me!?
Everything worked out, because the Arizona Cardinals hired Buddy Ryan the following year and he hired Rex to be their defensive line coach then linebackers coach afterward.
Buddy Ryan's head coaching career didn't match that of his defensive one. He went 55-55 at the helm of the Philadelphia Eagles and Arizona Cardinals. His sons both went on to win Super Bowls as NFL coaches as well, though.
Buddy Ryan will always be remembered in NFL history for his contributions to the game, but this legendary punch belongs in the hall of fame.