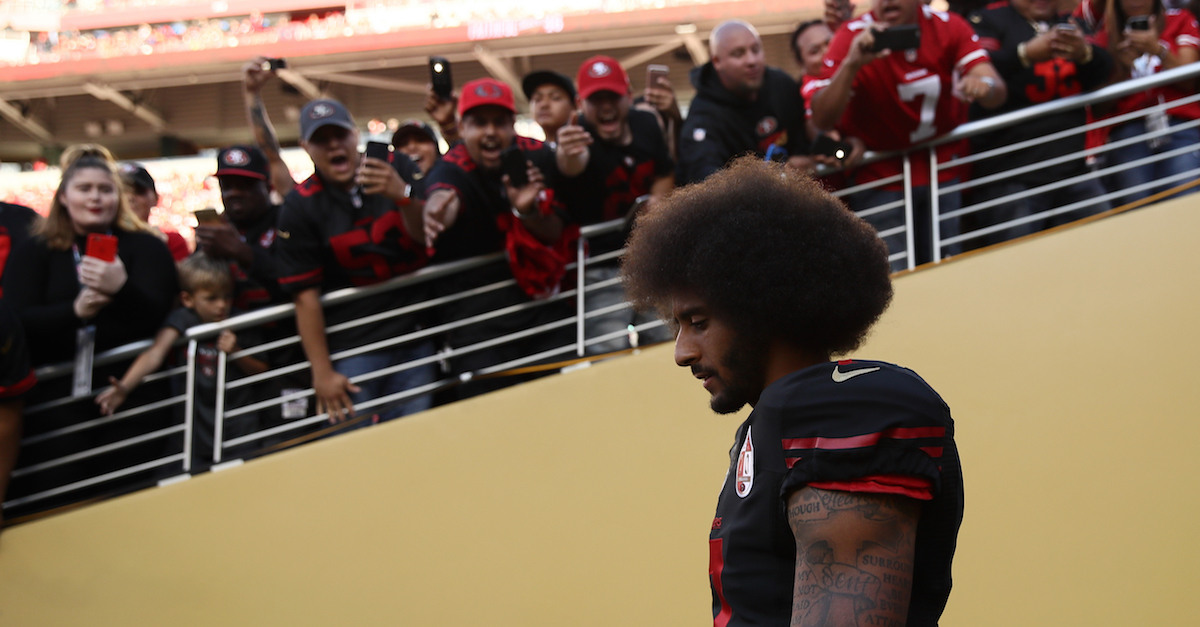 Ezra Shaw/Getty Images
SANTA CLARA, CA - OCTOBER 06: Colin Kaepernick #7 of the San Francisco 49ers walks on the field prior to their NFL game against the Arizona Cardinals at Levi's Stadium on October 6, 2016 in Santa Clara, California. (Photo by Ezra Shaw/Getty Images)
Colin Kaepernick is out of an NFL job, is going to war with the league and apparently he's signing up to author a book.
According to the New York Post, Kaepernick has inked a $1 million to author a book with Random House. The report also notes Kaepernick had previously met with publishers to discuss putting a book together.
Kaepernick officially filed a grievance against the NFL owners and it could be bigger than people realized. Not only could he end up getting his job back, but he could end up terminating the Collective Bargaining Agreement ahead of its scheduled 2021 expiration date.
Should Kaepernick and his legal team be able to prove that collusion occurred between the owners, Pro Football Talk notes that the CBA would be terminated prematurely.
From PFT:
Article 69, Section 2 of the CBA allows for the agreement to be terminated prematurely in the event of proof of collusion. Under Article 17, Section 16(c) of the CBA, termination can arise from only one incident of collusion involving only one player if there is clear and convincing evidence of a violation.
Should collusion be proved among the owners, this would give the players incredible leverage in a potential re-negotiating of the CBA. It would be unprecedented for something like this to happen and should it go through, and it could have serious ramifications for commissioner Roger Goodell.
Kaepernick is still without an NFL job despite the fact that several players have come out and said there?s no way that there are 64 players ? starters and backups included ? that are better than him at QB.
Kaepernick may have a good case as there have been owners who have publicly spoken on the matter and said that they would not hire him like John Mara of the New York Giants while the Denver Broncos reportedly would not pursue him under any circumstances.
The former Super Bowl starter initially became what many are describing as a ?distraction? when he started sitting for the national anthem at the beginning of last year. He did so to protest racism and for police brutality that he believes has gotten out of hand in this country. At the behest of former NFL long snapper and military veteran Nate Boyer, Kaepernick started to kneel to be more respectful.
Kaepernick actually opted out of his contract with the 49ers this year, likely in hopes of signing elsewhere. However, he has not been able to find work despite once leading the 49ers to the Super Bowl.
Kaepernick threw for 2,241 yards, 16 touchdowns and four interceptions during the 2016 season.