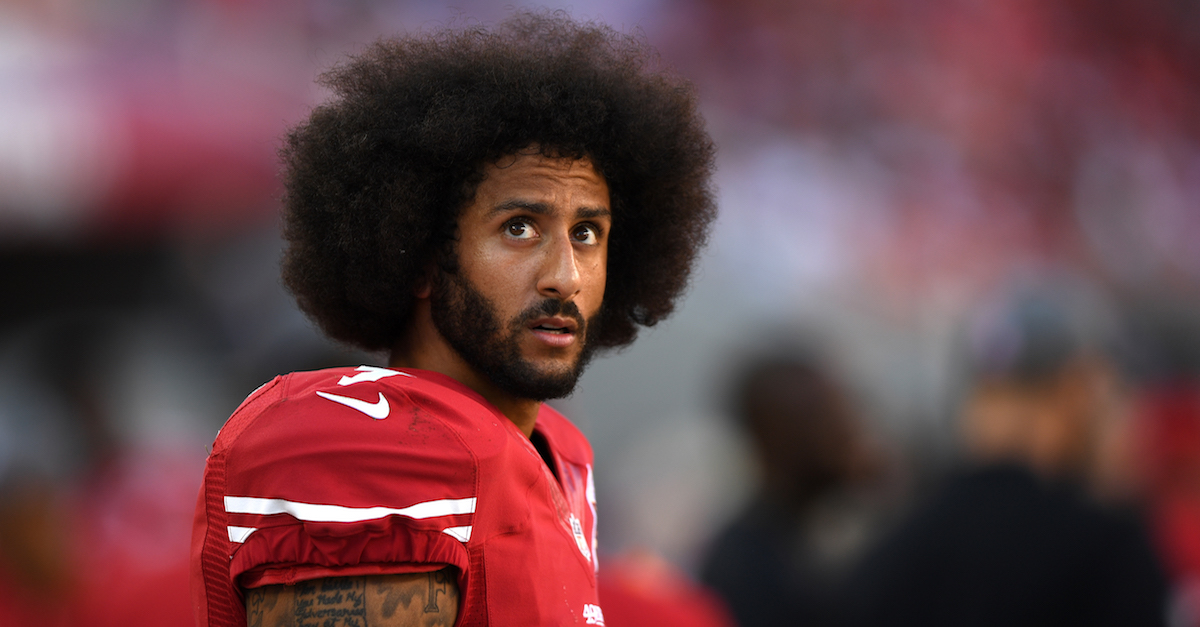 Thearon W. Henderson/Getty Images
SANTA CLARA, CA - OCTOBER 23: Colin Kaepernick #7 of the San Francisco 49ers looks on from the sidelines during their NFL game against the Tampa Bay Buccaneers at Levi's Stadium on October 23, 2016 in Santa Clara, California. (Photo by Thearon W. Henderson/Getty Images)
Former 49ers quarterback Colin Kaepernick is still out of a job after opting out of his contract with the San Francisco 49ers, and has now decided to take legal action against the NFL, filing a grievance under the CBA for collusion against the owners:
"We can confirm that this morning we filed a grievance under the CBA on behalf of Colin Kaepernick. This was done only after pursuing every possible avenue with all NFL teams and their executives.
If the NFL (as well as all professional sports leagues) is to remain a meritocracy, then principled and peaceful political protests–which the owners themselves made great theater imitating weeks ago–should not be punished and athletes should not be denied employment based on partisan political provocation by the Executive Branch of our government. Such a precedent threatens all patriotic Americans and harkens back to our darkest days as a nation. Protecting all athletes from such collusive conduct is what compelled Mr. Kaepernick to file his grievance.
Colin Kaepernick's goal has always been, and remains, to simply be treated fairly by the league he performed at the highest level for and return to the football playing field."
Kaepernick may have a good case as there have been owners who have publicly spoken on the matter and said that they would not hire him like John Mara of the New York Giants while the Denver Broncos reportedly would not pursue him under any circumstances.
The former Super Bowl starter initially became what many are describing as a "distraction" when he started sitting for the national anthem at the beginning of last year. He did so to protest racism and for police brutality that he believes has gotten out of hand in this country. At the behest of former NFL long snapper and military veteran Nate Boyer, Kaepernick started to kneel to be more respectful.
Kaepernick actually opted out of his contract with the 49ers this year, likely in hopes of signing elsewhere. However, he has not been able to find work despite once leading the 49ers to the Super Bowl.
Kaepernick threw for 2,241 yards, 16 touchdowns and four interceptions during the 2016 season.