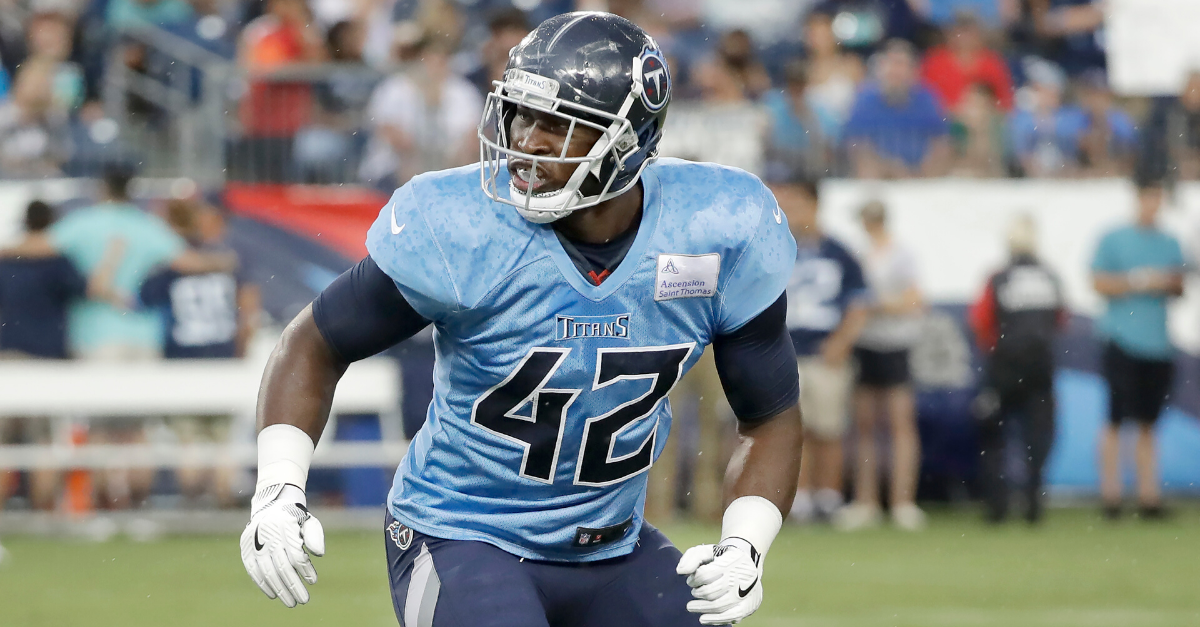 AP Photo/Mark Humphrey
Tennessee Titans rookie D?Andre Walker has yet to suit up for an NFL game. An undisclosed injury put the outside linebacker and edge rusher on injured reserve during training camp and he still hasn?t fully recovered. That?s not stopping his teammates from having some fun at his expense, though.
Each and every year across professional sports, veteran players pull tricks on rookies. Whether it?s NBA stars making the new players carry their luggage or NFL players giving rooks awful haircuts, it?s all meant in good fun. However, there are times when it?s not. Walker learned that the hard way on Monday night.
When some of the Titans players went out to Jeff Ruby?s Steakhouse in Nashville earlier this week, they racked up a tab worth over $10,000 and Walker got stuck with the restaurant bill.
?I?m bout to flip,? he posted on social media.
D?Andre Walker Steakhouse Bill
?RELATED: MLB Rookie Picks Up Win, Then Goes to Starbucks in Full Uniform
The dinner bill totaled $10,487.27 before the tip. It featured nearly $6,000 in food, including incredibly expensive beef and dry-aged steaks, and over $3,000 in liquor and wine including $225 pours of cognac. Linebacker D?Andre Walker was forced to pay for it all at the popular restaurant.
A fifth-round pick from the University of Georgia, Walker signed a four-year rookie contract worth over $2.7 million and included a $266,748 guaranteed signing bonus. So while the tab isn?t going to make him broke right away, it?s a pretty cruel trick to pull in the football world.
Walker was a disruptive force in high school and college football, so he could have a nice career in the NFL when it?s all said and done. You better believe he?s to pay it forward when a new batch of rookies get to the league, too.
In the meantime, welcome to the NFL, rookie.