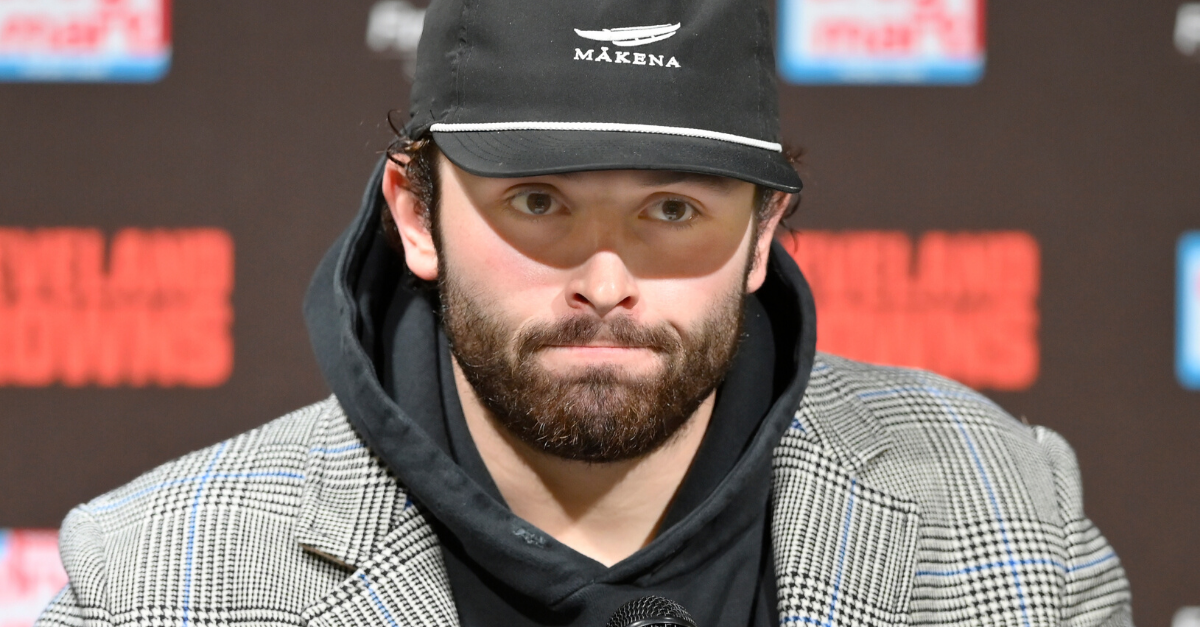 AP Photo/David Richard
The Cleveland Browns severely underwhelmed in 2019 and have been the laughing stock of the NFL for the past 20 years. Offensive lineman Greg Robinson was caught with 157 pounds of weed, Odell Beckham Jr. was nearly arrested for slapping a security's guard's butt this offseason and head coach Freddie Kitchens was canned after just one measly season.
And who can forget Browns defensive end Myles Garrett's helmet-swinging fiasco with Pittsburgh Steelers quarterback Mason Rudolph?
It turns out Cleveland Browns media members are just as embarrassing.
ESPN Reporter Calls Baker Mayfield "F***ing Midget"
ESPN Cleveland's Tony Grossi was discussing NFL quarterbacks on air with host Tony Rizzo at the NFL Combine in Indianapolis' Lucas Oil Stadium on Tuesday when he was caught calling Cleveland Browns quarterback Baker Mayfield a "f***ing midget."
The audio from a hot microphone caught Grossi talking about different quarterbacks the Browns have missed out on, including Carson Wentz, Deshaun Watson, Super Bowl MVP Patrick Mahomes and now former LSU and soon-to-be Cincinnati Bengals quarterback Joe Burrow.
"And who do we got?," Gross said unknowingly on hot mics. "A f***ing midget."
The video of the Cleveland reporter's ridiculous comment circulated on Twitter on Tuesday. Some Browns fans called for an apology for the offensive comment while others took the opportunity to blast Grossi.
ESPN Cleveland issued a statement regarding the derogatory slur:
And Grossi has tweeted his own apology since:
ESPN Reporter's Past Comments
This isn't the first time Grossi has made headlines for his words. He's compared Mayfield to former Browns first-round pick Johnny Manziel, beefed with Mayfield over the "dumbest question" in a press conference and even called the NFL team owner Randy Lerner a "pathetic figure" and the "most irrelevant billionaire in the world."
Maybe it's time to cover a different team, Grossi.
Mayfield's team bio lists him at 6-foot-1, which isn't all that small considering Seattle Seahawks quarterback Russell Wilson is 5-foot-11 and New Orleans Saints quarterback Drew Brees stands 6-feet tall.
The former Oklahoma walk-on and Heisman Trophy winner didn't let his small-ish stature stop him from leading the Sooners to the College Football Playoff and becoming the first overall pick in the NFL Draft.
He threw for more than 12,000 passing yards, 119 touchdowns and 21 interceptions in three years for the Sooners, including a legendary NCAA shootout against former Texas Tech and current Kansas City Chiefs quarterback Patrick Mahomes.
In 2019, Mayfield threw for 22 touchdowns and 21 interceptions after a solid 2018 campaign. Still, I highly doubt his height is a factor and he doesn't deserved to be slurred the way he was.