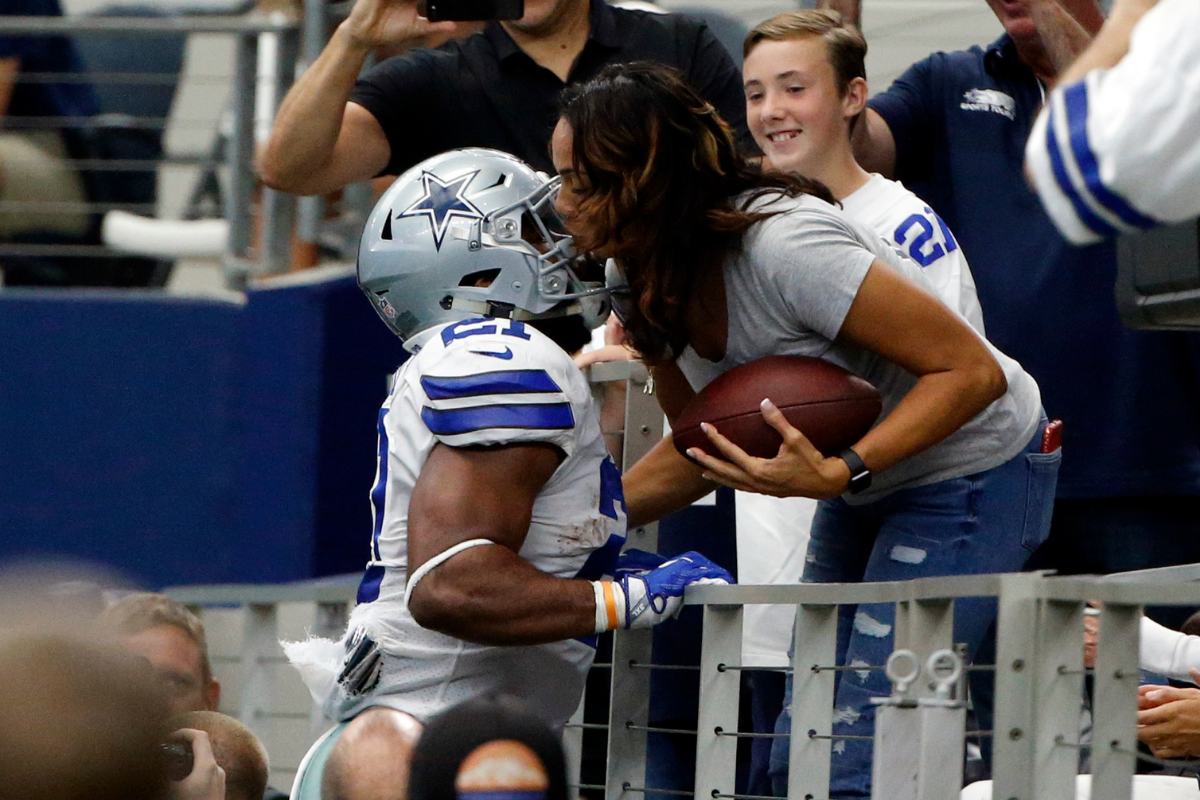 AP Photo/Michael Ainsworth
Ezekiel Elliott has tons of fans in Texas, considering he is the star running back for the Dallas Cowboys, the nation?s most popular football team. But among all the NFL fans supporting Zeke, one stands out in his particular: his mother.
Ezekiel Elliott?s mother, Dawn Elliott, is her son?s most loyal and fearsome fan. She has his back on virtually every topic and isn?t afraid to stand up for No. 21 on Twitter.
Who is Ezekiel Elliott?s Mom?
Dawn Elliott, formerly Dawn Huff, was three-sport standout in high school and attended the University of Missouri, where she excelled at track and field. Easy to see where Zeke gets his athleticism from.
Dawn and her husband Stacy Elliott (Zeke?s father) met in high school and have three children together: Ezekiel, Lailah and Aaliyah.
Defending Zeke on Social Media
RELATED: Ezekiel Elliott?s ?Feed Me? Stomach Tattoo Didn?t Make His Mom Happy
Professional athletes are scrutinized for every action, both on and off the field. Rather than let her son endure the brunt of the hate himself, Dawn gets to work on Twitter and claps back at the haters. Her account, @itz_mizdee, can frequently be seen shooting down anti-Elliott tweets and arguing on behalf of her son.
One notable instance of Dawn Elliott putting her foot down was when crybaby Cowboys fan Skip Bayless threw a tantrum in 2019, resulting in the Ezekiel Elliott jersey he had been wearing being forcefully thrown into the trash can. Elliott?s mother made sure Skip regretted that decision with a tweet that quickly began trending.
She also has Zeke?s back when it comes to more serious issues as well. Back in 2017, a photo from 2015 emerged of Elliott getting a parking ticket on campus at Ohio State University.
Some untrusting individuals began to suggest that Zeke had received external financial assistance in order to get himself a car. Rather than sit back and let her son get distracted with social media warriors, Dawn geared up and went to bat for him.
She?s so active on social media, that even when Zeke tries to block out some of the noise she makes, she ensures he gets the message, going as far as to screen-shotting her responses and texting them to him.
Dawn Elliott is 100 percent the type of mother you want in your corner, and Elliott is lucky to have her support. She's been his biggest fan since he tore up the field for the Buckeyes during his college football days, when he was selected fourth overall in the first round of the 2016 NFL Draft, and even amid the offseason issues he's endured.
For all the support she's shown Elliott on Twitter, she hasn't been afraid to take a shot at her beloved son from time to time. When Elliott got the term "Feed Me" tattooed across his chest, a phrase he explained in an interview with ESPN to be his "brand," Dawn was less than thrilled.
Perhaps knowing she has his back allows him to play with the confidence of an elite running back in the NFC, one with two rushing titles, three 1,000-plus yard seasons, more than 40 rushing touchdowns, and three Pro Bowl appearances under his belt across his first four years in the league.
Elliott has emerged as one of the best NFL players in Cowboys history, and a cornerstone of owner Jerry Jones and head coach Mike McCarthy's squad. The 25-year old runs with a ferocity that makes linebackers and defensive ends dread meeting him on the field, and his mother has sass on Twitter to make any keyboard warrior second guess going after her son on Sunday nights.
While we all love watching Dawn go off on fans of the Philadelphia Eagles and New York Giants, we're hoping a big playoff run for the Cowboys will bring the defense of Zeke to a new level.
The Cowboys previous playoff runs were cut short by the likes of Los Angeles Rams and Green Bay Packers, and their slow start this year once again makes a Super Bowl visit unlikely, especially with Dak Prescott sidelined.
Still, while some Cowboys fans are discouraged after losses to the Seattle Seahawks, Cleveland Browns, and Arizona Cardinals, Dawn is just gearing up to defend her son during upcoming games against the Steelers, Ravens and Bengals.
Unfortunately due to the coronavirus pandemic and COVID-19 outbreak, Dawn won't be in attendance at AT&T Stadium much, if at all, this season.