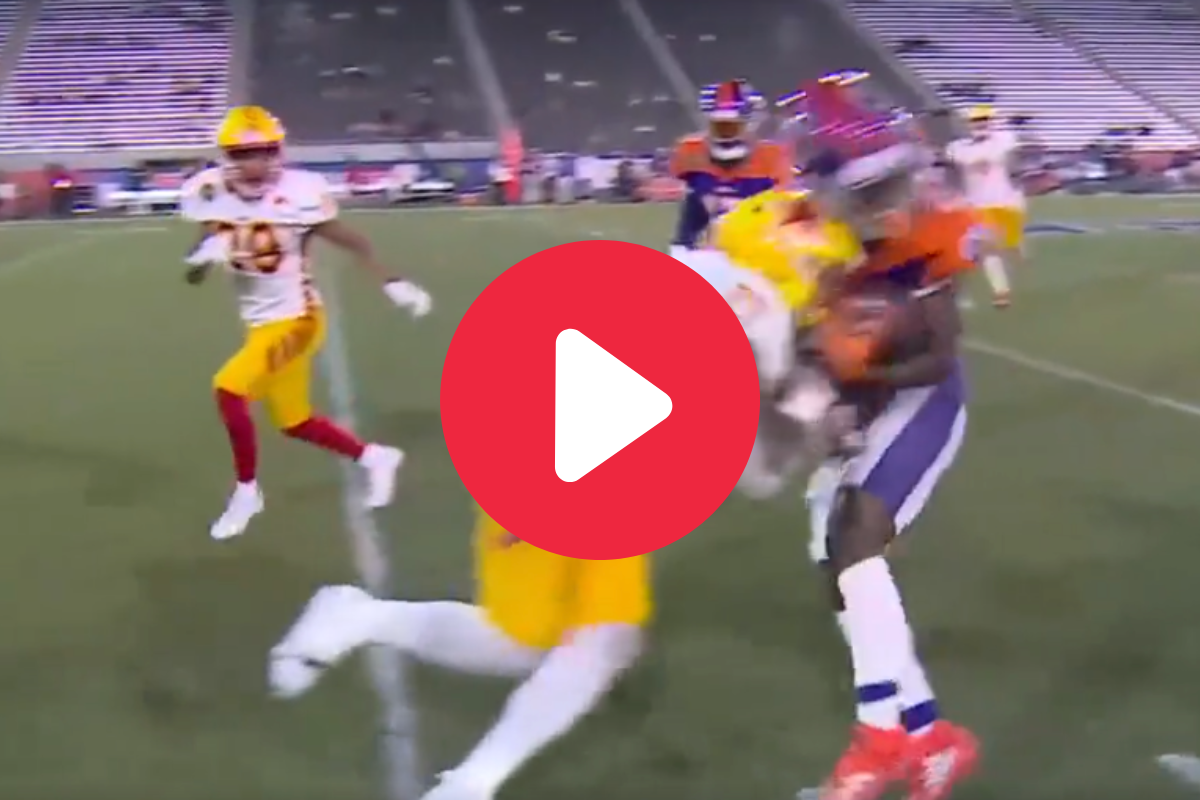 Screenshot from Twitter
Football isn't a contact sport, it's a collision sport.
Think of all the huge hits that have made you suck air through clenched teeth over the years. Florida State linebacker Marvin Jones crushing Miami running back Larry Jones; Stanford Samuels eviscerating Roscoe Parrish and causing internal bleeding (Maybe FSU and Miami don't like each other); and Mike Harden smacking Steve Largent and cracking some of his teeth are a few of many.
These hits are brutal to watch, and you never want to see someone get hurt, but they're a part of the game.
Pittsburgh Maulers wide receiver Isiah Hennie is the latest to be on the receiving end of a vicious hit. The Sacramento State product was running upfield after catching a pass in a USFL game against the Philadelphia Stars when Stars safety Cody Brown laid him out.
Hennie popped right back up, but his mouth was a little lighter. Why? He was missing a tooth.
Cody Brown's Crushing Hit on Isiah Hennie Causes Him to Loose Tooth
RELATED: USFL Salaries are Modest Compared to Other Pro Football League
First off, I have to give kudos to Hennie for shaking off the hit like it was nothing because it was ruthless. Brown was flying in at 100 MPH and popped him directly in the mouth. Oof.
Hennie goes over to the sideline to recoup. He spits — something uncommon among football players — and out pops several pieces of a tooth. Yes, there were multiple pieces but it was a single tooth nonetheless. Hennie, continuing to prove he's one tough dude, shook off the dental mishap as nonchalantly as he did the hit.
Luckily, he was mic'd up and we were able to hear the whole thing.
The Maulers ended up losing 17-16, but Hennie finished the game and was in good spirits on the sideline. Although, seeing the hit on the helmet cam makes you wonder how he recovered so easily.
Somehow, Brown didn't get flagged for his massive hit, even though he initiated contact with the crown of his helmet. This is a targeting call in college 10/10 times and a helmet-to-helmet call in the NFL. Yet, it was all gravy by USFL standards. A player losing a tooth is one way to gain publicity, I suppose, and the league wasn't shy about sharing it all over their social media accounts. As the old saying goes, "publicity is worth a wisdom tooth."
But hey, at least it was JUST a wisdom tooth. The real question: Is an in-game tooth removal covered under the USFL's dental plan?
Related Videos