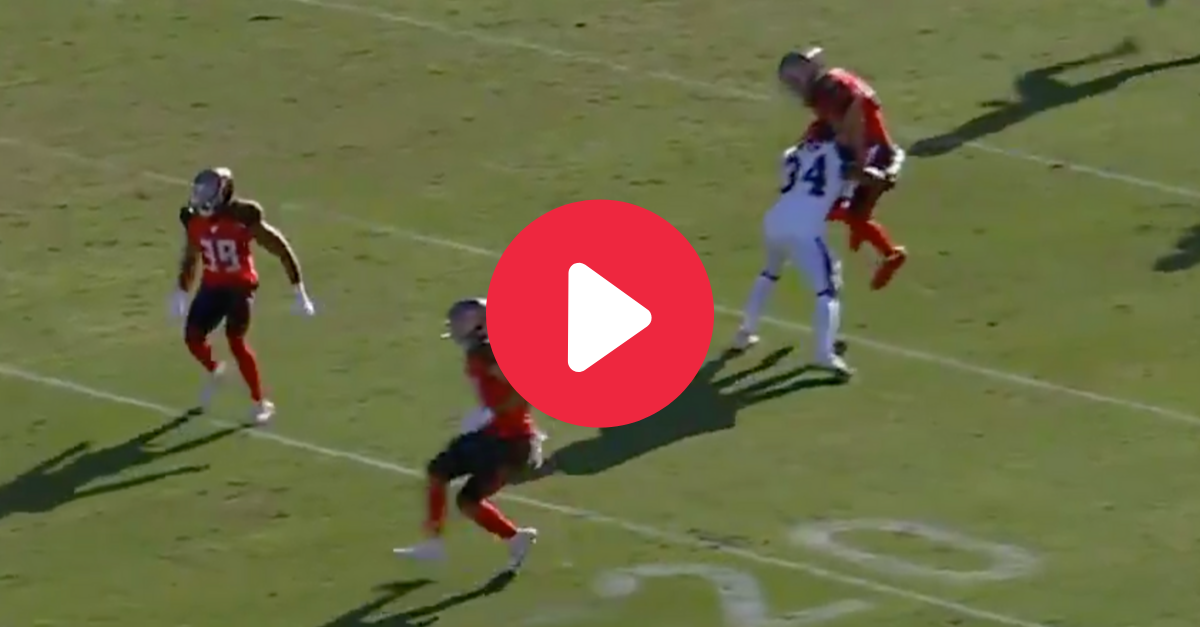 Screenshot from Twitter
In the NFL, surprises happen each and every week, and none were bigger in Week 4 than the Tampa Bay Buccaneers getting a high-scoring road win against the Los Angeles Rams. Unfortunately, the victory came with an injury to one of the team?s key special teams players.
Late in the fourth quarter Sunday afternoon, with the game all but decided, Buccaneers linebacker Jack Cichy was on kickoff coverage. Suddenly, he was met and picked up by Rams running back Malcolm Brown. Cichy was then slammed down on the field, but not before his arm went in the complete opposite direction.
WARNING: The injury video is graphic.
Jack Cichy Injury Video
RELATED: Video Shows OBJ Getting Choked, But Nobody Was Kicked Out
There is absolutely no way that felt good. Naturally, Cichy, a sixth-round pick in the 2018 NFL Draft, laid there for a minute before the trainers helped him off the field.
You never like to see anyone get injured, especially this way. Luckily, it?s not as bad as it looks. Tampa Bay Buccaneers head coach Bruce Arians said Cichy will likely miss two-to-four weeks with an elbow injury. An MRI was going to confirm the initial report.
Buccaneers LB Jack Cichy, who played college football for the Wisconsin Badgers, was in pretty good spirits about it, too.
?I appreciate the outpouring of support since the game! Can?t thank Bucs fans and all the kind souls enough. Good news is my arm is back in its normal place and I?m smiling when I know more I?ll spill the beans! #GOBUCS?

? Tampa Bay Buccaneers Linebacker Jack Cichy
For now, it appears both Cichy and the Bucs caught a break with this injury. It could have been so much worse, and all it will cost everyone is a month of time and an arm sling.