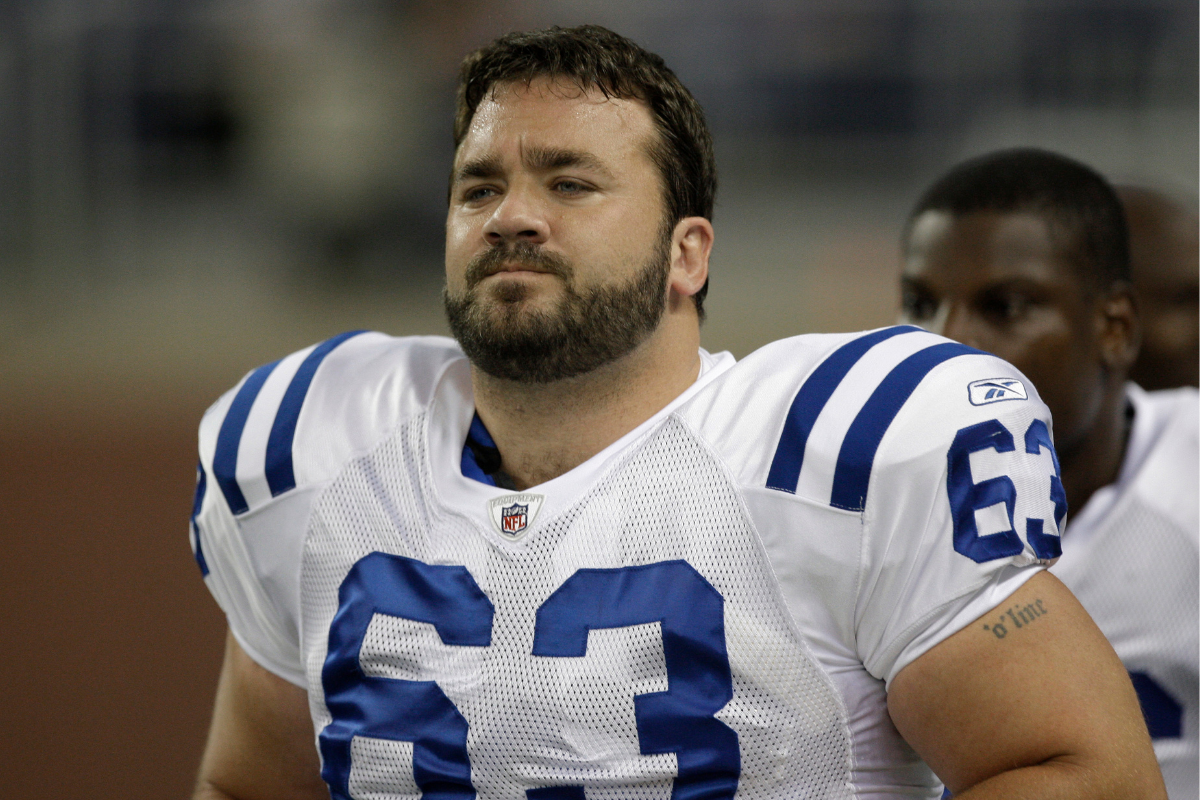 AP Photo/Paul Sancya
The Indianapolis Colts were an AFC playoff stalwart in the 2000s. Quarterback Peyton Manning and the wide receiver duo of Marvin Harrison and Reggie Wayne all played together for years and even won Super Bowl XLI against the Chicago Bears.
The reason Manning was able to stay upright was because of their dominant offensive line, led by Jeff Saturday.
For three seasons, Saturday was the head coach of Hebron Christian Academy in Dacula, Georgia.
His NFL career may be over, but his new, post-retirement roles have kept him just as busy.
Jeff Saturday's Football Career
Jeff Saturday was born in Atlanta and began his career as an offensive lineman at Shamrock High School. He played well enough to join the University of North Carolina football team. He did well in college, but he wasn't taken in the NFL Draft.
He signed with the Baltimore Ravens as an undrafted free agent in 1998, though he did not leave the practice squad there.His life would change when he got the chance to anchor Manning's offensive line in 1999.
In a 13-year career in Indy, he racked up five Pro Bowl nominations and was named a First-Team All-Pro twice. After spending a year in the NFC with Aaron Rodgers and the Green Bay Packers in 2012, he was selected to one more Pro Bowl and retired following the season.
RELATED: Jon Kitna Had a Surprising NFL Career, But Where is He Now?
For his efforts, he was inducted into the Colts Ring of Honor at Lucas Oil Stadium in 2015.
Offensive linemen do not often get the respect that other football players might, but Saturday was a fantastic player, and his Hall of Fame candidacy holds up under scrutiny.
Jeff Saturday at ESPN
Since 2013, Saturday can be seen as an NFL analyst on ESPN. He makes appearances on Get Up and the network's flagship program, SportsCenter.
It is great that ESPN gives former NFL players the chance to have a career after football, and it is even better when it is someone as polished and intelligent as Saturday.
Coach Jeff Saturday
In addition to his television duties, former Colts center Jeff Saturday worked as the head football coach of Hebron Christian Academy until February 2020, when he left to spend more time with his family and on television.
Using principles that he borrowed from Tony Dungy, Saturday transformed the high school program.
The fledgling Lions started at the bottom of the standings, but after careful work, their coach was able to get them to the playoffs for the second time in school history in 2017. Even though they lost in the first round, it was still a tremendous accomplishment. The team actually won a playoff game in 2018 for the very first time.
One of the best parts of coaching has to be that Saturday was able to spend time with his son. Jeffrey Saturday was a fantastic wide receiver who scored touchdowns with ease. He now plays for the UNC Tar Heels, his dad's alma mater.
Jeff Saturday could have avoided football entirely following his retirement. He has chosen to remain around the game in an incredibly important role. He has played with MVPs in the past, and he may be able to coach one soon enough.