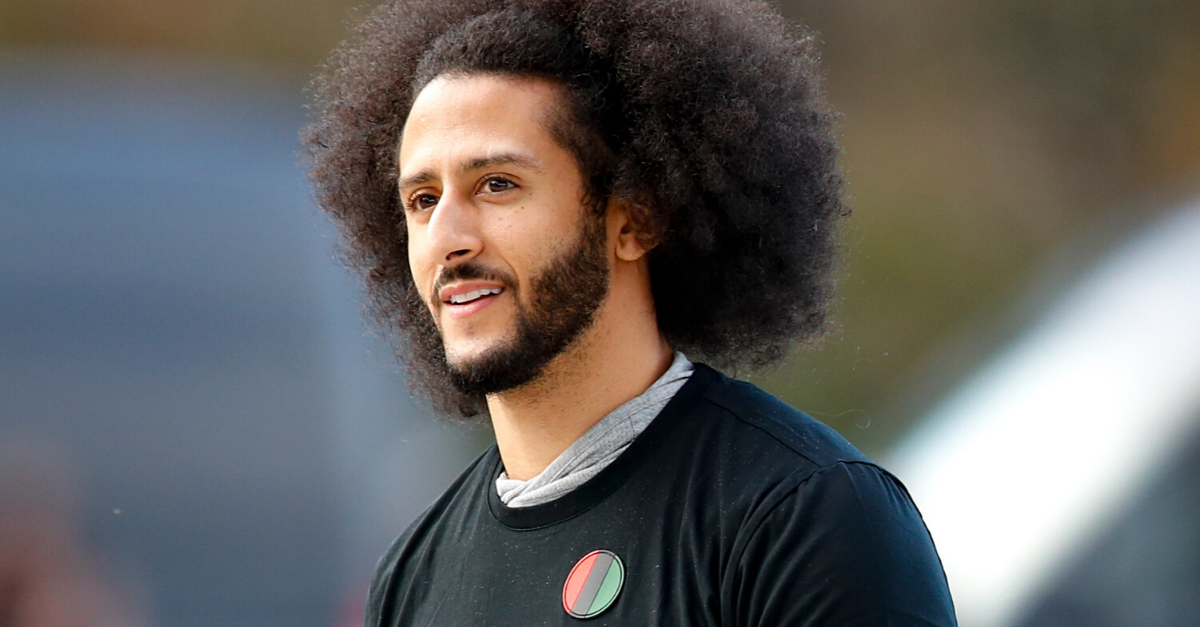 AP Photo/Todd Kirkland
A botched workout for former NFL quarterback Colin Kaepernick produced no contract offers and little interest in the free agent's talents. It seems like the days of a Super Bowl-bound signal caller whose powerful arm and elite running ability terrorized defenses are over. Instead, Kaepernick is now the punching bag for anyone needing to make a political statement opposing his beliefs.
In an interview with Fox & Friends, Jeremy Staat, a former NFL player and U.S. Marine veteran, set his sights on Kaepernick in an attempt to boost his status and campaign for Congress.
Before running as a congressional candidate, Jeremy Staat starred at Arizona State University where he played alongside the late Pat Tillman. Staat received the Morris Trophy in 1997 as the Pac-10 Conference's best defensive lineman. That success at ASU made Staat the 41st overall pick of the 1998 NFL Draft by the Pittsburgh Steelers.
The attacks on Sept. 11, 2001 turned Staat's focus away from professional football, however. Short stints with the St. Louis Rams and Los Angeles Avengers of the Arena Football League couldn't keep Staat from his calling, and he joined the United States Marine Corps following Tillman's death in 2004.
Ex-NFL Player Calls Kaepernick "National Disgrace"
According to Fox News, Staat wrote in a recent fundraising letter, "Colin Kaepernick is a national disgrace and I'm tired of seeing him celebrated like he's a hero."
Staat backed up that sentiment during his two-minute interview on Monday, beginning by saying that he is running to "be part of the solution." Staat then said his problem with Kaepernick is how the blacklisted NFL quarterback isn't going out and trying to fix problems. (This interview came the same day Kaepernick attended the 50-year anniversary of the Occupation of Alcatraz Island, an event hosted by the Indigenous People's Sunrise Ceremony on "Unthanksgiving.")
Staat continued attacking Kaepernick and aligning his values to "drain the swamp" with President Donald Trump as the Marine veteran, who served in Iraq, pursues a seat in California?s 8th congressional district.
"I think it's an absolute disgrace. I hear we have a professional athlete who has pulled the race card, he's pulled the victim card. He knew what he was getting into when he decided to kneel, and now he's going to go ahead and capitalize on this by, essentially, extorting the black community and using Nike as his little shiny horse, if you will, to ride in on and basically exploit and capitalize on his poor choice of trying to disgrace our men and women in uniform."

? Jeremy Staat, via Fox & Friends
Staat has spoken out against Kaepernick and Nike before, asking people back in 2018 who were burning Nike apparel to instead donate it to local veterans organizations.
Kaepernick's national anthem protests speaking out about systemic, racial injustice and police brutality sparked radical conversations on both sides of the issue, which hasn't yielded a personal benefit for Kaepernick inside the game of football. The 32-year-old hasn't played in nearly three years, instead spending his time growing his foundation, putting on Know Your Rights camps across America, making the Million Dollar Pledge, and collaborating with Nike to spread those messages.
Nike's value is reportedly up $26 billion since Kaepernick's "Just Do It" campaign launched last year.
With Kaepernick in the news for his recent workout, as well as Nike preparing to release Kaep's signature shoe, I guess that meant it was time for this Republican GOP candidate to make himself relevant and evoke Kaep's name and the negative connotation that comes with it.