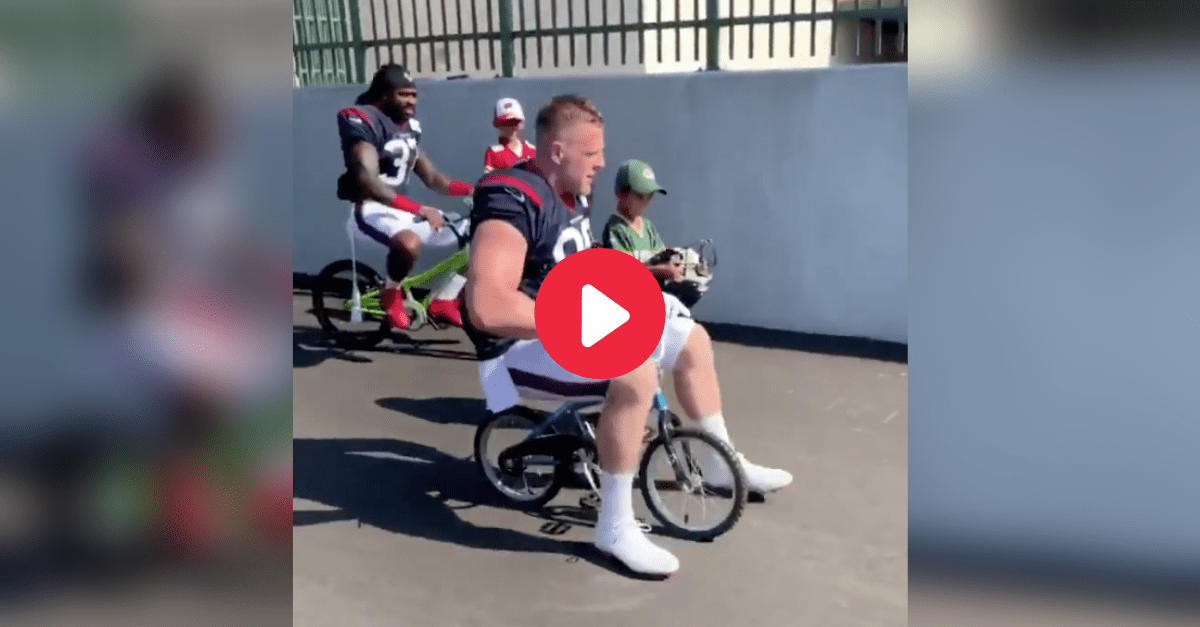 Screenshot from Twitter: Clint Stoerner
While college football's coolest traditions are better known, tons of great ones are forgotten about in the National Football League. My personal favorite is the yellow Terrible Towels you see waving at every Pittsburgh Steelers game. (Yes, I am a lifelong Steelers fanatic.) But others, like the Seattle Seahawks' 12th Man Flag or the Kansas City Chiefs' pregame drum, help give each fan base a unique identity during the long NFL season.
But in Green Bay, Wisconsin, where decades-old traditions like the Cheeseheads and Lambeau Leap are impossible to forget, there's one that many casual fans might not know about it, but it's probably the most wholesome few minutes of football you'll ever see.
Before training camp practices, Green Bay Packers players, from brand new rookies to veteran quarterbacks like Aaron Rodgers, borrow the bicycles of young kids and ride them from the locker rooms down DreamDrive to the practice field. The Packers tradition started with iconic head coach Vince Lombardi's teams in the 1960s and continues today so that up-and-coming Packers fans can meet their favorite players.
One of those young kids even grew up to be a three-time NFL Defensive Player of the Year and five-time All-Pro before turning 30 years old.
Houston Texans defensive end J.J. Watt is a Wisconsin native who grew up in Pewaukee, which is just outside of Milwaukee. Two hours north lies Green Bay, so naturally it was a dream of the former Wisconsin Badgers star to take part in the iconic training camp tradition.
While his bicycle never held the butts Green Bay icons like Brett Favre or Reggie White, Watt finally got the chance to live out his dream by actually riding down DreamDrive himself.
Prior to this week's joint practices between Houston and Green Bay, Packers President and CEO Mark Murphy announced Texans players would take part in the fun. As you'd expect, Watt couldn't contain his excitement. Starting Monday morning, players from both teams borrowed a kid's bike for the legendary ride, but Watt ? generously listed as a 290-pound man ? chose 5-year-old Biraj Sadhu's bicycle that was, well, a liiiiiittle bit too small.
Spoiler alert: he broke the child's bike seat.
RELATED: Jerry Jones, Cowboys React to Mass Shooting in El Paso, Texas
Watt did manage to find a bigger bicycle and ride the rest of the way while the young fan, who Watt promised he'd buy a brand new bike for, carried his helmet down to Ray Nitschke Field for practice.
Watt gets another shot at redemption Tuesday before both teams meet for Thursday's preseason game at Lambeau Field, the first of four before the regular season can begin.
I'm pretty sure the big man will be a little more selective of his bicycle choice.