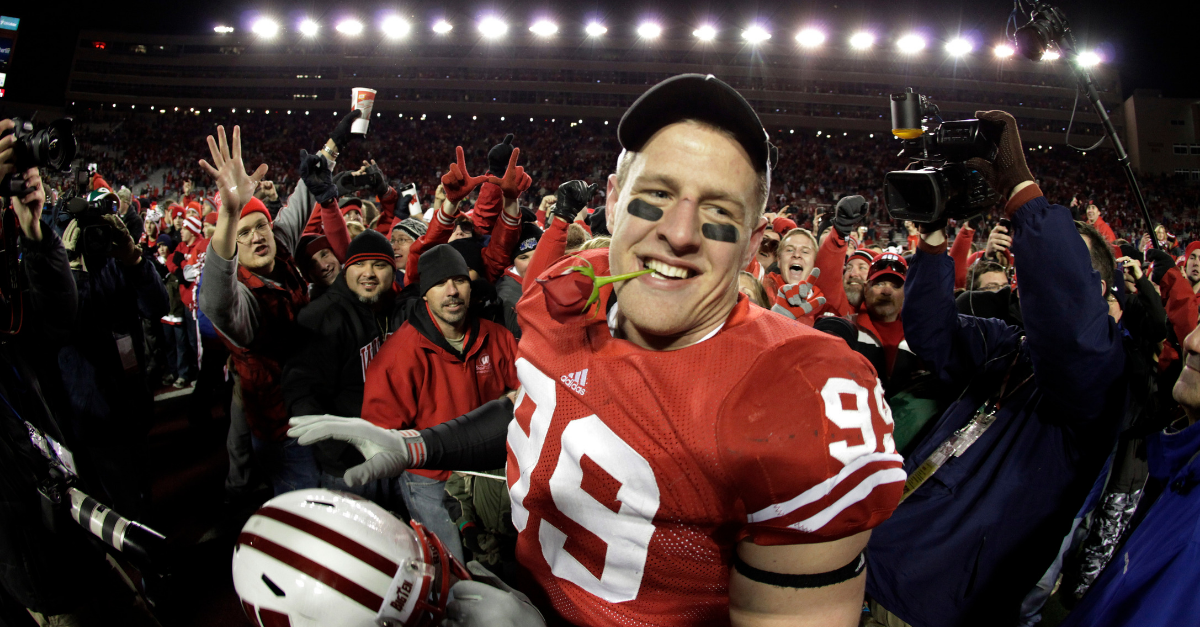 AP Photo/Morry Gash
Houston Texans defensive end J.J. Watt is a modern-day poet on the football field. Combining grace, power and agility, the 290-pound man is a five-time All-Pro with almost 100 career sacks to his name. He's precise and fluid, which truly makes him one of the most dominant NFL players ever. Plus, his charitable efforts are impossible to forget.
Apparently, though, Justin James Watt isn't so graceful when it comes to planning out big speeches.
Watt was asked to give the commencement speech at the University of Wisconsin-Madison's spring graduation. On May 11, 2019, Watt will return to Camp Randall Stadium where he was an All-American and All-Big Ten college football player for the Wisconsin Badgers.
What wisdom could Watt give to these graduates? What powerful message would the pride of Pewaukee, Wisconsin bestow on the young minds ready to take on the world?
"What do you mean? I don't write speeches," Watt told ESPN.com. "I'm just going to go up there and talk."
He raised $41.6 million for Hurricane Harvey relief efforts, returned from career-threatening back surgery to become the NFL's Defensive Player of the Year, and received an honorary doctorate degree from Baylor University.
Despite all that, J.J. Watt had never given a graduation speech and had no clue how these go down.
"That was my full plan. I did not know that you had to write it all out. I'm dead serious. I didn't know. He was like, 'They have a teleprompter for you. What do you want on it?'

"I said, 'Nothing. Just give me a black screen and tell me when to stop talking.' That was literally my plan. But I found out you have to write some stuff down. So I have about a month to figure it out."

? J.J. Watt, h/t ESPN
Watt attended high school about 45 minutes from Camp Randall Stadium growing up. After being graded as a two-star recruit, Watt played one season at Central Michigan University as a tight end. He then transferred to Wisconsin as a walk-on, moved to defense end, and the rest is history.
Graduations are meant for moments of reflection and accomplishment. For Watt, he knows what these graduates really have on their minds: the after party.
"I have some things I want to get across. But let's be honest: They just want to go drink beer afterwards," Watt said. "They're excited. I know how commencements go. They just want the person to give a cool message for about five minutes, and then get off the stage."
Watt called being the Wisconsin commencement speaker a "true honor" that he plans to take "very seriously." Still, it's awesome that he knows exactly what the people want to hear, even if he planned not to write down a copy of his speech.
He left school early for the 2011 NFL Draft, meaning that Watt actually hasn't graduated from Wisconsin just yet. Watt might actually have a plan for that, though.
"I'm not sure if the people organizing this know that I haven't graduated yet," Watt said. "I'm just saying, if a diploma happens to slide my way, I wouldn't be too upset."