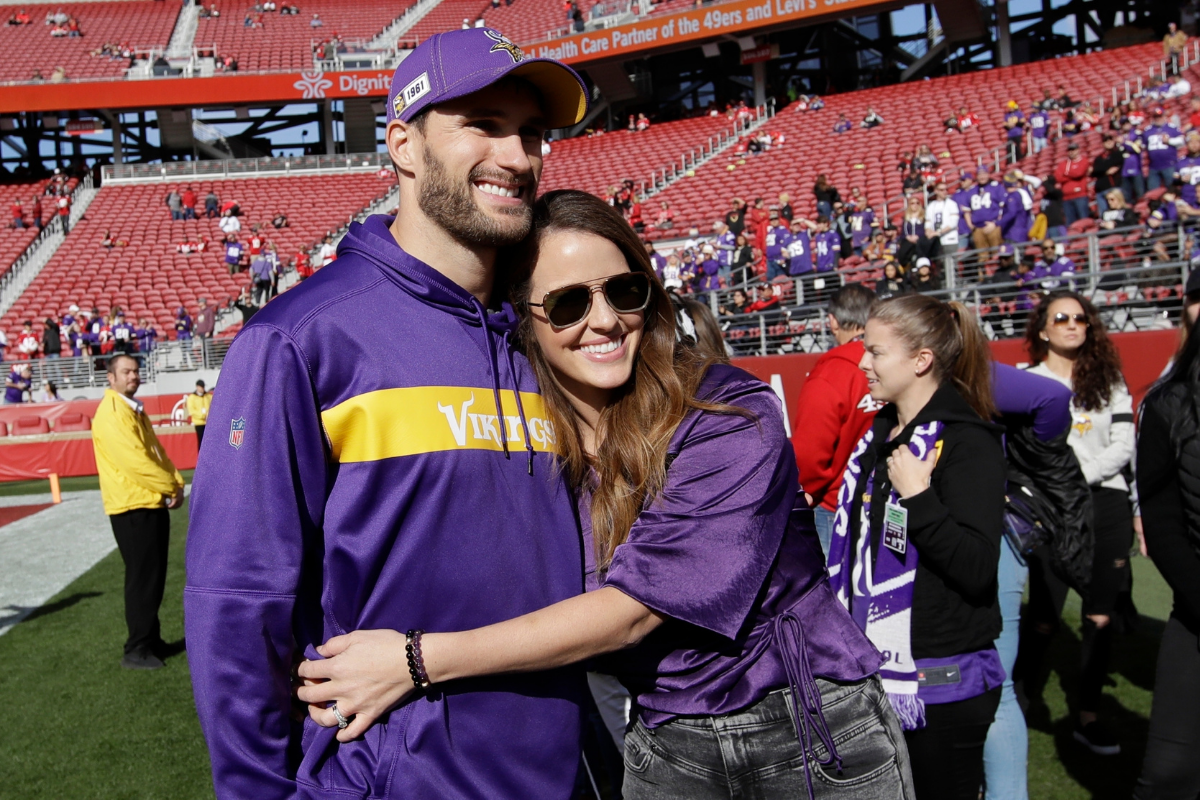 AP Photo/Marcio Jose Sanchez
Ever since he became a full-time starter, Minnesota Vikings quarterback Kirk Cousins has been reliable under center. Sure, he doesn't post gaudy stats and doesn't have a Super Bowl ring like other NFL quarterbacks, but the guy is solid. He's also big family man off the field, too.
After starring at Michigan State, Cousins has suited up for the Washington Redskins and Vikings during his professional career. He has earned two Pro Bowl selections and won his first playoff game last season. His career is trending in the right direction and there's no doubt he's hungry for more.
Thanks to a mutual friend, Cousins was introduced to his wife and the happy couple have two kids of their own.
Who is Kirk Cousins' Wife Julie?
Julie Cousins — formerly Julie Hampton — grew up in Alpharetta, Georgia with parents Sue and Michael and attended the University of Georgia. She was working as an elementary school teacher after college and then met the love of her life.
Kirk Cousins was introduced to Julie through a mutual friend. They dated for a year and a half before he popped the question.
RELATED: Ryan Fitzpatrick Proposed to His Wife at a Gas Station McDonald's
This was no ordinary proposal, though. Cousins wanted to make it special and proposed to her on the balcony of the United States Capitol building.
"I talked to my U.S. congressman from my home area in west Michigan, Bill Huizenga, who I had gotten to know a little bit," Cousins said to The Washington Post. "I called him to see if I could propose on the balcony of the Speaker of the House's office, because I had been there before and seen the view and thought it was a great view. He said they could set it up."
It was a big-time flex, and it worked. She said yes. Kirk and Julie Cousins got married in June 2014 in Atlanta.
Kirk Cousins' Kids
The Cousins have two boys together. Cooper Cousins was born in September 2017 and Turner Cousins was born in March 2019.
They also love dogs and have adopted some over the years, including a Goldendoodle named Bentley. Their newest addition, Abe, was featured a lot on social media in the offseason during the coronavirus pandemic and COVID-19 outbreak.
It appears the Cousins will be throwing touchdowns in Minnesota for the foreseeable future on ESPN. After he signed a three-year, $84 million contract with the NFC franchise before the 2018 season, the NFL player earned a two-year contract extension this past March.
Kirk and Julie Cousins are madly in love. And between the Redskins and Vikings, Cousins' net worth of $70 million means his family is set for life.

This post was originally published on October 8, 2020.