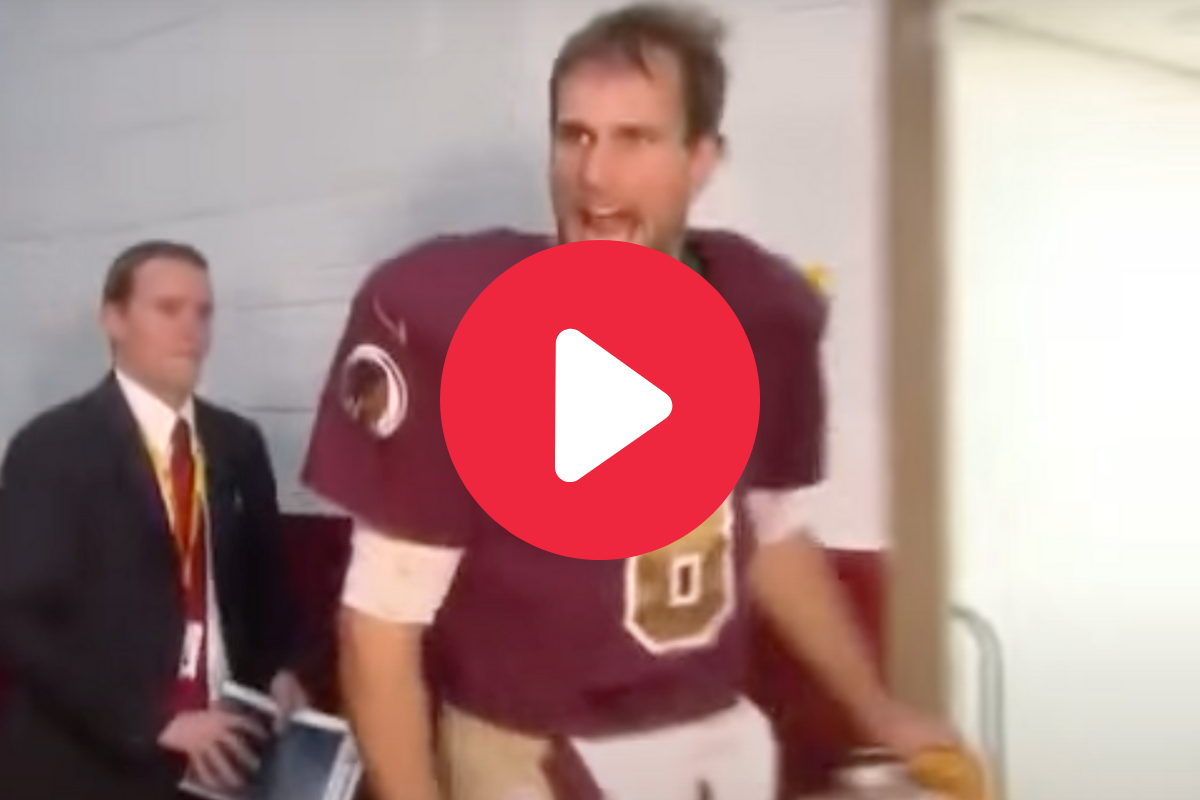 Screenshot from YouTube
Minnesota Vikings starting quarterback Kirk Cousins has come a long way since his days back in the nation's capital when he played for the Washington Redskins (though we don't call them that anymore). While he's spent the past three seasons under center for Minnesota, Cousins' most iconic moment came before his days in the purple and gold.
Cousins' NFL career is most renowned for a mere five seconds of utter dominance. And it wasn't even on the field. No, Kirk Cousins' greatest NFL moment indisputably occurred in the aftermath of a Week 7 comeback victory for the Redskins back in 2015.
"You like that?"
Kirk Cousins: "You Like That?"
RELATED: Donald Trump Randomly Called Kirk Cousins to Congratulate Him
After a significant comeback win for Washington against the Tampa Bay Buccaneers, the largest comeback in franchise history, Cousins was rightfully fired up. After all, he just led his team back from down 24-0 to win the game 31-30.
When Cousins sauntered into the locker room oozing with confidence, he dropped a phenomenal one-liner which would go on to become not only his catchphrase, but a phrase celebrated by all Redskins fans: "You like that?!" The catchphrase took off and became a favorite among football fans, even going viral and making the rounds on the popular-but-now-defunct app Vine.
Cousins threw three touchdowns, 317 passing yards and zero interceptions in the heroic performance, and he was absolutely gassed up after the big game.
That was just the first time fans would hear the iconic catchphrase, though the next time he went viral for saying it, he was in a new uniform after joining the Vikings in the 2018 offseason.
Cousins helped lead the Vikings past the New Orleans Saints in an NFC Wild Card playoff game, which featured key touchdown passes to Adam Thielen and tight end Kyle Rudolph. While celebrating in the locker room, Cousins gave a postgame speech that was as short as it was sweet, saying, "You like that?" before exiting the SuperDome.
"You Like That?" 2.0
Despite the excellent performance in the 2019 Wild Card, the Vikings were ousted in the NFC Divisional Round by Cousins' former offensive coordinator Kyle Shanahan and the San Francisco 49ers, ultimately failing to reach their goal of a Super Bowl.
Some of the biggest criticisms against Cousins' game are the belief that he underachieves during prime time games such as ESPN's Monday Night Football, as well as his inability to collect wins against superior opponents.
Even with his faults, when the Vikings QB does light up an opposing secondary such as that of the Green Bay Packers, New York Giants or Philadelphia Eagles, he'll be the first to let you know about it.
Why? Because we like that.